One of the most powerful earthquakes ever recorded in Mexico struck off the country's southern coast, toppling hundreds of buildings, triggering tsunami evacuations and sending panicked people fleeing into the streets in the middle of the night.
The head of Mexico's civil defense agency said the death toll from the magnitude 8.1 earthquake has risen to 58.
Luis Felipe Puente said officials have confirmed 45 dead in the southern state of Oaxaca, the hardest-hit by the temblor.
Another 10 people died in Chiapas and three more in the Gulf coast state of Tabasco.
The U.S. Geological Survey said the earthquake hit off Chiapas state near the Guatemalan border with a magnitude of 8.1 — slightly stronger than the magnitude 8 quake of 1985 that killed thousands and devastated large parts of Mexico City.
Hundreds of buildings collapsed or were damage, power was cut at least briefly to more than 1.8 million people and authorities closed schools Friday in at least 11 states to check them for safety.
"The house moved like chewing gum and the light and internet went out momentarily," said Rodrigo Soberanes, who lives near the Chiapas state city of San Cristobal de las Casas.
The U.S. Geological Survey recorded at least 20 aftershocks of magnitude 4.0 or greater within about five hours after the main shake, and the president warned that a major aftershock as large as magnitude 7.2 could occur.
The USGS said the quake struck at 11:49 p.m. Thursday (12:49 a.m. EDT ; 0449 GMT Friday) and its epicenter was 102 miles (165 kilometers) west of Tapachula in Chiapas. It had a depth of 43.3 miles (69.7 kilometers).
The quake caused buildings to sway violently in Mexico's capital more than 650 miles (1,000 kilometers) away. As beds banged against walls, people still wearing pajamas fled into the streets, gathering in frightened groups.


Gov. Manuel Velasco told Milenio TV that the deaths occurred in San Cristobal de las Casas. He also said that the quake damaged hospitals and schools.
Its epicenter was 123 km (76 miles) southwest of the town of Pijijiapan, at a depth of 33 km (21 miles). Widespread, hazardous tsunami waves were possible, the Pacific Tsunami Warning Centre said.
The U.S. Tsunami Warning System said the earthquake was a potential tsunami threat to several Central American countries, including the Pacific coastlines of Guatemala, Honduras, Mexico, El Salvador and Costa Rica. It said the threat was still being evaluated for Hawaii, Guam and other Pacific islands.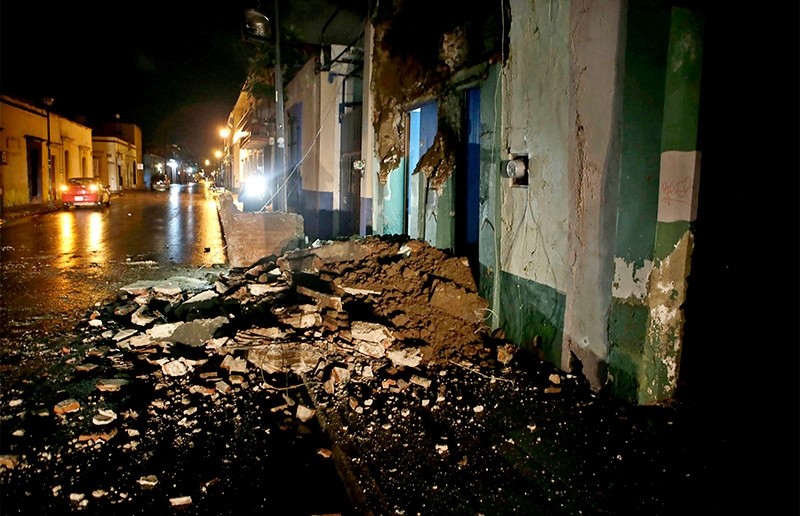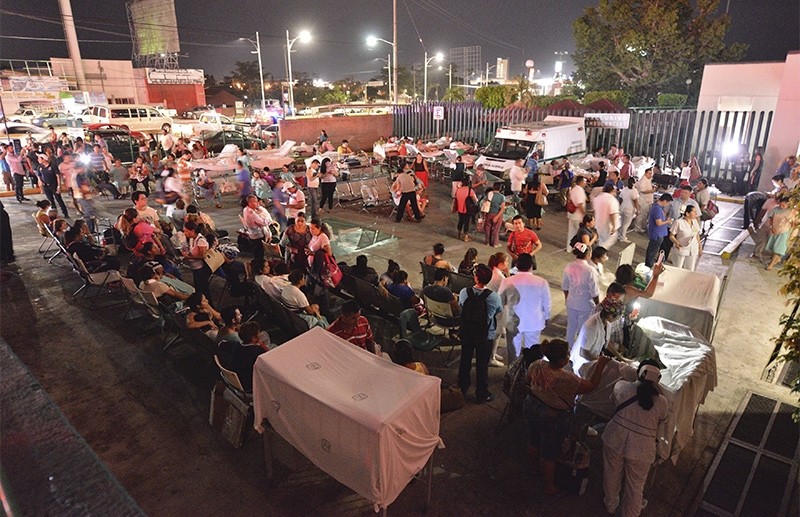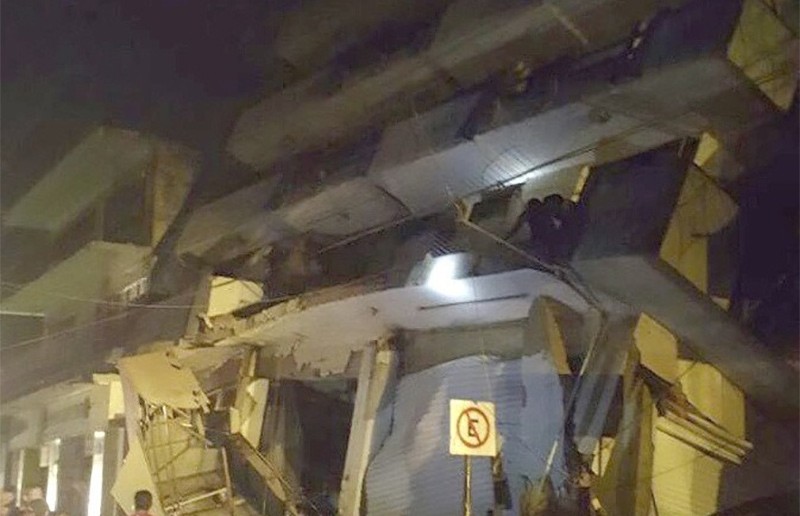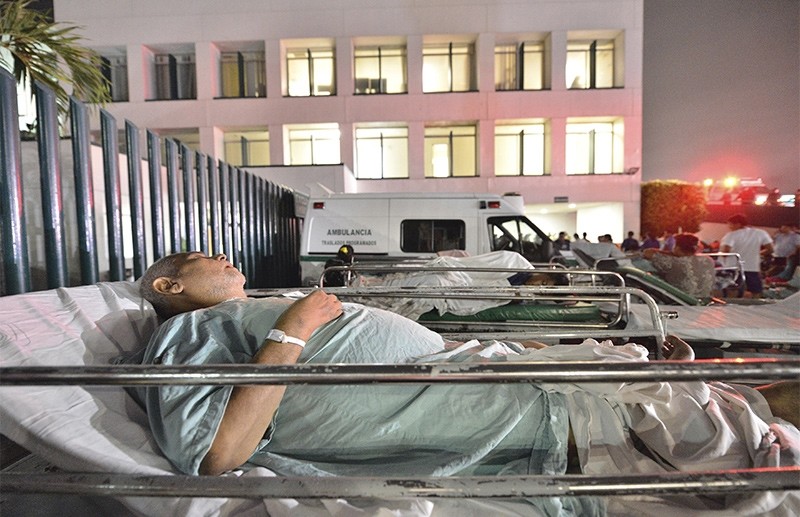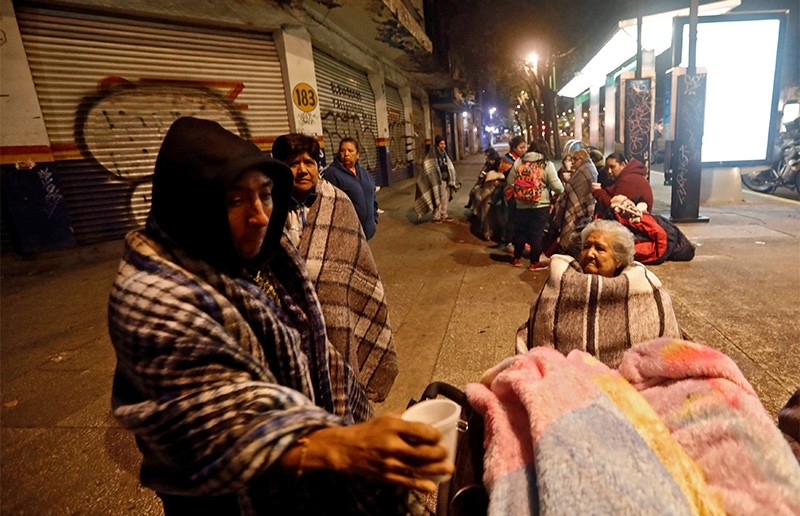 Even in distant Mexico City the quake was felt so strongly that frightened residents gathered in the streets in the dark, often in their pajamas, fearing that buildings would collapse.
Civil protection officials were checking for damage in Chiapas, but the quake was so powerful that frightened residents in Mexico City more than 1,000 kilometers (650 miles) away fled apartment buildings, often in their pajamas, and gathered in groups in the street.
Around midnight buildings swayed strongly for more than minute, loosening light fixtures from ceilings. Helicopters crisscrossed the sky above Mexico City with spotlights. Some neighborhoods kept electricity while others remained in darkness.
Civil Defense in Chiapas said on its Twitter account that its personnel were in the streets aiding people and warned residents to prepare for aftershocks.
In neighboring Guatemala, President Jimmy Morales spoke on national television to call for calm while emergency crews checked for damage.
"We have reports of some damage and the death of one person, even though we still don't have details," Morales said. He said the unconfirmed death occurred in San Marcos state near the border with Mexico.
Lucy Jones, a seismologist in California who works with the U.S. Geological Survey, said such as quake was to be expected.
"Off the west coast of Mexico is what's called the subduction zone, the Pacific Plate is moving under the Mexican peninsula," she said. "It's a very flat fault, so it's a place that has big earthquakes relatively often because of that."
"There's likely to be a small tsunami going to the southwest. It's not going to be coming up and affecting California or Hawaii," she said. "For tsunami generation, an 8 is relatively small."