Florida has ordered 6.3 million people to evacuate as massive Hurricane Irma menaces the southeastern U.S. state, according to its Division of Emergency Management. The material damage of the deadly hurricane could go up to $200 billion, analysts said Saturday.
Florida's Division of Emergency Management said Saturday that officials have issued a mix of mandatory and voluntary evacuation orders to 6.3 million residents. The number rose overnight as the predicted path of Hurricane Irma has shifted west. It's likely to come ashore Sunday.
The size and trajectory of the storm has prompted officials to order evacuations along both coasts of Florida, including some of the state's population centers. Florida is the nation's third largest state with nearly 21 million residents.
Another 540,000 have been asked to evacuate in the eastern part of Georgia.
In South Carolina, a mandatory evacuation order was issued for eight barrier islands. That includes Hilton Head Island, the most populous of the islands with about 40,000 residents.
Irma weakened slightly in the morning but was expected to pick up strength again before slamming Florida.
On Saturday morning, the hurricane's outer bands blew into South Florida as residents scrambled to leave. Damaging winds were moving into areas including Key Biscayne and Coral Gables, and gusts up to 56 mph (90 kph) were reported off Miami.
Irma is expected to strike the Florida Keys late Saturday and Sunday before moving inland, according to the National Hurricane Center, and many residents have joined a mass exodus amid increasingly dire warnings to leave.
Extending for 140 miles, Irma's hurricane-force winds are expected to reach from West Palm Beach on the Atlantic coast to Fort Myers on the Gulf of Mexico, which has become an "insurance industry nightmare" Chuck Watson, a Georgia-based disaster modeler told Bloomberg.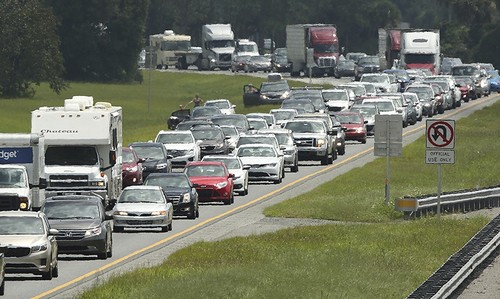 He noted that the damage may surpass $135 billion in Florida and may push the cost as high as $200 billion.
Around 8.5 million properties in Florida are threatened by Irma's winds, CoreLogic told Bloomberg.

Shahid Hamid, an expert on the insurance industry who oversees stress testing for Florida state regulators, told AFP he had serious concerns about the ability of local insurers to absorb a shock of this magnitude.
As director of the insurance laboratory at Florida International University's hurricane research center, Hamid tests companies to see whether their financial positions are secure enough to handle a flood of hurricane-related claims.
Although all companies passed the most recent round of testing, the stress tests did not contemplate the "exceptional scenario" of a $100 billion storm, Hamid said.
As it roared across the Caribbean the monster storm claimed at least 19 lives, devastating a series of tiny islands like Saint Barthelemy and Saint Martin -- where 60 percent of homes were wrecked and looting broke out -- before slamming into the Virgin Islands and Puerto Rico.
Warning that Irma would be worse than Hurricane Andrew -- which killed 65 people in 1992 -- Florida's governor Rick Scott had said all of the state's 20.6 million inhabitants should be prepared to evacuate.
Meteorologists warned that by Saturday morning scenes of far greater devastation were sure to emerge as Irma worked her way along the northern coast westward through Sancti Spiritus and Villa Clara provinces where it is forecast to turn north toward Florida.
Irma was about 275 miles (440 km) south-southeast of Miami, the NHC said in its latest advisory.
With the storm barreling toward the United States, officials ordered an historic evacuation in Florida that has been made more difficult by clogged highways, gasoline shortages and the challenge of moving older people.