Raging wildfires that broke out Thursday across southern California forcing tens of thousands of people to flee their homes, including residents on the outskirts of Los Angeles, America's second-largest city.
On Friday, the inferno spread south into San Diego, swelling to 16 square kilometers as firefighters battle to contain and kill the fast-moving flames.
At least 65 structures were destroyed in the county, according to the California Fire Department (Cal Fire).
Winds with hurricane-force gusts of up to 80 miles per hour (130 kilometers per hour) were fueling the blazes, creating apocalyptic scenes of hillsides engulfed in billowing smoke and towering plumes of flame.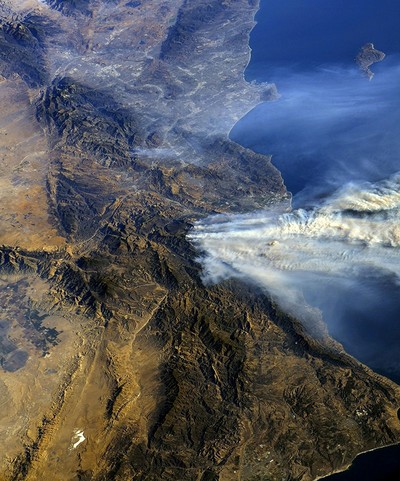 Despite the intensity of the fires, only one fatality has been reported so far. Tim Lohman of the Ventura County Sheriff's Office said an unidentified body had been found overnight.
More than 4,000 firefighters and dozens of fixed-wing aircraft and helicopters have been deployed to combat the fires in Los Angeles County and Ventura County, fire officials said.
U.S. President Donald Trump issued an emergency declaration for California on Friday as wildfires, allowing federal emergency officials to coordinate disaster relief efforts and frees up federal emergency funds for Los Angeles, Riverside, San Diego, Santa Barbara and Ventura counties.
The Pentagon had announced Thursday that the California National Guard would deploy 65 troops to assist in the fire-fighting efforts, which are being hampered by the seasonal Santa Ana winds.
Cal Fire officials said dry, windy conditions were expected to continue into the weekend and warned residents to be ready to leave at a moment's notice.
"Extremely dry conditions and Santa Ana Winds will continue to elevate fire danger," Cal Fire said in a tweet. "Prepare now to ensure if evacuated you and your family are ready to GO!"
Cal Fire chief Ken Pimlott said the strong winds were compounding the difficulty of fighting the fires.
"There will be no ability to fight fire in these kinds of winds," Pimlott said.
The fire remained uncontained early Friday although the winds subsided significantly overnight. Forecasters said they would return later in the day but would be less widespread than on Thursday.
Meanwhile, firefighters in Ventura County, northwest of Los Angeles, gained 10 percent containment of the largest and most destructive fire in the state, which has destroyed 430 buildings. The so-called Thomas Fire has grown to 206 square miles (533 sq. kilometers) since it broke out Monday. Fire crews also made enough progress against other large fires around Los Angeles to lift most evacuation orders.
Multi-million dollar mansions were destroyed in Los Angeles' Bel Air neighborhood, where many celebrities own homes and media tycoon Rupert Murdoch has a $30 million estate, the Moraga Bel Air Winery.
Besides Bel Air, affluent Los Angeles neighborhoods between Mulholland Drive to the north and Sunset Boulevard to the south were part of the evacuation zone.
The University of California, Los Angeles canceled classes -- two days before the start of final exams -- as firefighters battled the "Skirball" fire near the sprawling campus.
Further to the north, in Ventura County, an even bigger blaze, the "Thomas" fire, was raging and threatening several coastal and inland towns.
That fire has consumed 96,000 acres (38,850 hectares) and forced 50,000 people to flee their homes, Cal Fire said.
Celebrities
Los Angeles Mayor Eric Garcetti said over 230,000 people have been forced to evacuate in Los Angeles and Ventura counties.
Major north-south highways, including the famed Route 101, were closed temporarily as the fire jumped over the road and menaced beachfront homes.
The "Skirball" fire ignited Wednesday morning and began to sweep through affluent Bel Air, home to SpaceX CEO Elon Musk, pop superstar Beyonce and other celebrities.
Police knocked on doors and used loudspeakers to make sure everybody had left their homes.
The singer Lionel Richie canceled a concert to help his ex-wife flee the area, while comedian Chelsea Handler and designer Adrienne Maloof were among those tweeting that they had to evacuate.
Among those evacuated was model Chrissy Teigen, wife of singer John Legend.
"Never thought I'd get to actually play what I thought was a hypothetical game of what would you grab if there were a fire," Teigen wrote on Twitter.
"We are fine and we will be fine. Thinking of everyone else affected and continuing my lifelong intense love of firefighters," she added.
Forecasters predicted that the winds could cause fires to spread further, threatening more homes and the acclaimed Getty Center museum.
The Getty -- home to masterpieces including works by Monet and Rembrandt -- was closed.
Museum authorities tweeted that "air filtration systems are protecting the galleries from smoke."
This has been California's deadliest year ever for wildfires. More than 40 people died in October when fires ravaged the state's wine-producing counties.