"Ahad, it is not like that. I am telling you. Here, when you come around and say 'OK, yes, I did this s***,' look, this leaves you in peace. Once you confessed, they do not mess up with you." This was the exact sentence and an apparent confession of a plea bargain between the U.S. judiciary and Reza Zarrab, a Turkish-Iranian gold trader who is now a witness in a trial held in New York on now-lifted U.S. sanctions against Iran.
Just like Turkey has charged from the beginning, it was revealed late Monday with the transcript of Zarrab's jailhouse call with his uncle, who goes by the name "Ahad," that the businessman has been involved in a clear bargain with U.S. authorities.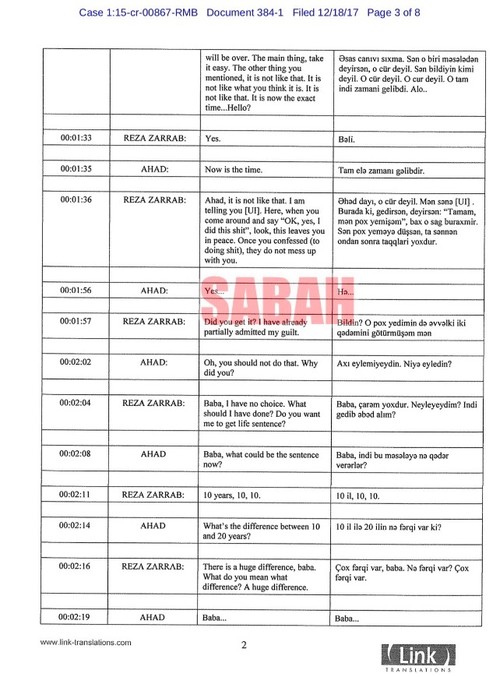 The Turkish-Iranian businessman last month accepted all U.S. charges against him, including the violation of the now-lifted U.S. sanctions against Iran, money laundering and other charges, and agreed to cooperate as a witness against Mehmet Hakan Atilla, former deputy CEO of Turkey's state-run lender Halkbank.
"I have no choice, what should I have done? Do you want me to get life sentence?" Zarrab asks his uncle over the phone, ultimately revealing that his sentence now should be 10 years.
"What could be the sentence now?" his uncle asks, and he responds "10 years, 10, 10."
Upon that answer, his uncle seems discontent with the length of the sentence.
"What's the difference between 10 and 20 years?" Ahad asks, to which Zarrab replies "There is a huge difference."
Another transcript shared by Pete Brush, a journalist covering the trial, shows that Zarrab told Ahad that "there is no law" in the United States.



"There is no rule of law here, look. Here, you have to admit to something you haven't done. This is how it works here. This country is like this. Look, you have to say you have done something you haven't," Zarrab is cited as saying in the transcript.
Zarrab was arrested by U.S. authorities in March 2016 on suspicion of taking part in the alleged sanctions-busting scam, but is now cooperating with the authorities in an apparent plea bargain.
The Turkish government, however, denies the case and asserts that this case is a political plot orchestrated by the Gülenist Terror Group (FETÖ).
"While all these are taking place, it is not possible to say that this case is still a legal, technical case regarding an embargo. A political operation of perception is being carried out over this against our president, the Republic of Turkey and high-level authorities of the Republic of Turkey," presidential spokesman İbrahim Kalın said earlier in December.