The first major winter storm of 2018 bore down on the U.S. Northeast on Thursday, closing schools and government offices and disrupting travel as work crews scrambled to clear roads of snow before plummeting temperatures turn it to treacherous ice.
After bringing rare snowfall to the southeast a day earlier, the storm carried rapid accumulation and high winds to New York, where subway systems appeared less crowded than usual as many commuters heeded officials' warnings to stay home.
Blizzard warnings were in place along the coast from North Carolina to Maine, with the National Weather Service forecasting winds as high as 55 miles per hour (89 kph) that may bring down tree limbs and knock out power.
More than a foot (30 cm) of snow was forecast for Boston and coastal areas in northern New England.
The storm is the product of a rapid and rare plunge in barometric pressure that some weather forecasters are referring to as "bombogenesis," or the so-called "bomb cyclone."
The term comes from the merging of two words: bomb and cyclogenisis, according to private forecaster AccuWeather.
On Wednesday, the storm dumped snow on Florida's capital Tallahassee for the first time in 30 years, and was expected to last through the day. About 3,000 airline flights within, into or out of the United States were canceled ahead of the storm's arrival on Thursday, with New York's three major airports and Boston's Logan International seeing as many as three out of four flights called off, according to tracking service FlightAware.com.
Federal government offices planned to delay opening for two hours on Thursday, while state officials in Connecticut and Massachusetts ordered non-essential workers to stay home. In Maine, Governor Paul LePage ordered state offices closed for the day.
"Travel conditions are expected to be treacherous," LePage said in a statement. "Avoiding unnecessary travel will keep accidents to a minimum and allow state and municipal road crews to safely go about their work."
The snow storm brought a break in extreme cold temperatures that have gripped much of the region since Christmas, frozen part of the Niagara Falls, played havoc with public works and impeded firefighting in places where temperatures barely broke 20 degrees Fahrenheit (minus 6 centigrade).
But forecasters warned temperatures would drop sharply on Friday and into the weekend. That left work crews scrambling to clear snow off roadways and sidewalks on Thursday before it freezes to ice and makes conditions more treacherous for pedestrians and drivers alike.
"These are tough conditions to move around in, so if you don't need to be on the road ... you shouldn't," said New York Mayor Bill de Blasio on Twitter. "Everyone needs to take this weather very seriously."
Schools were ordered to close in New York, many parts of New Jersey, Boston and other cities through the region.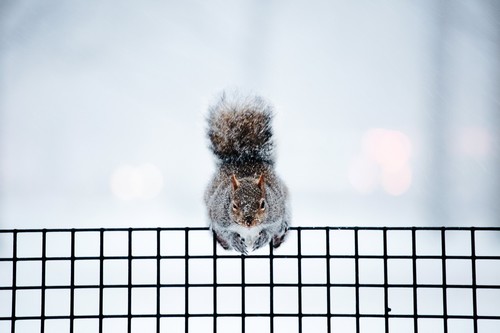 SOUTHERN SNOW
Private forecaster AccuWeather said snow would fall quickly during the day, at a rate of several inches per hour, with the storm intensified by the bombogenesis effect.
The phenomenon occurs when a storm's barometric pressure drops by 24 millibars in 24 hours. As a result, the accumulation of snow and winds intensifies, which can cause property damage and power outages.
More than 35,000 customers were without power in Georgia, North Carolina and Virginia early on Thursday, utilities reported online.
A part of US-13 at the Chesapeake Bay Bridge-Tunnel in Virginia was closed due to high winds early on Thursday while state transportation departments throughout the region reported dozens of delays due to deteriorating roads conditions.
Late on Wednesday, a baggage car and two sleeper cars on an Amtrak train traveling from Miami to New York, with 311 passengers aboard, derailed as it was slowly backing into a station in Savannah, Georgia. No one was injured, an Amtrak spokesman said.
The cold has been blamed for at least nine deaths over the past few days, including those of two homeless people in Houston.