At least 15 people were killed, 25 were injured and dozens of homes were swept away or heavily damaged Tuesday as downpours sent mud and boulders roaring down hills stripped of vegetation by a gigantic wildfire that raged in Southern California last month.
Helicopters were used to pluck more than 50 people from rooftops because downed trees and power lines blocked roads, and dozens more were rescued on the ground, including a mud-caked 14-year-old girl pulled from a collapsed Montecito home where she had been trapped for hours.
"I thought I was dead for a minute there," the dazed girl could be heard saying on video posted by KNBC-TV before she was taken away on a stretcher.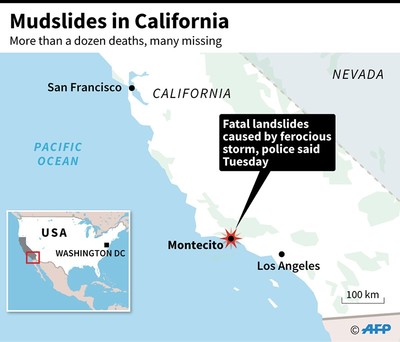 Most deaths were believed to have occurred in Montecito, a wealthy enclave of about 9,000 people northwest of Los Angeles that is home to such celebrities as Oprah Winfrey, Rob Lowe and Ellen DeGeneres, said Santa Barbara County spokesman David Villalobos.
Twenty people were hospitalized and four were described as "severely critical" by Dr. Brett Wilson of Santa Barbara Cottage Hospital.
An unknown number were unaccounted for and authorities were trying to determine if they were missing or just hadn't contacted family members.
The search for survivors continued into the evening, though Wilson noted that their conditions would deteriorate if they got wet.
The mud was unleashed in the dead of night by flash flooding in the steep, fire-scarred Santa Ynez Mountains. Burned-over zones are especially susceptible to destructive mudslides because scorched earth doesn't absorb water well and the land is easily eroded when there are no shrubs.
The torrent arrived suddenly and with a sound some likened to a freight train as water carrying rocks and trees washed away cars and trashed homes, smashing some into piles of lumber and filling others waist-deep in mud.
"It looked like a World War I battlefield," Santa Barbara Sheriff Bill Brown said. "It was literally a carpet of mud and debris everywhere with huge boulders, rocks, downed trees, power lines, wrecked cars, lots of obstacles and challenges for rescue personnel to get to homes, let alone to get people out of them."
Authorities had been bracing for the possibility of catastrophic flooding because of heavy rain in the forecast for the first time in 10 months.
Evacuations were ordered beneath recently burned areas of Santa Barbara, Ventura and Los Angeles counties. But only an estimated 10 to 15 percent of people in a mandatory evacuation area of Santa Barbara County heeded the warning, authorities said.
Aerial footage above Montecito showed what appeared to be a muddy river flowing through town. In fact, it was U.S. Highway 101, the link connecting Ventura and Santa Barbara, covered with trees and other debris and expected to be closed for two days.
The first confirmed death was Roy Rohter, a former real estate broker who founded St. Augustine Academy in Ventura. The Catholic school's headmaster, Michael Van Hecke, announced the death and said Rohter's wife was injured by the mudslide.
Montecito is beneath the scar left by a wildfire that erupted Dec. 4 and became the largest ever recorded in California. It spread over more than 440 square miles (1,140 square kilometers) and destroyed 1,063 homes and other structures. It continues to smolder deep in the wilderness.
The storm walloped much of the state with damaging winds and thunderstorms and dumped up to 18 inches (45 centimeters) of snow in the Sierra Nevada. Downtown San Francisco got a record 3.15 inches (8 centimeters) of rain on Monday, smashing the old mark of 2.36 inches (6 centimeters) set in 1872.