A 7.3 magnitude earthquake shook southern Peru on Sunday, killing at least two people and injuring 65 others, the South American country's civil defense agency said.
The USGS says that the temblor struck 42 kilometers (26 miles) south-southwest of Acari at 0918 GMT (4:18 a.m. EST) on Sunday at a depth of 12.1 kilometers (about 7.5 miles).
The epicenter was 25 miles (40 kilometers) south-southwest of the small town of Acari in the Arequipa district.
"There are two fatalities in the region of Arequipa and so far 65 injured have been reported," General Jorge Chavez, head of the National Civil Defense Institute, said.
The threat of a tsunami was ruled out by the Peruvian navy and the Pacific Tsunami Warning Center in Hawaii.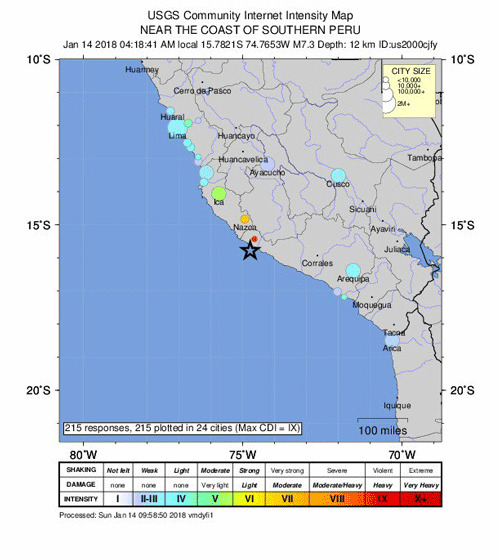 Adobe houses were leveled in the coastal town of Lomas and elsewhere in the surrounding area, Santiago Neyra, the mayor of the nearby town of Caraveli said.
Structural damage was reported to a bridge in Arequipa, said the head of the region's highway police, Major Alberto Rojas.
In the city of Arequipa, residents ran into the streets after the quake struck at 4:18 am (0918 GMT). It was felt as far away as Lima.