Ten construction workers in central Colombia were killed Monday when a section of the bridge they were working on collapsed.
The disaster occurred around midday on the bridge, which is due to connect sections of the highway that runs from the capital Bogota to the city of Villavicencio in an area known as Chirajara.
"Ten people are confirmed to have died," Col. Jorge Diaz of the Civil Defense rescue organization told reporters.
"Nine died at the site of the accident and one other was transported to hospital, where he died," said Diaz.
The deceased fell from a height of approximately 280 meters (918 feet) when a section of the structure of the bridge gave way. Due to the area's difficult geography, only two bodies have been recovered so far. Eight injured workmen have been transferred to hospital.
"From one moment to the next, the bridge collapsed, and people and the structure fell into the valley below," said Diaz.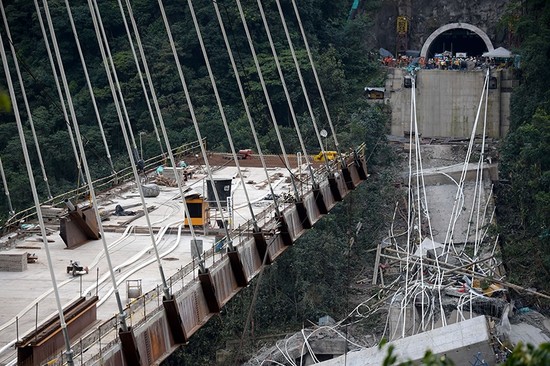 Members of the rescue team have not ruled out the possibility of locating more bodies as reports claim that anywhere between 20 and 30 people were working on the bridge at the time of its collapse.
The bridge, which would have had a length of 446 meters (1,463 feet), was due to be inaugurated at the end of March.
The region around Chirajara is a particularly mountainous area where the highway from the capital descends towards Villavicencio. The actual distance between Bogota and Villavicencio is around 72 kilometers (45 miles), but given the difficult terrain, the highway is significantly longer and consists of multiple tunnels and 46 separate bridges.
As the search continues, the Colombian highway control authority INVIAS has issued a statement declaring the total closure of the road between Bogota and Villavicencio from Naranjal to Buenavista.