Dubbed the "Sunshine State" for its sun-soaked climate, Florida is also ironically branded the "Gunshine State," a place where firearms are easy to come by -- especially for perpetrators of violence.
The state, home to 21 million people, has handed out more gun permits than any other state -- around 1.9 million as of January, according to official statistics.
But this only makes up part of the total number of firearms, an unknown figure that cannot be estimated.
Comparing the number of firearm permits with the number of inhabitants puts Florida at mid-range for gun ownership -- trailing a number of mostly-white rural states.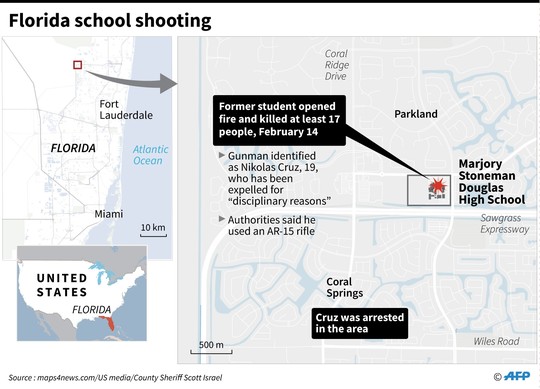 But the peninsula, located in the southeast of the country, has been the setting of several particularly deadly shootings in recent years.
The worst remains an attack on an Orlando gay nightclub on June 12, 2016, which saw a heavily armed man -- who pledged allegiance to the Islamic State group -- kill 49 people.
Six months later, a man opened fire at Fort Lauderdale International Airport, killing five people on January 6, 2017.
On Wednesday, a 19-year-old man expelled from a high school for disciplinary reasons returned to the building in Parkland, Florida and killed 17 people.
But despite the repeated tragedies, Floridians make no secret of their attachment to the right to bear arms.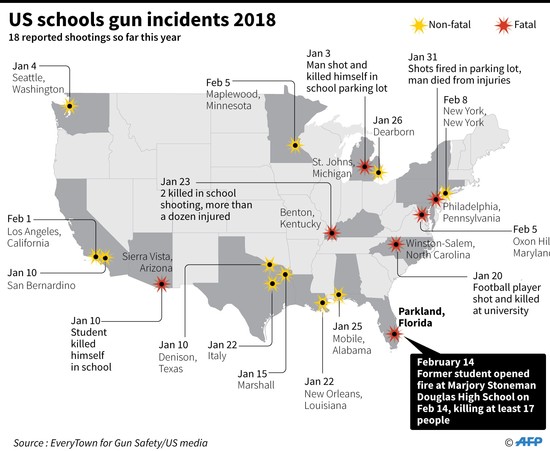 Florida was the first U.S. state to adopt controversial "Stand Your Ground" legislation in 2005, backed by the gun lobby.
The law allows a person to use lethal force if they believe they are in serious danger -- even if there is a possibility that they could escape or retreat from that threat.
As a result, the concept of self-defense is particularly prominent in Florida, as illustrated in February 2012 with the death of Trayvon Martin, an unarmed teenager killed by a neighborhood watchman.
The perpetrator, George Zimmerman, pleaded self-defense and was acquitted by a jury.