Voters in a rural, overwhelmingly Republican district of Nevada have opted to elect a dead man accused of rape rather than a Democrat to the state's legislature.
Republican Dennis Hof, the owner of several brothels who was found dead last month, received the support of more than 17,000 people - 63 percent of the vote - in his district's race for State Assembly on Tuesday, according to unofficial results posted on Nevada's election website.
If Hof is declared the victor in his district, the seat will be declared vacant and a replacement will be appointed by three commissioners of the district's three counties, according to the Las Vegas Review-Journal.
"There are a lot of Republicans who were uncomfortable voting for Dennis because of the nature of his business and they now know that he is not the one who will be serving," his campaign manager Chuck Muth said in an interview after Hof's death.
"They will feel much more comfortable casting the ballot for him knowing there will be another Republican to replace him," he added.
Hof was running against Democratic Las Vegas educator Lesia Romanov in the race for a sprawling assembly district that touches both California and Utah, covering rural southern Nevada, largest stretches of desert and the Nevada National Security Site where nuclear weapons were tested.
Hof also ran for the state Legislature in 2016 as a Libertarian but lost the race.
Hof's campaign for District 36 - composed of Nye, Lincoln and Clark Counties - was marked by publicity stunts and billboard advertising that broadcast his pledges of repealing taxes and protecting gun rights, according to the U.S. magazine The New Yorker.
Hof, the self-described "Trump of Pahrump," was accused of rape and sexual assault by two of his former employees, according to the Review-Journal, citing a police report and interviews with the women. He denied the claims.
Hof died at his Love Ranch brothel on October 16. The evening prior, he celebrated his 72nd birthday with a political rally at a hotel and casino called the Pahrump Nugget, according to The New Yorker. He continued the festivities at his brothel with reality television personality Flavor Flav and porn-film actor Ron Jeremy, who found Hof dead the next morning.
Hof died in the same Love Ranch suite where Lamar Odom, the former NBA player and ex-husband of Khloe Kardashian, overdosed in October 2015, the New Yorker report said. Odom entered a coma but survived.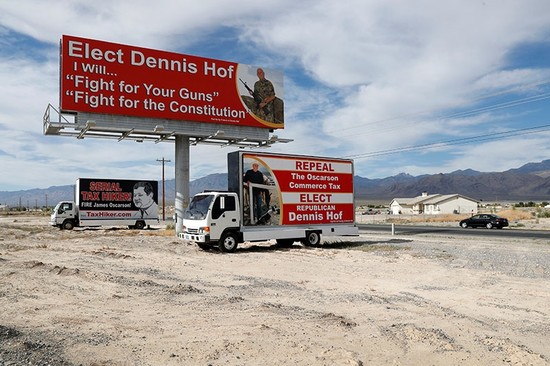 Campaign signs for Dennis Hof are shown along a road in Pahrump, Nevada, U.S. June 15, 2018. (Reuters Photo)

In a June interview from one of his brothels, Hof said his political fortunes had parallels with those of U.S. President Donald Trump.
"This really is the Trump movement," Hof said in the interview at Moonlite BunnyRanch, his brothel near his home in Pahrump. "People will set aside for a moment their moral beliefs, their religious beliefs, to get somebody that is honest in office."
After Hof won the June nominating contest for the state Assembly seat, some evangelicals in his district said they had voted for him because they believed he would clean up politics and not be beholden to special-interest groups and their money.
The thrice-divorced author of "The Art of the Pimp," who appeared on HBO's "Cathouse," owned a strip club and five legal brothels in Nevada, the only U.S. state with legalized prostitution.