At least five of the 37 Republican Senators who voted against a resolution to end the United States' involvement in the Saudi-led civil war in Yemen received funding from pro-Saudi lobbying groups.
According to a report by the Centre for International Policy (CIP) published in October, senators Roy Blunt of Missouri, John Boozman of Arkansas, Richard Burr of North Carolina, Mike Crapo of Idaho and Tim Scott of South Carolina received financial contributions for elections from firms working for Saudi Arabia between 2016 and 2017.
Blunt received at least $19,200 in campaign contributions, while Boozman, Burr, Crapo and Scott, received funding ranging from $1,000-$2,500 between 2016 and 2017 from Saudi-linked firms, the report showed.
Saudi Arabia spent more than $24 million to influence U.S. foreign policy and public opinion during the 2018 election cycle, according to Department of Justice data made available through CRP's Foreign Lobby Watch tool. Around $18 million of that amount was paid to foreign agents acting on behalf of Saudi interests in 2017 and another $6 million in spending has already been reported this year, making it one of the top 10 countries spending on influence and lobbying in the U.S.
However, despite efforts by lobbyists, U.S. senators sent a strong signal Wednesday that they want to punish Saudi Arabia for its role in the Khashoggi murder and the Saudi-led war in Yemen. In a bipartisan 63-37 vote, the Senate opted to move forward with legislation calling for an end to all U.S. military support to the Saudi-led coalition in the Yemen war.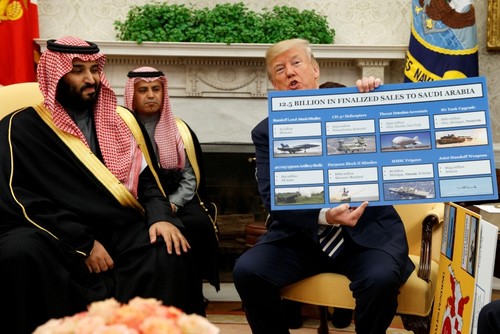 In this March 20, 2018 file photo, President Donald Trump shows a chart highlighting arms sales to Saudi Arabia during a meeting with Saudi Crown Prince Mohammed bin Salman in the Oval Office of the White House, in Washington. (AP Photo)
The vote on Wednesday was a rebuke not only to Saudi Arabia but also to President Donald Trump's administration, which has made clear it does not want to torpedo the long-standing U.S. relationship with Riyadh over the killing. Secretary of State Mike Pompeo and Secretary of Defense Jim Mattis both came to Capitol Hill to urgently lobby against the resolution, which would call for an end to U.S. military assistance for the conflict that human rights advocates say is wreaking havoc on Yemen and subjecting civilians to indiscriminate bombing. Addressing reporters after briefing the Senate on the situation in Yemen, Pompeo said the planned voting is "poorly timed" and would undermine efforts by U.N. Special Envoy to Yemen Martin Griffiths to bring together both sides in the conflict to reach a cease-fire.
Western nations have been calling for an end to the Saudi-led military campaign in neighboring Yemen, which was launched by Prince Mohammed, as a humanitarian crisis there worsens.
In the face of mounting pressure to punish Riyadh, Trump has called Saudi Arabia a "great ally" and refused to take any action against its leadership, citing multibillion-dollar arms deals and U.S. national security concerns. A U.S. Department of State spokesman said on Wednesday that Saudi Arabia will buy Lockheed Martin's $15 billion missile defense system. The State Department said the Saudis and U.S. officials signed the letters of offer and acceptance documents on Monday, formalizing the terms for Saudi's purchase of 44 Terminal High Altitude Area Defense (THAAD) launchers, missiles and related equipment.
Yemen has been wracked by violence since 2014, when the Houthi rebel group overran much of the country and the crisis escalated in 2015 when a Saudi-led coalition launched a devastating air campaign aimed at rolling back Houthi gains.Tens of thousands of people, including civilians, are believed to have been killed and the U.N. estimates that around 14 million Yemenis are at risk of famine.