A car bomb detonated while military service vehicles were passing by killed at least 28 civilians and military personnel and injured 61 others in central Ankara on Wednesday evening.
Deputy Prime Minister Numan Kurtulmuş stated that 28 people were killed and 61 others were injured after the attack. He said a team of seven prosecutors were currently investigating the crime scene to shed light on the attack. Kurtulmuş confirmed that the attack was carried out by a car bomb.
Pointing out that not only military personnel as well as civilians were killed in the heinous, treacherous and undignified attack, the Deputy PM said that he strongly condemned the instigators, the forces behind the attack and those who provided logistics, monetary support or intelligence and arms to the perpetrators of such terror attacks.
He added that recent terror attacks were trying to 'intimidate' Turkey and the country was no longer satisfied with simple, empty condemnation messages and expected the international community to stand with them.
President Recep Tayyip Erdoğan released a statement regarding the attack while a security meeting was underway at the Presidential Complex in Ankara. Offering his condolences to the victims' relatives, Erdoğan said that Turkey will definitely respond to the perpetrators of the attack.
"The addition of new casualties to existing ones in Turkey's fight against terrorism wear our patience thin. We will continue our struggle with more determination against these pawns and the forces behind them which carry out these attacks that have no moral or humane limitations, " Erdoğan said, pointing to a possible foreign involvement behind the attack.
"Our determination in reprisals gets stronger with such attacks that target our unity, coexistence and our future inside and outside of our borders. It should be known that Turkey will not hesitate to use its self-defense right anywhere, anytime, in any case. The ones who think that they can distract our country and nation from its goals by using terror organizations will be proven wrong," the president said.
Erdoğan canceled visit to Azerbaijan scheduled for Thursday after the terror attack. Erdoğan called his Azerbaijani counterpart Aliyev to postpone his visit. During the call, Aliyev offered his condolences to the deceased and wished a quick recovery for the wounded.
Prime Minister Davutoğlu also canceled his Brussels trip for the critical EU Summit on the refugee crisis due to the terror bombing. The Prime Ministry's office said that the official visit, for which Davutoğlu had planned to leave for later this evening, was postponed to an uncertain date.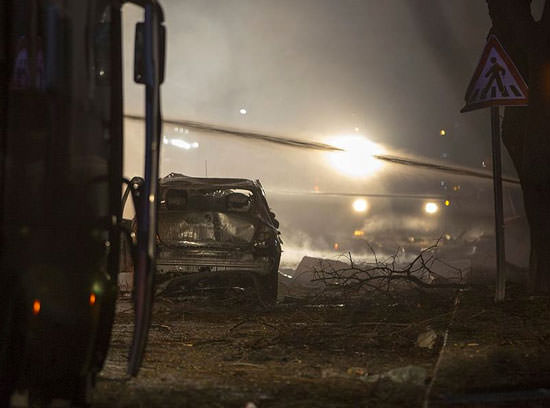 Initially, the death toll was acknowledged as five along with 10 wounded by Ankara Governor Mehmet Kılıçlar right after the attack. The death toll was later revised by the governorate to 18. Later in the night, Minister of Health Mehmet Müezzinoğlu announced that 20 or 21 people were killed at the scene of explosion, and three people had died in hospitals. He added that the 61 wounded were currently being treated at 14 hospitals. The Ministry of Health announced that 32 ambulances were dispatched to the scene of explosion.
On Thursday, at least 30 of the 61 people wounded in Wednesday's deadly bomb attack in the Turkish capital Ankara have been discharged from hospital.
The Turkish General Staff issued a statement early on Thursday saying that the remaining 31 were still hospitalized, but none were in critical condition.
Air Force Brigadier General Reha Ufuk Er and his wife, who were near the scene of attack and were slightly wounded, were in good condition, it added.
At least three service vehicles caught on fire after the explosion; officials fear that the death toll may climb due to the fire.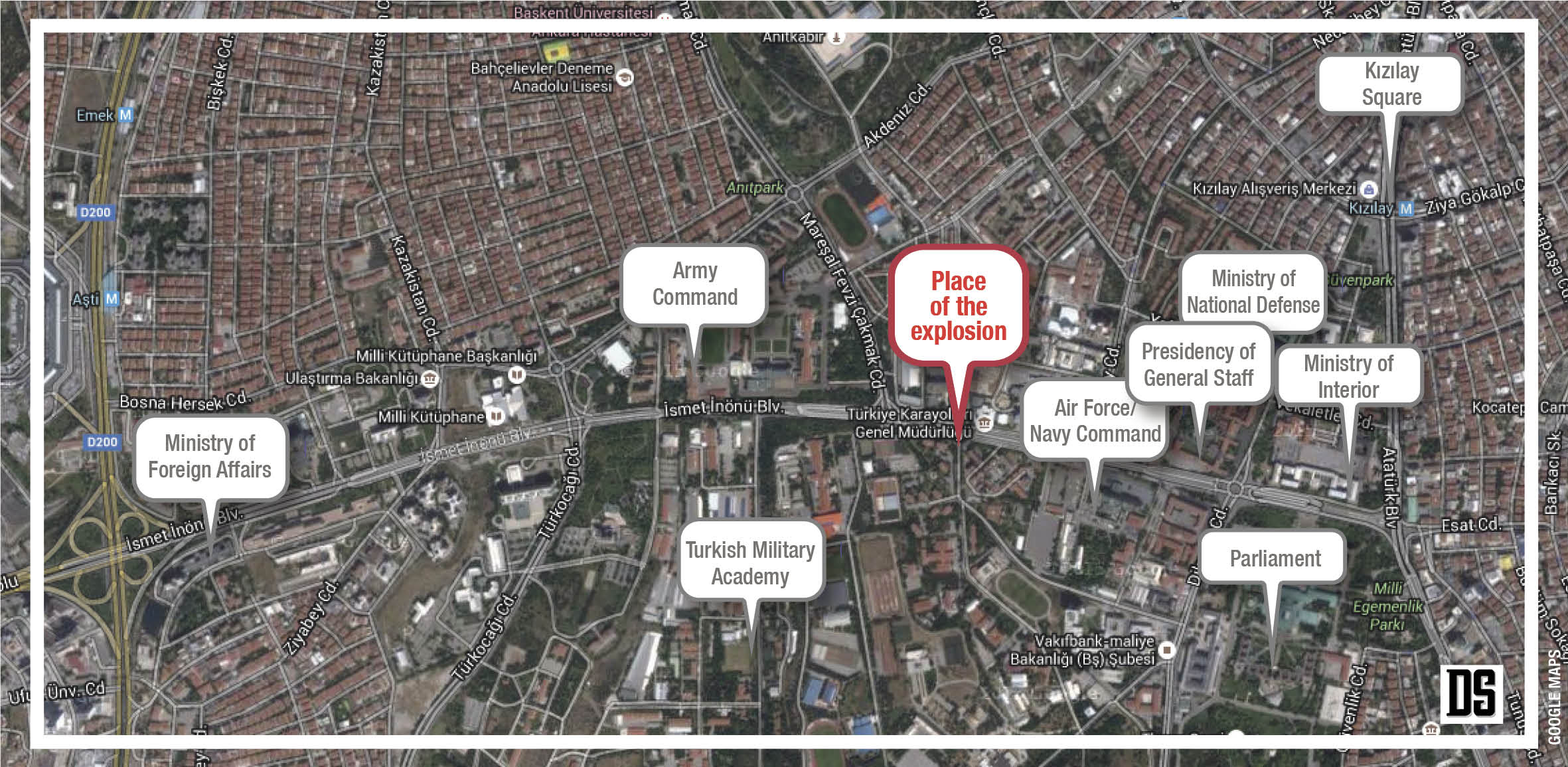 The place of the explosion is some 300 meters to Turkey's Parliament, Presidency of General Staff and Army, Air Force, Navy and Coast Guard commands. It is also located on one of Ankara's main arterial roads on east-west axis.
Fire and smoke was visible from many parts of Ankara, while the explosion was heard even in very remote districts.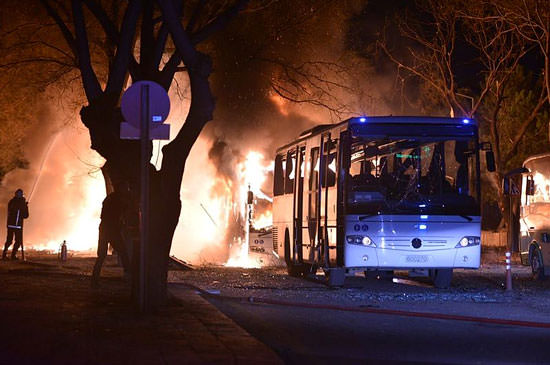 A statement from the Turkish General Staff said that the service vehicles were attacked while waiting at the traffic lights. "We fiercely condemn this heinous attack; we wish our deepest condolences to the families of the victims and the Turkish nation. May Allah have mercy upon our colleagues, brothers in arms and citizens who lost their lives in the attack and we wish those injured a speedy recovery."
Ankara was rocked by another bombing attack in October – the deadliest attack in modern Turkish history – which was set off by two suspected suicide attackers in a crowd of leftist, pro-Kurdish and union activists at a peace rally. The attacks near Ankara's main train station left 97 demonstrators dead and 246 injured.