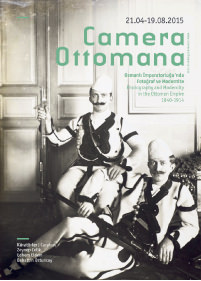 Most pupils raised in Turkey's state schools believe that their country's modernization process began in the 1920s, as if before that decade, people lived in total darkness, spending their time doing all kinds of savage things to each other. A new photography exhibition at Koç University's Research Centre for Anatolian Civilizations (ANAMED) on İstiklal Avenue shows how this was not quite the case. In these old photographs, Istanbul looks as cosmopolitan as today's metropolis, if not more so.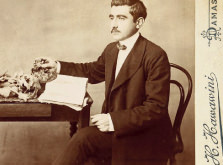 Curated by Zeynep Çelik, Edhem Eldem and Bahattin Öztuncay, "Camera Ottomana: Photography and Modernity in the Ottoman Empire, 1840-1914," is easily the best exhibition I have seen at ANAMED. It is the most comprehensive show ever to be exhibited there. Meticulously designed and curated, it extends to the building entrance and reminds us of the multi-ethnic nature of the imperial capital. Running until Aug. 19, "Camera Ottomana" was designed by PATTU Architecture, which has artfully placed glass negatives, stereographs and daguerreotypes in the gallery.
Images of different Ottoman subjects welcome you at the entrance. Taken in the studio of court photographer Abdullah Freres between 1862 and 1900, visitors see pictures of Seraskier Hüseyin Avni Pasha, a woman perusing a photo album and an Ottoman intellectual. Portraits of Ottoman children taken in Asil Samancı's Apollon Photographic Studio around 1900 are equally as interesting.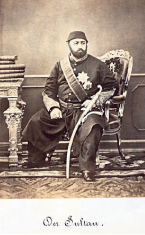 On the gallery walls, curators provide detailed information about the photography scene in 19th century Ottoman Istanbul. We learn that "the first professional studio in Istanbul was opened in 1845 by the Italian brothers Carlo and Giovanni Naya. They were followed by other foreigners who settled in Pera and specialized in portrait photography. Prominent among them were the German Abresche, Italian Maggi, French Astras and de Caranza, and British Robertson."
A large and useful map based on the map by municipal engineer Necib Bey shows major photograph studios in Istanbul and Pera around the year 1912. Visitors are encouraged to imagine how visiting Alevridis's studio on Babıali Caddesi no: 25, Sirkeci, and Nişan Tataryan's studio on Tarlabaşı Caddesi no: 78, Beyoğlu must have felt like for their customers.
Then comes portraits, taken between 1870 and 1918, in Istanbul's photographic studios of a number of photographers, including David Joseph, Raphael Khendamian and Mıgırdiç Çobanyan. We see pictures of firemen and theater actors and ordinary citizens from different walks of life looking at us from another century.
" 'Camera Ottomana' displays different forms of these images disseminated throu
gh the illustrated press, postcards sent out to family members or anonymous collectors, portraits presented to friends and acquaintances or pictures taken of employees and convicts. Photography had started to invade practically every sphere of public and private life," the exhibition program says.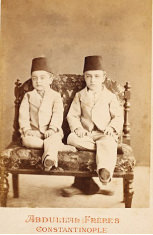 While preparing the exhibition, curators made extensive use of two large archives, the Ömer M. Koç Collection and photography albums commissioned by Sultan Abdülhamid II. These pictures show how, beginning in 1839, the Ottoman Empire embraced photography. In just a few decades photography became a tool to represent Ottoman life to foreign audiences, especially during the reign of Abdülhamid II.
"Camera Ottomana: Photography and Modernity in the Ottoman Empire, 1840-1914" is also the title of a book that accompanies the exhibition. Published by Koç University Press, the book features essays by Çelik, Eldem, Öztuncay, Frances Terpak and Peter Bonfitto.
Öztuncay, a leading scholar of Ottoman photography in Turkey, describes the rise of photography studios in the empire in an essay titled "The Origins and Development of Photography in Istanbul."
"Beginning in the early 1850s, the number of professional photographic studios in Istanbul, particularly Beyoğlu, increased substantially," he writes. "Prominent names from this lively period include Vasilaki Kargopoulo, who opened a studio next to the Russian Embassy in 1850; Ernest-Edouard de Caranza, who managed a portrait studio across from the French Embassy with his partner Maggi from 1852 to 1854; Rabach, of German origin, who arrived in Istanbul in 1855-56 in the aftermath of the Crimean War and opened a daguerreotype studio across from the Hotel d'Angleterre, handing it over to Viçen (Vincent) Abdullah in 1858; the Frenchman Alphonse Durand, who ran a portrait studio in a building opposite the Galatasaray Lycee in 1852 and also took outdoor photographs; and Jules Derain, a daguerreotypist of French origin who had a studio in the Şark Pasajı, the Passage Oriental."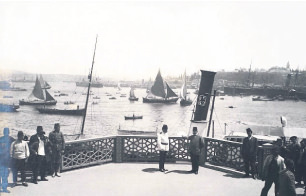 Also on display at ANAMED is a map showing major photographic studios in the Ottoman Empire around 1909. There were two studios in Kastamonu, two in Ordu, two in Samsun, one in Trabzon, two in Balıkesir, 20 in Istanbul and two in Bilecik.
One of the highlights of the exhibition sits behind thick glass, Abdülhamid II's elaborately-designed albums that show "natural landscapes, historic monuments, and the modernity of the empire" that were presented to the Chicago Columbian Exposition in 1893. According to curators, Abdülhamid II collected more than 30,000 photographs. "The content of the collection varies from touristic sights to infrastructural works, and from landscapes in foreign countries to schools and their students or hospitals and their patients. In 1893-94 a selection of the images deemed to represent the empire's progress was assembled in 51 albums and sent to libraries in Washington and London."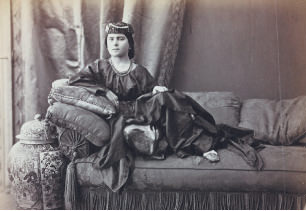 Selections from the Imperial Ottoman Bank's collection of full-length portraits of its employees is also on display. According to curators, this fascinating database can be used to "dissect studio practices, body language, costume choices, and posing preferences in a diverse and heterogeneous society."
Classifying these portraits of Imperial Ottoman Bank employees based on their poses and outfits, curators invite visitors to interact with the installation. Pressing one button brings to the screen all employees wearing western-style hats and pressing another button groups together employees dressed in a more traditional way.
I found images of Abdülhamid II and German Emperor Wilhelm II similarly interesting. Published on the cover of the weekly French magazine L'Illustration on October 22, 1898, they attest to the influence of the printed image and its power to represent political matters through pose and the outfits of its subjects. Looking at these pictures, one can trace the birth of modernity in the Ottoman Empire to the 19th century, when technology and edicts from the state started transforming imperial culture by creating a sense of curiosity and self-consciousness among Ottomans.