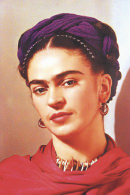 Revered as a symbol of Mexican and feminist identity, Frida Kahlo has been explored in numerous exhibitions, biographies and fictional
accounts so far.

Having enjoyed fame as an iconic Latin American artist in her short lifetime, Frida Kahlo is the subject of a major installation at the New York Botanical Garden (NYBG) in the Bronx. Remaining on view until Nov. 1, "Frida Kahlo: Art, Garden and Life" unveils the Mexican artist's deep engagement with nature through a recreation of her native garden and cobalt blue studio at the NYBG's Haupt Conservatory.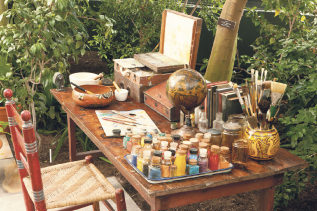 As the first solo presentation of Kahlo's work in New York City in more than 25 years, the exhibition reimagines her garden at the Casa Azul (Blue House) in the Coyoacan area of Mexico City, where she spent most of her life. "Passing through blue courtyard walls, visitors stroll along paths lined with flowers, showcasing a variety of important garden plants from Mexico," says the exhibition website. There is also a scale model version of a pyramid that was created to display pre-Columbian art collected by her husband, muralist Diego Rivera. Mexican cacti and succulents color traditional terracotta pots in the seven-foot step pyramid.
Frida Kahlo's Garden is "a one-of-a-kind exhibition that will provide an in-depth look at Kahlo's work and artistic environment and also celebrate the energy and sophistication of Mexican culture," said Gregory Long, the president and chief executive officer of the NYBG in a press release. "Frida Kahlo is a profoundly important artist whose work reflects the complexity of the artist's life and times. The Garden is proud to present this focused look at Kahlo's work, which examines how it was influenced by nature," he continued. Mostly borrowed from private collections, over a dozen original Kahlo paintings and lesser-known drawings demonstrate how botanical imagery inspired the artist's works. Curated by Mexican art historian Adriana Zavala They are on view at the LuEsther T. Mertz Library's Rondina and LoFaro Gallery at the garden. Among the featured works are "Self-Portrait with Thorn Necklace and Hummingbird" (1940), "Flower of Life" (1944), "Still Life with Parrot and Flag" (1951) and "Self-Portrait inside a Sunflower" (1954). In addition, the fourth floor of the library presents contemporary artist Humberto Spindola's three-dimensional installation "The Two Fridas," which depicts Kahlo's well-known double self-portrait. This section displays almost 200 paintings and 55 self-portraits and other portraits of her friends and colleagues. Kahlo's still-life paintings illustrate Mexican fruit, flowers, folk art and pre-Columbian objects.
Sub-events are continuously held for those interested in learning more about Kahlo's life and vivacious style. Visitors can treat themselves with dance, music, food and film activities. Classical and contemporary Mexican music including Ballet Folklorico takes place every weekend. Starring Salma Hayek, the Academy Award-winning film "Frida" is screened ever Saturday, and a number of other documentaries and features offer a taste of Mexican culture on Sundays. Female textile artists from Chiapas and Oaxaca show their weaving and embroidery techniques at the exhibition venue. They make traditional motifs with natural dyes by using a backstrap loom. In partnership with the Poetry Society of America, a poetry walk will highlight the work of three important 20th-century Mexican poets - Pita Amor, Salvador Novo, Octavio Paz, and Carlos Pellicer. Events will also include food and culture festivals.
Revered as a symbol of Mexican and feminist identity, the late artists, who died 60 years ago, has been explored in numerous exhibitions, biographies and fictional accounts. Her New York exhibition is interesting and worth a visit.