In collaboration with the Norwegian Embassy, the Consulate General of Sweden and the Finnish Embassy, Istanbul Modern Cinema presents Nordic Film Festival until June 14. Bringing the newest Scandinavian films that have caused an international stir, the series will feature Danish, Finnish, Swedish, Icelandic, and Norwegian films, which have all been praised by audiences, critics and festivals.
The first series of the Nordic Films Festival features veteran Norwegian director Bent Hamer's latest film "1001 Grams," Swedish director Roy Andersson's, and the Golden Lion winner at the Venice Film Festival, film "A Pigeon Sat on a Branch Reflecting on Existence" and Academy Award-winning director Susanne Bier's "A Second Chance" starring Nikolaj Coster-Waldau, leading actor in the acclaimed TV series "Game of Thrones."
As a guest of the Nordic Films Festival, director Hisham Zaman will attend the premiere of his film "Letter to the King" (Brev Til Kongen). He will answer questions from the audience tomorrow at 3 p.m. following the screening of Before Snowfall (For Snoen Faller).
BEFORE SNOWFALL (FOR SNOEN FALLER), 2013 Norway, Germany, Iraq - Kurdish
Director: Hisham Zaman

Cast: Abdullah Taher, Suzan Ilır and Bahar Özen
The first feature-length film by director Hisham Zaman is a touching road story starting from Iraq. Siyar, the eldest child of the family becomes the head of his household following the death of his father and hits the road to find his sister, who ran away from her wedding. In Istanbul, he meets Evin, who is lost in the metropolis like him and works as a shoe-shiner. They continue traveling west together. Siyar's search for his sister turns into an inner journey during which he questions himself. The excellent performances of the amateur actors and Zaman's non-judgmental approach stand out during the film.
LETTER TO THE KING (BREV TIL KONGEN), 2014 Norway - Norwegian, Kurdish, Persian, English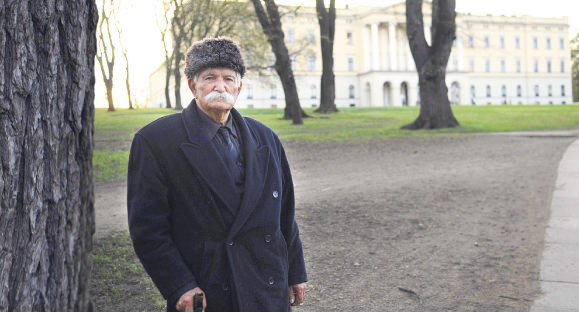 Mirza, 83, a member of a refugee group, plans to present a letter to the king of Norway. The audience sees five characters who encounter love, happiness, long-awaited revenge and hope for the future in unfamiliar sights of Oslo.
Cast: Ali Bag Salimi, Ivan Anderson, Nazmi Kirik, Raouf Saraj and Hassan Demirci

Five refugees, who have been living in a refugee camp in a cold and remote town in Norway for a long time isolated from society, are allowed to visit Oslo for just a day. Bored of their monotonous lives at the camp, the group takes kindly to the opportunity and head out to the capital city of Oslo. Five characters, each with different stories and of different age groups, use this day to carry out different plans. Eighty-three-year-old Mirza, who connects all the stories, plans to present a letter to the king of Norway personally. The audience observes the characters who encounter love, happiness, long-awaited revenge and hope for the future in unfamiliar sights of Oslo.
A SECOND CHANCE (EN CHANCE TIL), 2014
Denmark-Danish, Swedish

Director: Susanne Bier

Cast: Nikolaj Coster-Waldau, Ulrich Thomsen, Maria Bonnevie and Nikolaj Lie Kaas Starring "Game of Thrones" actor Nikolaj Coster-Waldau
"A Second Chance" is directed by Oscar-winning film maker Susanne Bier, who describes the film as "an unsettling and personal drama about people encountering situations that arise out of their control." Veteran police officer Andreas maintains a peaceful and happy life with his beautiful wife Anna and his newborn baby. One day, Andreas and his partner Simon respond to a domestic violence report. An old convict Tristan and his girlfriend Sanne have a baby named Sofus. Andreas does everything he can to save this baby who was neglected and forced to live in an unhealthy environment; however, he cannot do much within the boundaries of the law. The circumstances deeply affect Andreas's whole life and his view of the concept of justice as he is forced to make a critical decision.
1001 GRAMS, 2014
Norway, Germany, France - Norwegian, French

Director: Bent Hamer

Cast: Ane Dahl Torp, Peter Hudson and Laurent Stocker
Known for his extraordinary and distinctive sense of humor, contrary to that of ordinary comedies, Norwegian director Bent Hamer takes the audience to witness the life of Marie, a woman who is a city-dweller and science lover, in his latest film. Marie dedicates her life to her father's works at the Norwegian Metrology Service. When her father falls ill, she suddenly finds herself at a calibration conference in Paris. The life of Marie, who will attend the conference for the first time, will change with the awareness and warmness of Pi, who she met during her travel.
A PIGEON SAT ON A BRANCH REFLECTING ON EXISTENCE (EN DUVA SATT PA EN GREN OCH FUNDERADE PA TİLLVARON), 2014
Sweden, Germany, Norway, France- Swedish, English

Director: Roy Andersson

Cast: Holger Andersson, Nils Westblom, Viktor Gyllenberg
Sam and Jonathan, who sell novelty toys door-to-door like the modern era Don Quixote and Sancho Panza, take us on a journey to the fate of humanity. The film won the Golden Lion at the Venice Film Festival and is the last sequence of Roy Andersson's trilogy "The Living." It is full of absurdities and rage as well as being dark and humorous. Andersson explores the fragility of humanity along with small beauties in our lives, humor and tragedy and the splendor of life like a pigeon watching humans from a tree branch.
BLOWFLY PARK (FLUGPARKEN), 2014
Sweden - Swedish

Director: Jens Östberg

Cast: Sverrir Gudnason, Leonard Terfelt and Malin Buska
Sverrir Gudnason, the winner of the "Best Male Performance" at the 2014 Thessaloniki International Film Festival, appears as Kristian, a once talented hockey player. One evening, Kristian drops his friend Alex home, but Alex disappears that night. Kristian starts acting increasingly aggressive and irrational and finds himself fixing the lives of Alex's wife Diana and his son. When Kristian learns of the death of Alex, with whom he spent most of his life, he tries to take over his friend's family life. This psychological drama, in which the line between victim and offender blurs, becomes more influential with its distressing soundtrack.
VIRGIN MOUNTAIN (FUSİ), 2014

Iceland, Denmark - Icelandic, English

Director: Dagur Kari

Cast: Gunnar Jonsson, İlmur Kristjansdottir and Sigurjon Kjartansson
Directed by Dagur Kari, Virgin Mountain made its world premiere with a special gala screening at the Berlinale Film Festival. Kari returned to the big screen after six years with a heart-warming story of a 43-year-old man. Fusi is still living with his mother and unable to adapt himself to adult life. His monotonous life suddenly changes with an energetic women and her eight-year-old child. Fusi finds out his potential when he falls in love. Gunnar Johnsson appears with his impressive and award-winning performance in Virgin Mountain.
THE DISCIPLE (LARJUNGEN) 2013
Finland - Swedish

Director: Ulrika Bengts

Cast: Erik Lönngren, Patrik Kumpulainen and Niklas Groundstroem
Set in the 1930s, the film introduces Karl, a 13-year-old orphan, who is sent to a deserted island to help the guard of the lighthouse. The guard is not satisfied with Karl's young age and fragile build. He wants Karl to return, as he believes that his son Gustaf is able to do the same job. Meanwhile, Karl becomes friends with Gustaf despite their differences and tries to show he can be helpful on the island. The family drama attracts viewers right up to the last minute and was Finland's submission to the Academy Awards in 2013.