Ahmet Sula, who was assigned as the deputy president of the Directorate General for Security's Department of Counter Terrorism following the Dec. 17 coup attempt, also has an interest in poetry and music. As such, Sula opened an exhibition in China and Qatar following those in Ankara, Istanbul and Diyarbakır. Beginning his painting career 15 years ago, Sula draws interest with his exhibitions featuring calligraphy works and oil paintings.
Sula aims to reach larger audiences around the world, and visitors from different countries learn about Islam at his exhibitions. Inspired by Sula's religious figures as well as philosophy, Norwegian visitor Reidarson Kvamsdal adopted Islam and changed his name to Kerim. Kvamsdal travelled to Turkey and visited Rumi's [Mevlana] tomb in Konya. A musician, painter and writer himself, Kvamsdal said: "Sula is an influential painter, and I was greatly inspired by his powerful faith and excitement. His work looks like as if God has touched them. There is a bias against Islam all around the world."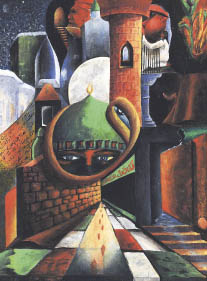 Sula opened his first solo exhibition titled "Mana" (Meaning) at Istanbul's Sultanahmet Museum. His second solo exhibition, at which he combined calligraphy and abstract art, brought important figures of diplomacy together at the Ankara Çengelhan Rahmi Koç Museum. The artist decided to turn his sights to the northeastern province of Diyarbakır and held his third exhibition in the city from Dec. 17-25, 2014. During his third exhibition, whose theme was "The Heart of the Word," the artist struck back at terrorist organizations as he believes it is his duty. "Prophet Muhammad advises us to be brothers and sisters as God commands all of us. As our leader Mustafa Kemal Atatürk said, 'Peace at home, peace in the world.' I see the bright side of brotherhood as well as the dark side that turned the world into hell with chaos and fighting," said Sula, reflecting on his as well as the world's longing for humanity and peace.