For the overseas audience, Middle Eastern art might seem to cover the most traditional artistic forms like calligraphy and miniatures, yet compelling contemporary art from across the Middle East has wonderfully broken the common ground. Holding over 150,000 work, the Los Angeles County Museum of Art's (LACMA) ongoing exhibition "Islamic Art Now: Contemporary Art of the Middle East" manifests how the parameters of Islamic art have extended its limitations while remaining faithful to the region's own cultural inheritance.
The exhibition gathers only 25 but powerful work by artists from Iran and the Arab world, including Shirin Neshat, Susan Hefuna, Lalla Essaydi, Mitra Tabrizian, Mona Hatoum, Hassan Hajjaj, Wafaa Bilal, Barbad Golshiri and Youssef Nabil.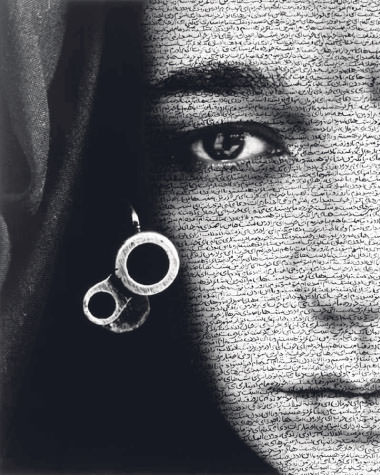 'Speechless' (1996), photo courtesy of Gladstone Gallery
Remaining on view until January 2016, the collection's most appealing image come from renowned Iranian diaspora artist Shirin Neshat's major photographic series "Women of Allah," featuring conceptual narratives on the subject of women during the 1979 Iranian Revolution. Portraying a chador-clad Iranian woman with the barrel of a gun emerging from her cheek, Neshat's work "Speechless" introduces a provocative identity of Iranian women. Linda Komaroff, the department head, said in her exhibition review that Neshat contradicts the Western notion of Muslim women diminished and desexualized by the veil. "Neshat's women are strong, even heroic," Komaroff continued, while pointing to the four main elements of her work - "veil," "gun," "text" and "gaze." The verses covering the woman's face belong to Iranian poet Tahereh Saffarzadeh, asking her brothers in the revolution to take her with them. The calligraphic Farsi texts on women's bodies are mostly taken from contemporary Iranian female poets with a special interest in martyrdom and the role of women in the revolution, a clear indication of Neshat's feminist perspective in her art.
For those familiar with the literature of Iranian diaspora, mostly referring to the emigration of Iranians after the revolution, Neshat's work will perfectly match with Iranian author Azar Nafisi's memories "Reading Lolita in Tehran." Leaving aside the controversial debate and criticism she caused with her book, both names question Iranian women's involvement in war and way of organizing resistance through different narrative techniques.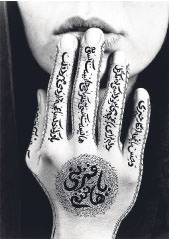 Also known for her distinctive dark kohl-lined eyes, Neshat created her Women of Allah series from 1993-1997 when she returned Iran following her 12 years in exile. Upon her arrival in her homeland, she found an entirely different country. "These photographs became iconic portraits of willfully armed Muslim women. Yet every image, every women's submissive gaze, suggests a far more complex and paradoxical reality behind the surface," Neshat said about her collection. In her speech at TED Talks a few years ago, in regards to why she chose women as the focus of her art, she said: "I found the subject of Iranian women immensely interesting, in the way the women of Iran, historically, seemed to embody the political transformation. So in a way, by studying a woman, you can read the structure and the ideology of the country" and described herself as an artist in exile and a nomadic woman working in Mexico, Turkey and Morocco.
The other items of her seminal collection such as "Allegiance with Wakefulness" (1994) again featuring the barrel of a rifle seen from a pair of feet inscribed with Persian poetry as well as "Bonding" (1995) created with henna designs suggest aggression combined with women's mercifulness and vulnerability. Another photograph "Way in Way out" shows Neshat as performer with a handwritten Arabic prayer inscribed on her white veil saying, "Give a hand so I can hold a hand."
Currently based in New York, the Qazvin-born artist left her home in 1974 at the age of 16. She studied at the University of California, Berkeley. Neshat returned to Iran in 1990 and what she experienced led her to design this photographic series. In 2010, Neshat made her directorial debut with "Women without Men." Depicting the story of a CIA-backed coup through the eyes of four women, the film won a Silver Lion prize at the Venice Film Festival.
Neshat has been the recipient of worldwide prizes including the First International Award at the Venice Biennale (1999), Grand Prix at the Gwangju Biennale in Seoul (2000) and the Visual Art Award at the Edinburgh International Film Festival (2000). Her work has been exhibited widely around the world such as the Museum of Modern Art in New York, Stedelijk Museum in Amsterdam, Hamburger Bahnhof Museum in Berlin and the Tate Gallery in the U.K.