Without any doubt, summer is the best season for cycling up hills while the sun is shining accompanied by a fresh wind blowing around. However, those who cannot endure cycling in these sweltering days are invited to take a tour at the Rahmi Koç Museum on Istanbul's historic Golden Horn displaying a special bicycle collection "Bisiklet: İki Tekerlek Üzerinde Taşınan Tutku" (Bicycle: Passion Carried on 2 Wheels) until October 3.
Shedding light onto the development of bicycles over years, the collection brings rare design bikes, the earliest of which was produced in the 1860s. Most of them stand out with their unique models and shapes. The collection revives the history with three- and four-wheel bikes designed at a time when people did not believe that two-wheel bikes could carry their owners.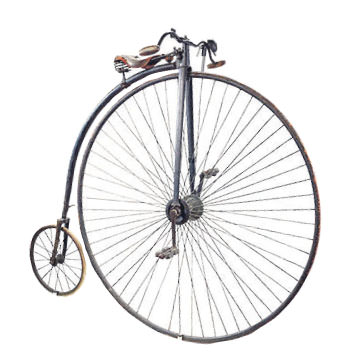 Visitors go back to the 1800s with "penny farthing," the collection's presumably the most interesting design. Also known as "high wheel," penny farthing is a bicycle type with a large front wheel and a small rear wheel. It is commonly referenced as the prototype of bicycles. As front pedals were fastened to the wheel, designing a large front wheel was the only solution to increase velocity. The father of the bicycle industry, English inventor James Starley designed the penny farthing early in the 1870s. The name "penny-farthing" comes from the British penny and farthing coins, the latter of which is smaller than the other, recalling the bike's strange design.
Another interesting pedal-drive bicycle design is the velocipede with one or more wheels. A major development in bicycle design, French company Michaux et Cie, was the first firm that mass-produced it in 1867. Velocipedes achieved great popularity then and paved the way for new developments in the history of modern bicycle. They were also the first bicycle model that had the pedals installed on the front wheel. The collection's next bike model is an example of Jelley bicycles. This model was the first safe bike model designed by A. Jelley and Co. in Wandsworth, the U.K. in 1891. They look very much like modern bicycles with the exception of their filled wheels, which is not a feature of today's bicycles. Leonardo da Vinci's bicycle sketch in 1492 made many people think that he was the inventor of the human-powered vehicle. It was later found out that the sketch was pasted into his 12-volume scrapbook "Codex Atlanticus" after his death. According to certain accounts, one of his students copied the bike from some lost Leonardo drawing. Anyway, the development of modern bicycles began in 1816 and it took its modern form toward the end of the 19th century with contributions from many different names. "Bicycle: Passion Carried on 2 Wheels" will remain on show until Oct. 3. The Rahmi Koç Museum is open to public every day, except Mondays.