Turkish artist Vahap Avşar has been exploring found imagery during the past two decades. He has worked on postcards, newspaper clippings, advertisements and pop culture images that present lost shadows of times past. Avşar's new exhibition at SALT Beyoğlu's Forum area will give us a chance to explore this thoroughgoing interest in those archives of historical and societal memory. For his new show "Lost Shadows," which runs until Sept. 27, Avşar has made use of the archives of the AND Publishing Company. He approached AND archives in an unorthodox way: Instead of using the company's legendary postcards, Avşar decided to work with pictures that never made it into print circulation. His selection of 50 images have certain oddities which provide them with an air of enigma.
We see in them chilling images of a society whose members seem out of place in various political and social situations. There are numerous ceremonial scenes that demand soldiers and watching crowds to act in a certain way. Subjects in those images show a certain desire to appear disciplined but little things, like their bodily gestures or sudden realization of the camera, undermine that illusion of perfection.
"AND collection delivers a photographic journey initiated by photography safaris all around Anatolia beginning in the late 1970s," the exhibition program informs us. "Wandering from village to village, the photographers, commissioned by AND, documented the streets, squares, buildings and the region's distinctive geography to be used as postcards and posters."
The postcards provide us with panoramas of Turkish public life in transformation. Especially after the coup of Sept. 12, 1980, Turkish flags and images of military leaders have taken over the public sphere, turning into protective symbols that expressed people's submission to the system.
"The images capture a specific time of the geography. Signs and symbols, customs, gestures and body language, economics and even the politics of the era can be traced in the photographs," according to the exhibition program. "Unexpected moments, things that are not supposed to be in the frame, as well as inimitable poses, allow the photographs to unfold utterly different stories. There is nevertheless an oddity in treating the geography as if it were an 'open studio' during the tense political environment of the late 1970s, which was then followed by the fearful period brought by the 1980 military dictatorship."
"I grew up painting from AND postcards in the 1970s," Avşar told me. "In 1991, I visited the printing company where I collected some of their misprints and made an art project. After living in New York [City] for 15 years, I came back to Istanbul for an art residency program at Garanti Platform. One of the projects I was planning to do was to revisit the postcard company's print house. When I found out it was closed in 1999, I started researching until I found the archive."
Avşar's focus on the late 1970s and early 1980s while selecting his images was key for this exhibition, so I asked him which themes and subjects had served for him as a curatorial guide.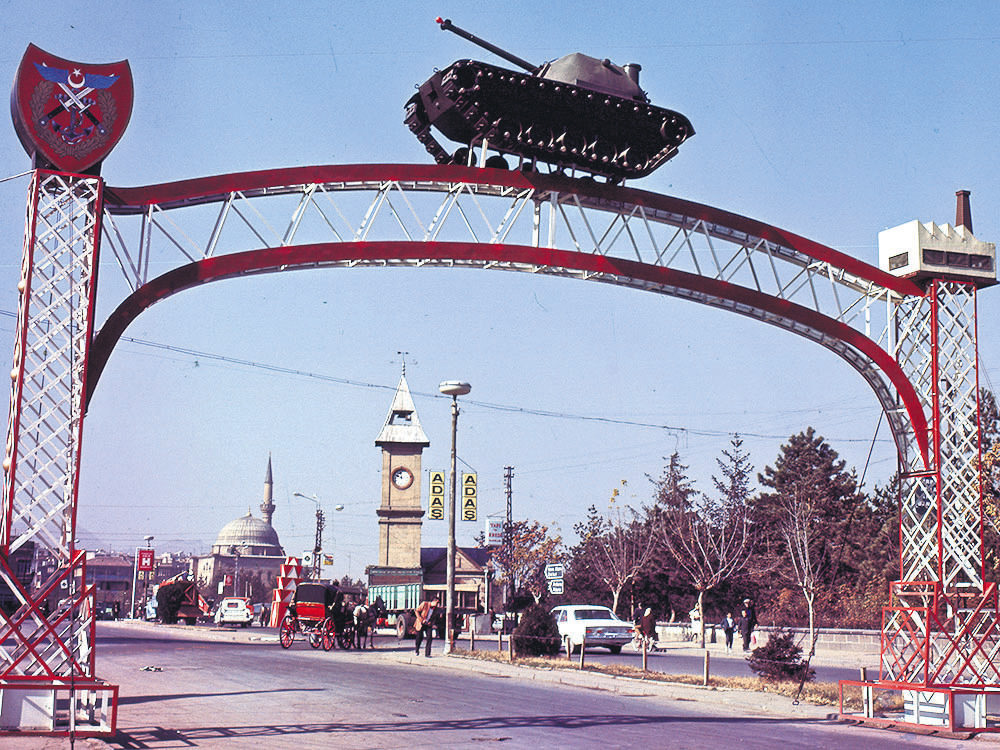 Especially after the Sept. 12, 1980 coup, Turkish flags and images of military leaders took over the public sphere, turning into protective symbols that expressed people's submission to the system.
"[The] late 1970s and early 1980's are formative years both for me personally and for the country," Avşar said. "It is the era just before and after the military coup: A time of political turmoil. Photographs taken during this period have a distinct look and feel to them. They are photos taken from all around the country and represent the daily life in a very social-realistic way. Even if the aim of the photographs were to document the 'beauty of the country' as they were commissioned to do, they also captured the people in it. That is the most interesting aspect for me. In each frame there are either a few, sometimes dozens, of people, frozen in their daily routine, or a few men posing for the photographer."
The first criterion for selecting those 50 images among thousands was their visual quality. "They are these mysterious images I have not seen before and I could not forget, so when I went through the archives of thousands of photographs, cleaning [and] organizing again and again, I started to separate these esoteric but powerful images for this project." At the end of his research, Avşar organized those images into eight different groups, each with a title stemming from an autobiographic aspect.
"Photographs are anonymous as photographers are unknown," Avşar said. "But they can be identified in four or five groups thanks to their styles and approach. While looking at these photographs, one does wonder, for what reasons the photographers decided to take that particular angle, what he was thinking at that moment, who those people posed in the streets and pastoral settings are, what kind of dialog transcribed between the photographer and the subject ... Some of these photographers not only photographed what their job required and what was visible in front of them but also what they have imagined and staged as well."
Avşar found staged photographs to be the most dynamic and mysterious pieces of the archive. He wonders how those photographers managed to get permission from authorities and the subjects to take these pictures during the civil war of the late 1970s and the aftermath of the Sept. 12 military coup.
"One of the photographs is a mundane landscape photo at a first glance, a blue lake surrounded with mountains in the background with a dirt road passing by it and a green lawn and a tree in the foreground," Avşar said, deconstructing one of the images of the exhibition. "A more careful look reveals three young men posing like the infamous picnic painting of Edouard Manet. The man on the right looks like he is well read and highly educated. It can be imagined that the character in the middle is a small-town bully and the one on the left whose face remains hidden is the mysterious type. At this moment, we notice a peculiar white car passing by in the middle of the picture." A careful examination reveals that the white Renault is parked and there is a large man with a handlebar mustache who seems to be coming out of the seams of his white shirt and jacket sitting in the driver's seat.
"What comes to mind first is that the man watching the young men from the car is following them but when you consider that there is no other vehicle nor road to bring these men there and judging from how relaxed and safe they seem to look by their poses, it becomes evident that the man in the car is the driver and the guide of these young men. Considering the body language and the dark reputation of white Renaults in those years in Turkey, we can easily imagine that the driver is an undercover policeman allocated by the local authorities to take care of the photographer and his model friends."
Avşar said he selected the photographs on their intrinsic artistic quality and originality rather than their technical merits. "To make this apparent, we kept the scratches on the final prints. Keeping imperfections on prints also served as a reminder that these images are printed from real and analog films. They are not produced or altered digitally."
The images in "Lost Shadows" are printed in identical dimensions and are exhibited through concrete blocks produced by Nilüfer Kozikoğlu from Urban Atelier. Together they form a forest of imagery which Avşar hopes will create a connection with "the open and democratic exhibition approach of the architect Lina Bo Bardi in the Sao Paulo Art Museum in 1968."
"This show is about a time that is gone as well as people who disappeared," Avşar added.