The Marlborough Gallery is displaying works by Turkish artist Ahmet Güneştekin and Spanish artist Juan Genoves at Contemporary Istanbul (CI), one of the biggest art events in Turkey. Organized at the Istanbul Congress Centre (ICC) and Istanbul Convention and Exhibition Centre (ICEC), Contemporary Istanbul is hosting the Marlborough Gallery along with 101 other galleries around the world until Nov. 15.
As part of the acclaimed art event, the Marlborough Gallery is exhibiting the two internationally recognized artists' works that problematize universal concepts. The gallery features a total of 14 works by Güneştekin, while hanging seven works by Genoves at the gallery's stall at CI. Güneştekin traces cultural history and recollection by reinterpreting the oral tradition and myths of Anatolia, Mesopotamia and Greece. Spanish artist Genoves questions the place of concepts such as the "individual" and the "crowd" in modern life and tries to deliver impressive messages through his art works.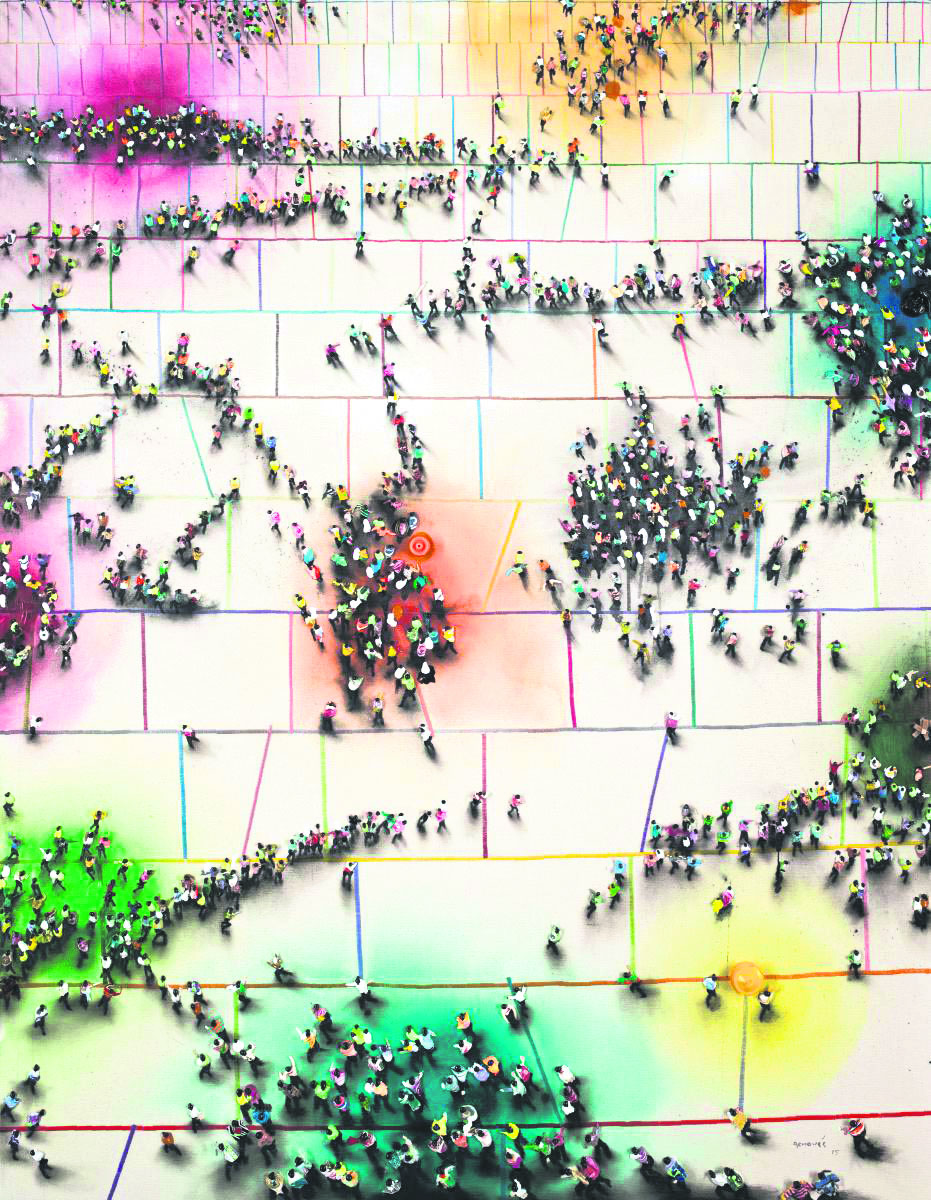 Genoves is known as an investigative painter who tries to modernize Spanish art while observing the function of art and the artist in society. His strong belief that art is in transition and his concerns about the society he lives in, compelled him to join various art movements including "Los Siete" (1949), "Parpallós" (1956) and "Hondo" (1960) in post-war Spain. As part of the Hondo movement, which presented new approaches in figurative painting as opposed to formal art, the artist developed an expressionistic and provocative artistic style.
In the 1960s, the artist had problems with creativity; however, he was able to overcome them in a very short span of time. Genoves also played an important role in movements against the Franco regime. Following that period of time he began focusing on two elements in his art: the collage technique and the concepts of the "individual" and the "crowd," which he portrays with solid colors in a cinemograph style.
The artist was inspired by the media coverage of the time and the strong uncompromising attitude against the dictatorship in Spain. He was successful in using political images in his art. In the 80s, his art took a new turn and Genoves began focusing on city views. He used shades of grey, blue and dark yellow to emphasize the concept of "solitude." During recent years, he has been involved with constant movement and the concept of the "crowd," which has become a source that he used for emphasizing problems in painting and visual rhythms. The works that are currently displayed at CI reveal Genoves's artistic approach.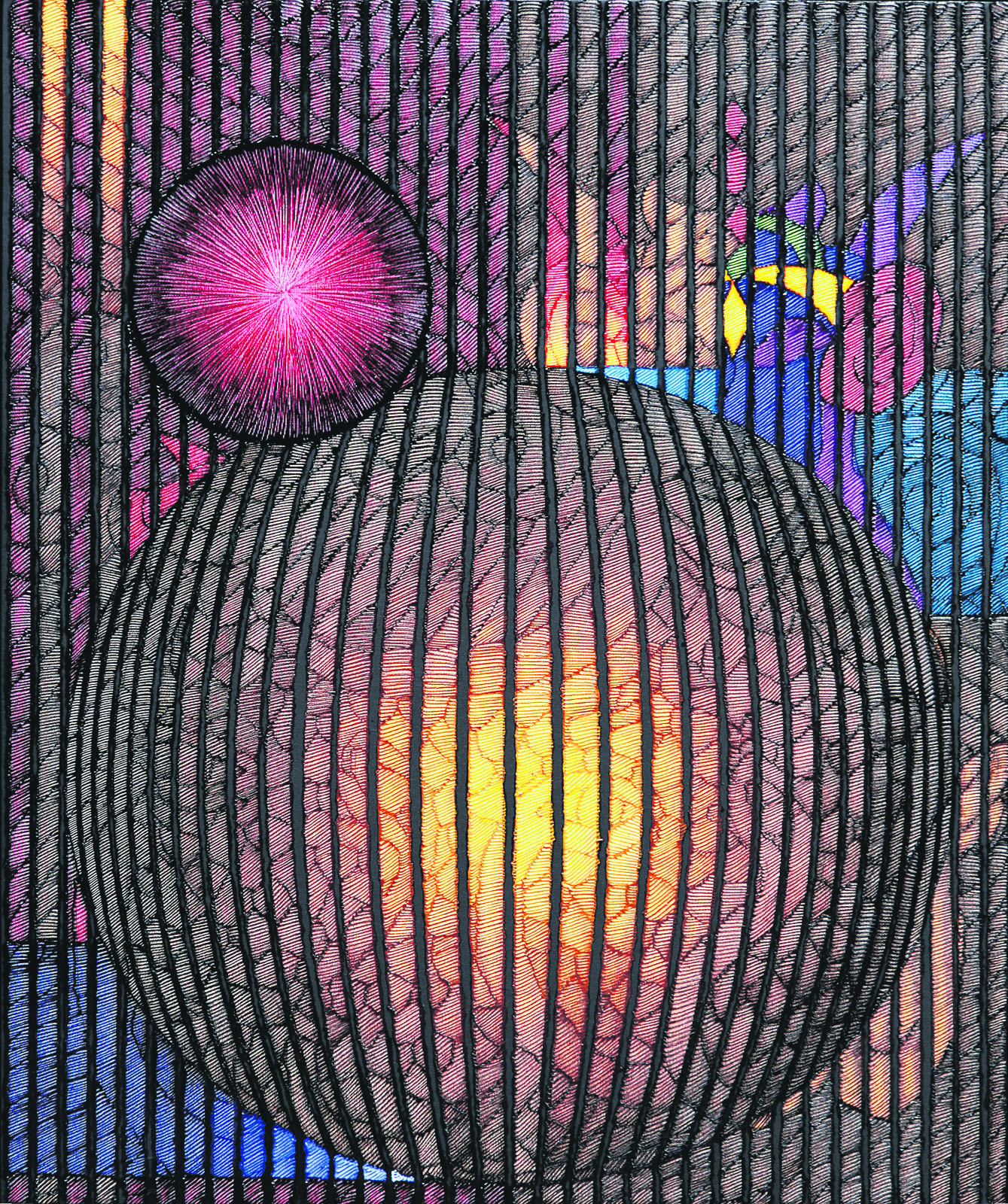 Güneştekin, whose works are displayed alongside Genoves' at Marlborough Galley at CI, does not stick to the traditional artistic approaches; he uses his own artistic experiments in his works. He produces abstract works that shed light on the basic problematics of modern life by reinterpreting characters, symbols and stories featured in the oral tradition.
His first large-scale solo exhibition "Colors after the Dark" was held at the Atatürk Cultural Center in 2003. His original works that he created after being inspired by the myths of Anatolia, Greece and Mesopotamia aroused interest among art circles. His exhibition on cultural recollection titled "Encounter" was first held in Istanbul in 2012 and in Ankara in 2013. "Encounter" caused a stir among art buffs because of the strong messages that Güneştekin's works delivered to the audience.
After he joined the Marlborough Gallery in 2013, he became internationally recognized with his solo exhibition "Momentum of Memory," which he held in parallel with the 55th Venice Biennial.
His works were collected by international collectors, art buffs and academics following the Marlborough Gallery's "Ahmet Güneştekin: His Recent Paintings" exhibition in New York in 2013.
Güneştekin held solo exhibitions in various cities including New York, Hong Kong, Madrid, Venice, Monaco and Amsterdam where art works that dominate international contemporary art are displayed. The artist has been featured in numerous international contemporary art fairs including Arco Madrid, New York Armory Show, Art Breda, Art Basel Hong Kong, Art Basel Miami and Art Market Budapest.
The Marlborough Gallery, which held Güneştekin's solo exhibition "Million Stone" in parallel to the 56th Venice Biennial, continues to display Güneştekin's works as a part of permanent collections in Barcelona, Madrid, Monaco and New York. With the support of Çalık Holding, which supports Turkish contemporary art as well as artists that represent Turkey in international platforms, Ahment Güneştekin's solo exhibition "El poder de los orígenes" opened its doors for Spanish art lovers on Nov. 5 in Barcelona.
Güneştekin renounced classical and traditional methods and developed his own original artistic style without feeling attached to any rules or movements. His works take the viewer back to the birth of civilization; show them the battle between the good and the bad and the struggle between peace and war. His works describes the relationship between the gods, human beings and culture. He talks about epics and myths. Güneştekin's works also refer to the present day.