The works of artists who are currently living in Turkey or have lived in Turkey during some point of their lives are being brought together for a group exhibition titled "Multiple Existences." The exhibition is on display at O'Art, which is the art and culture platform of Odeabank. German artist Jenny Eicher, who is featured at the exhibition with eight of her works, told Anadolu Agency (AA) that she first came to Istanbul in 2010 as a part of a student exchange program. "I returned to Germany after I lived in Istanbul for about a year. I decided to come back to Istanbul and moved here permanently last year," she said.
Her works focus on the images of children, the 33-year-old artist continued, "I am trained in traditional wood carving; however, I cannot spare enough time for carving due to my sculpture works for the last five years. I wanted to go back to the old ways by using the images of children, as I believe children are the symbols of innocence. Whatever they do, children are always proud of themselves. Hence I wanted to mirror those proud moments through my works."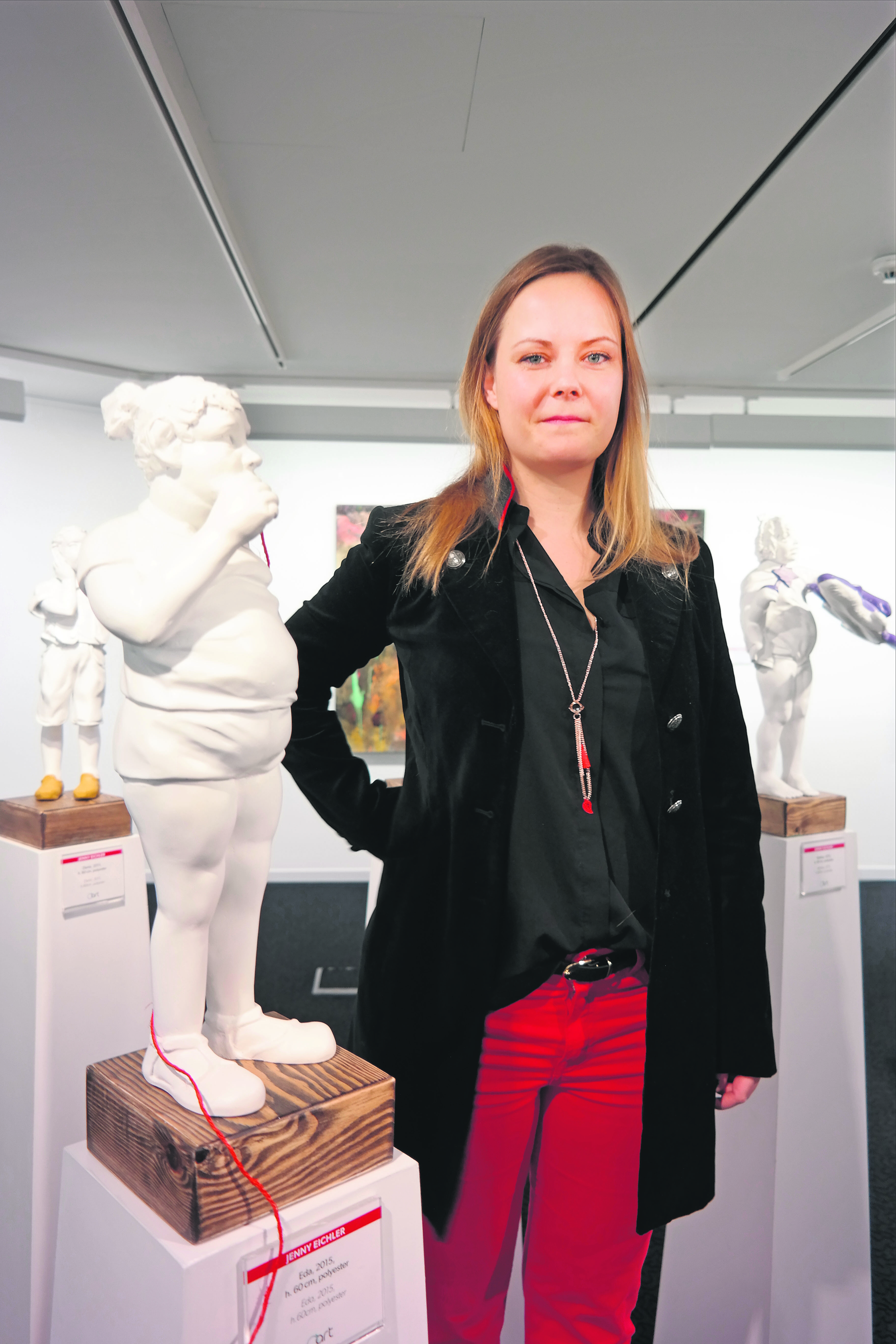 Sculptor Jenny Eicher is featured at the exhibition with eight of her pieces. She first came to Istanbul as an exchange student, but decided to move to Turkey about a year ago.

She further expressed her love for Istanbul and said it is hard to live anywhere in the world, whether it is Paris or Istanbul. "Terror can find you anywhere," said Eicher. "What makes me sad about the bomb attack in Sultan Ahmet was that it happened near the Hagia Sophia, as it is a symbol of the friendship of cultures and religions. Of course I will not leave Turkey because of the fear of terror. This is an incredible city and I want to produce my art here, becoming a part of the soul of the city. Istanbul inspires me. I adore the people and culture of this city. It is like a home to me."
Syrian artist Ali Omar, who participated to the exhibition with his portraits, said that he has been painting since his childhood. "In fact, every child who learns how to hold a pencil draws. However, I decided to focus on painting as a profession at the age of 13. I discovered that I am happiest when I paint," Omar said.
Omar moved to Istanbul about a year ago and produced five works in Istanbul, which are currently displayed as a part of "Multiple Existences." According to Omar, Istanbul is one of the most unique cities in the world. "It is a huge city. Moreover social life in Istanbul forces artists to think deeper about the existence of mankind. Whenever you visit huge cities like Istanbul, you have to think about your place on this earth, as there are so many things to see. When you see something new every day, your mind tries to understand it better. That is what I am trying to mirror in my artworks," he added. Omar was living in a small village in northern Syria before coming to Turkey. He said that he had no chance of meeting other artists in a small town. "I could not travel to Damascus where I received my artistic education due to the civil war in my country. So I decided to move in Istanbul where my art can flourish."
Italian artist Marco Veronese is one of the artists who moved to Istanbul after falling in love with the city. He first came to Istanbul four years ago for an exhibition. "It was my first time in Istanbul. As soon as I arrived, I fell in love with the city. Upon deciding to change my life, I immediately moved here four years ago," he said.
Commenting on the terrorist attacks in Istanbul, the Italian artist underscored that these kinds of attacks can be seen anywhere in the world, and terror and fear have become a global problem. Highlighting that no place is safer than others, Veronese said he will continue to reside in Istanbul.
The Italian artist made use of digital arts while producing his artworks "Universe" and "Utopia," showcased in the exhibition. "I want to deliver a message to people through my artworks. Currently, we are in need of more content and ideas emphasizing the concept of peace. I use certain symbols in my art in order for people to understand each other better," Veronese added. Curated by Özlem Alıcı, the exhibition features works of Angello Bucarelli, Lithian Ricci, Pauline Legrand, Tom Whitty, Ali Omer, Marco Veronese, Jenny Eicher and Yannick Belley. "Multiple Existences" will be open until Feb. 21 at O'Art.