"A city that is not occupied or defended by military forces and that is not allowed to be bombed under international law" is the Merriam-Webster Dictionary's definition of an open city. The expression is also the title of a new exhibition at Istanbul's Pilot Gallery with pieces by Deniz Aktaş and Özge Topçu – two young artists who focus on urban spaces and the dreams they inspire in us.
"Open City," open until March 19, presents works that reflect urbanity. "The 20th century was marked by large-scale urban planning projects and it is now followed by 'the century of cities,'" the exhibition program reads. "The 21st century has been defined by the rediscovery of urban spaces as well as citizens who reclaim and reinterpret their right to the city. In his brilliant novel 'Invisible Cities,' Italo Calvino wrote: 'Even the most unexpected dream is a rebus that conceals a desire or, its reverse, a fear. Cities, like dreams, are made of desires and fears.' "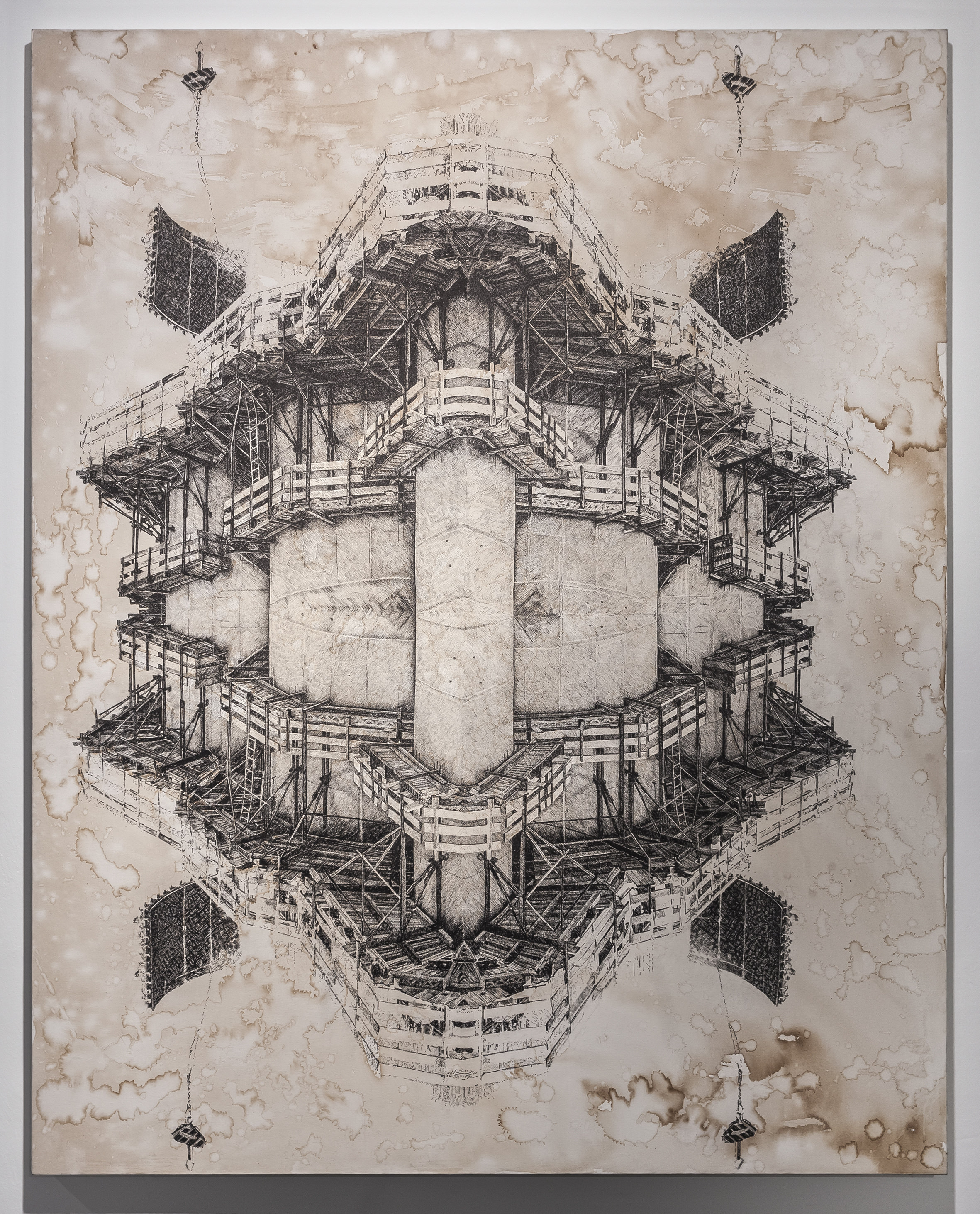 This is Aktaş and Topçu's first artistic collaboration. Aktaş, born in 1987, is a graduate of Marmara University's Faculty of Fine Arts. He exhibited works in the 3rd Mardin Biennial, Cer Modern's "How Should a War Be Remembered?" exhibition and in Çanakkale Biennial's "Amok Runner" video anthology, among others.
In "Open City" his drawings and paintings focus on the connections between traumas and a city's memories, and in between humans and spaces. "The sceneries that have been depicted meticulously by the artist contain overtones of gentrification. … The buildings of Aktaş swallowing, covering its residents and making them invisible, create a sense of being drawn into a vortex or getting lost in a maze," according to the exhibition program.
"In most of my works, I view the city as a continuous construction site," Aktaş told Daily Sabah in an interview last week. "In my compositions I focus on dead moments and incomplete structures. I address memory and explore the traumas in the city's memory through the relationship between people and spaces. Apart from this, I focus on migration, ecology, memory and our shared memories." Although Aktaş's starting point in "Open City" was photographs of actual places, he also likes working on more abstract subjects.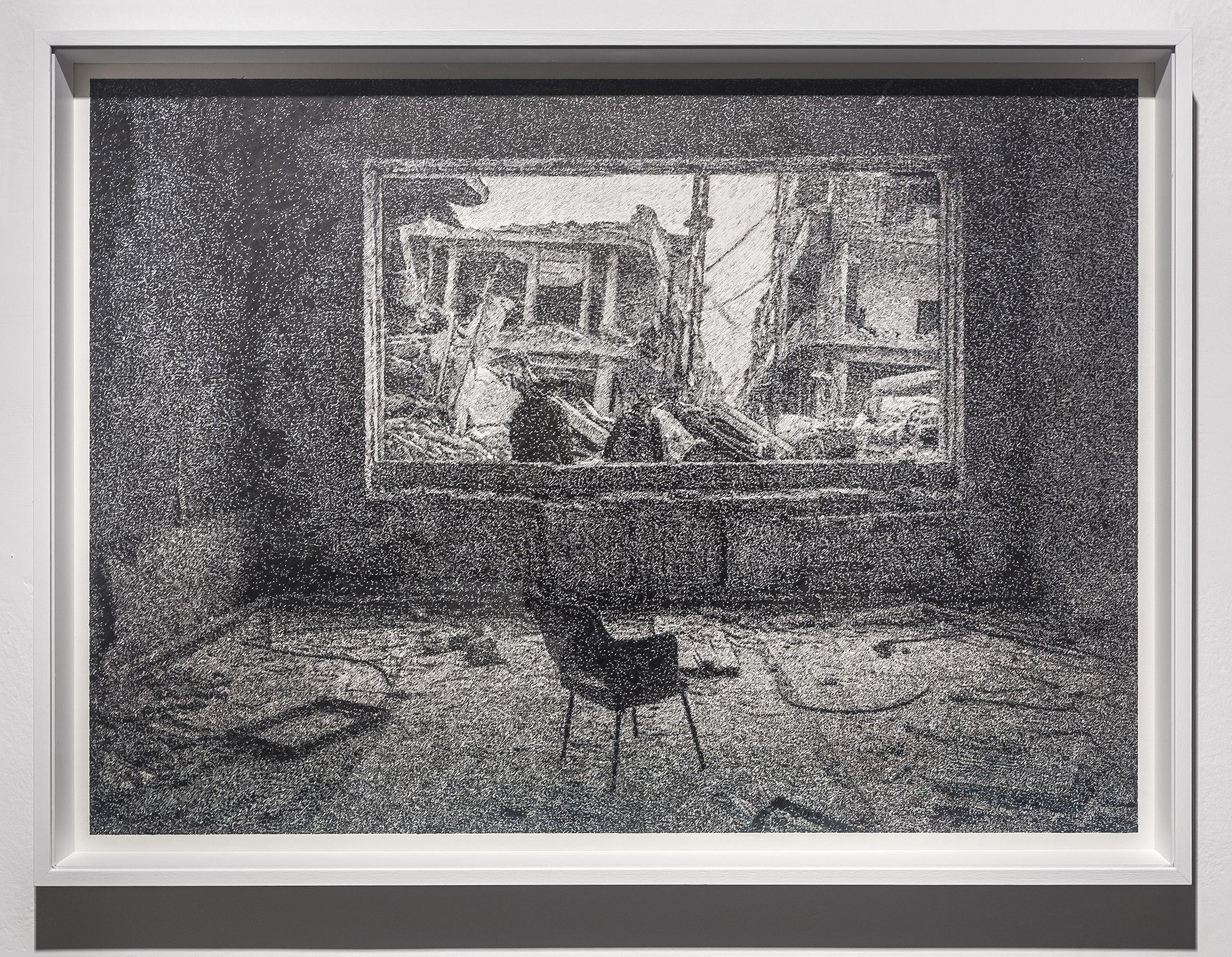 "In my compositions I focus on still moments and incomplete structures. I address memory and explore the traumas in the city's memory through the relationship between people and spaces," Deniz Aktaş said.

"The 21st century city is like a beast that expands both horizontally and vertically," Aktaş said. "In my drawings and paintings, it stifles people. Two of the works included here consist of visions of destruction." Aktaş is interested in the link between life and death and what he sees as a dialectic between construction and destruction.
"The destruction of a building may bring about the birth of a new one," he said. "This dialectic will never come to an end. Although I am not optimistic about the process, my works are built on these constant destructions and new constructions, things that trigger each other."
Topçu's focus is different. Her work explores the construction of national identity and looks into the subject of architectural propaganda. Born in 1987, Topçu is a graduate of Yıldız Technical University's Art and Design Faculty's Combined Arts Program. Currently based in Halle, Germany as an exchange student at Burg Giebchischenstein Kunsthochschule Halle, her previous exhibitions include "Locality and Global Discourses 2015" at University of California School of Art and the solo exhibition "Alteration Depression" at Hush Gallery.
"The recent installations of Özge Topçu, titled 'Still Life' and 'Presence II,' propose clinically sterile and tamed cities, in contrast to the chaotic and wild depictions of Aktaş," the exhibition catalogue reads. "The artist, focusing on the artificial fiction of the contemporary 'systems' intends to create spaces of absolute reality. Studying and deforming various modernist buildings from different countries, she reinterprets them. In her latest works, Topçu points out the arbitrariness of the current 'constructing,' 'demolishing' and 'reconstructing' techniques through restructuring samples of postmodern architecture and urban design with objects of daily use. Canonized and iconized architectural structures are turned into quotidian household objects."
"I focus on how architectural planning intervenes into our reality and shapes our perception," Topçu told Daily Sabah. "This type of hidden control determines the dynamics of one's life. Then we start to live the life that others have designed for us. In my works I generally refer to abstract spaces. However, I get inspiration from some buildings in Istanbul as 'non-places.' I try to reflect on their state while creating some of my installations. While referring to Istanbul, I use the adjective 'urban' rather than the noun 'city.'"
Topçu admitted how her works are indebted to the continuous construction and deconstruction cycle in Istanbul. "At the same time, construction and deconstruction owe their existence to each other," she said. "One leads to the other. It's a cycle."
Topçu has produced some of these exhibited works in Istanbul. Others were prepared in Germany. "I have to admit how the works that were produced in Germany, 'Presence 2' and 'Still Life,' look more sterile," she said. "And 'Alteration Depression' points out to a more chaotic state. I believe this tells a lot about how the environment shapes my work."
"My works in the exhibition intend to show the flexibility of imagination about the city," Topçu added, explaining how a city's transformation is a central artistic subject of her work. "For me it makes a city open to any kind of intervention, whether the outcome is positive or not."