Located in Istanbul's Nişantaşı district, Soda, which is a contemporary art and design venue founded in 2010, is hosting world-renowned Italian sculpture artist Peter Demetz's first solo exhibition in Istanbul "Without Being Watched" until March 30. The artist whose artwork attracted many art lovers at Contemporary Istanbul features at Soda with seven of his works, which vary in size from 0.7 meters to 1.15 meters tall, feature men, women and children, standing still against a plain or sometimes color background. One of the most outstanding sculptures on display at the exhibition is probably 115x100x29 centimeter work named "The Challenge," which will be the largest sculpture that Demetz has displayed in Turkey.

Demetz's works trouble the viewer as well as art critics as they are hard to be defined as sculptures or paintings. The artist tries to build a bridge between sculpture and painting. His works cannot totally be considered as sculptures because the artist chooses to display a given point of observation; they cannot be described as paintings as they have three dimensions. Demetz's works have depth and they surprise the audience with the details they feature, but the artist's sculptures are not geometrically perfect. The sculptor loves to surprise art lovers with his life-like figures.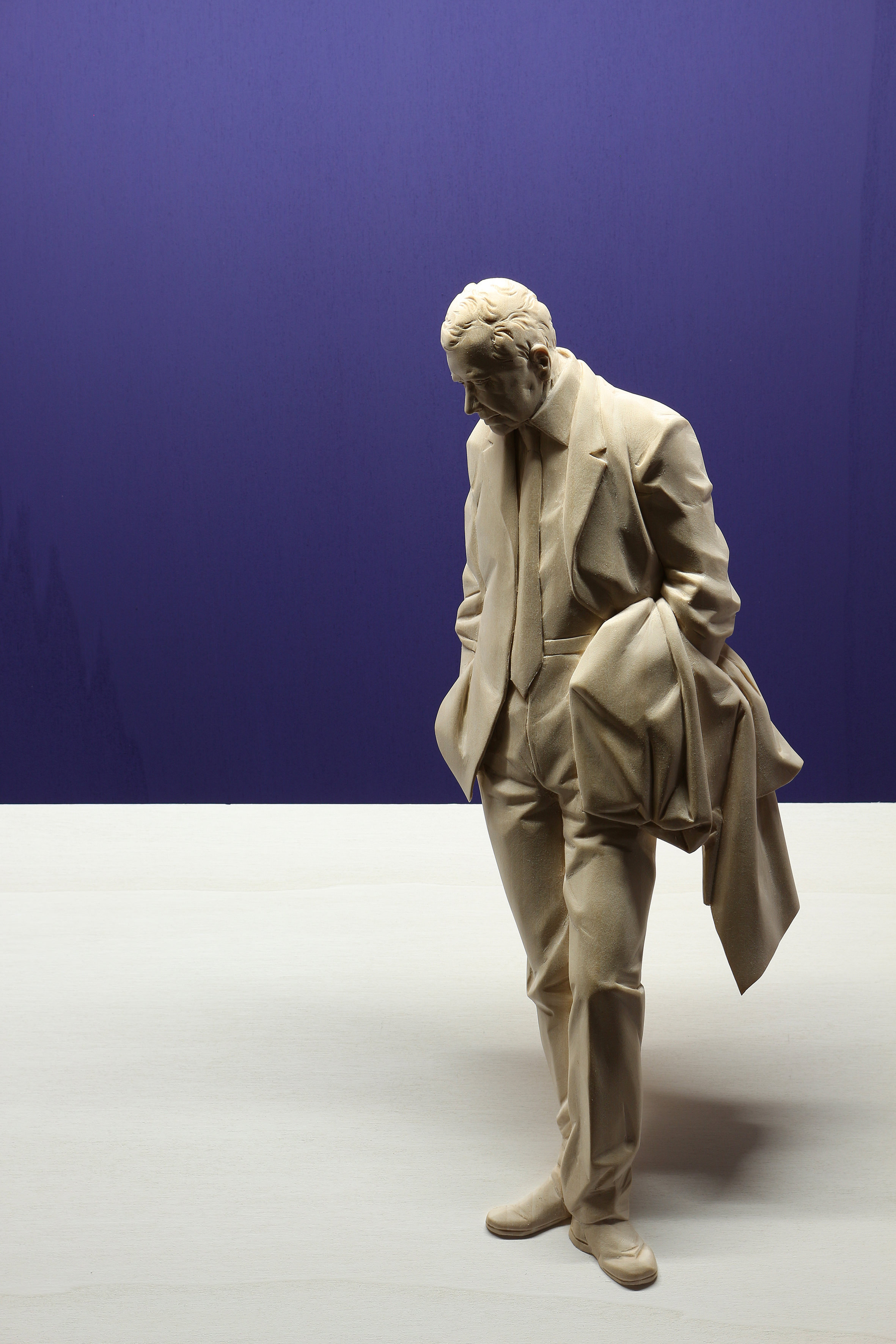 Demetz has involved color and light in his wooden works for the past two years and turned small human figures from wood into characters that look like they are about to come to life and talk to the audience thanks to their anatomic details and the perspective that the artist gave them. The sculptures stand tall and still; their backs are turned to the audience without allowing any eye contact with people as if they are imprisoned in the place and time they are in. The location of the sculptures of human figures gives the viewer the feeling that they are peeping. The compositions which do not give any clues about time or space are approached with ultimate mastership in Demetz's works. The stares of the sculptures which are fixed to things far away make the audience feel like there is something going on without their knowledge. Their heads are down as if they are trying to tell a story with their gestures and body movements. Demetz leaves the audience to witness the most private moments of his figures in a scenario which is well-fictionalized.

ABOUT PETER DEMETZ

Born in Bolzano, Italy in 1969, Peter Demetz lives and works in the Italian town of Ortisei. After studying at Ortisei Art Institute, he became an apprentice to Master Heinrich Demetz, consequently obtaining a master's degree for sculpture. Demetz who has been fascinating art circles with the human figures he carved from wood ever since his participation in numerous exhibitions in Italian cities such as Milan, Rome, Florence, Lecce, Bolzano, Bologna, Sardinia and Neumarkt as well as exhibition and art festivals in other countries in Europe and the U.S. Since 1999 and for the following three years, he studied pedagogy, didactic and the psychology of learning and development. Since 2001 he has been giving courses and seminars on wood carving. From 2002 to 2006 he was the head teacher for the Sculpture Course at the University of Zwickau in Germany, Faculty of Applied Arts. From 2007 to 2010, he achieved major awards in art contests such as "III Trienale Ladina," "the Arciere Award" and "the XVIII Sulmona Prize," placing himself among the most interesting sculptors in today's art scene.