The word "bridge" is worn-out when used as a metaphor for Turkish life. While it is true that the country geographically connects two continents, its cultural synthesis of two worlds often remains in theory rather than practice. The title of Turkish photographer Ahmet Polat's new photography exhibition, "A Bridge Too Far," effectively debunks this metaphor, distancing the viewer from the bridge and delving into the elaborate, fascinating textures of Turkish life. The exhibition continues at the gallery until April 2.
Polat's portrayal of Istanbul is filled with contradictions, tensions and conflicts that are beautifully and thankfully left unresolved. He depicts an energetic city filled with migrants and tourists; in one image, a group of bearded youngsters is seen waiting while dozens of others swim in a large pool overlooked by the city's skyscrapers. There are images of youth carrying Turkish flags at a subway entrance and a young woman taking a picture of the photographer himself. These images represent moments of human encounters that provide opportunities for mutual recognition. In another image, commuters look out of a crowded carriage in despair while two posh young men pose for the camera.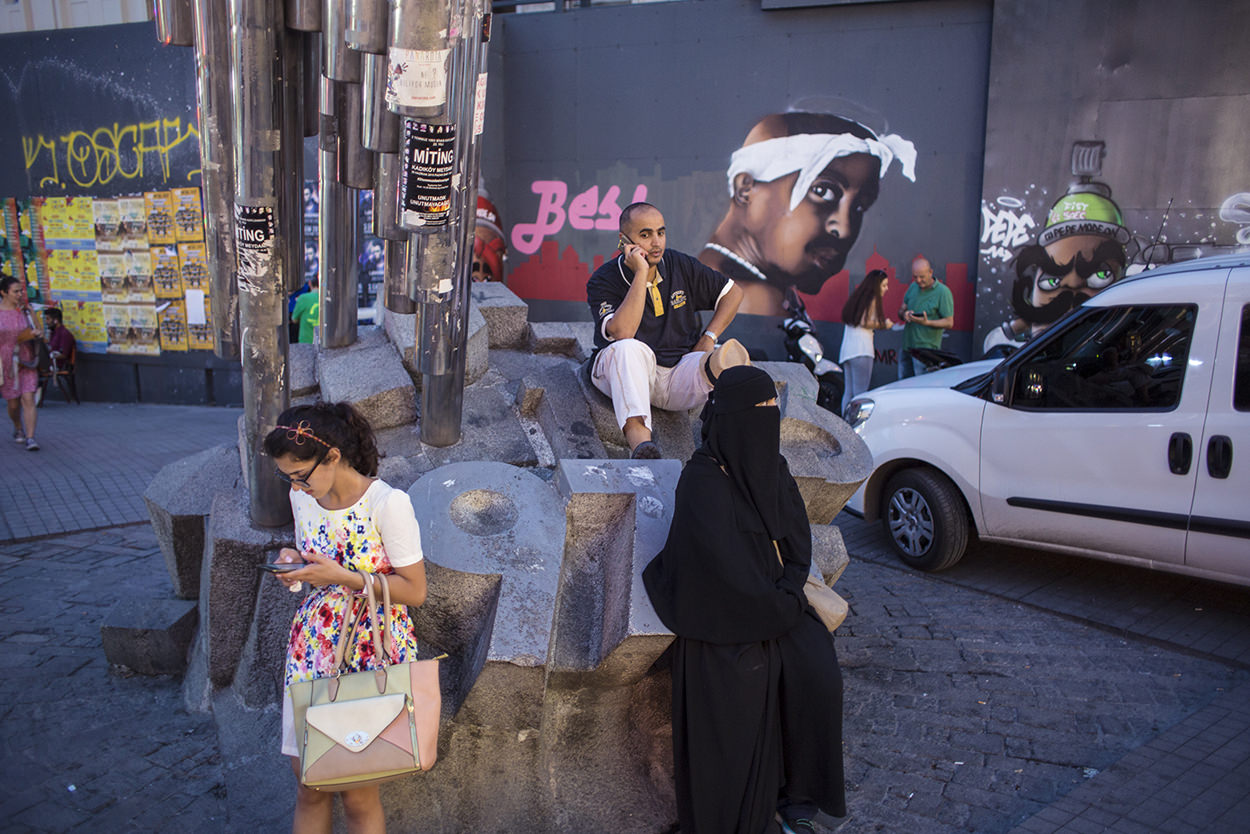 These photographs were first put on exhibit at BOZAR Brussels as part of the Europalia Art Festival curated by R. Paul McMillen. "Portraits, which are always at the forefront in the works of the artist who has the opportunity to analyze the representative power of photography in different cultures, this time include something more: the characteristics of a time capsule preserving modern-day Istanbul," the exhibition catalogue states.
Born in Roosendaal in the Netherlands in 1978, Polat studied photography at St. Joost Academy and spent years traveling before he moved to Turkey. His first retrospective exhibit was held at Istanbul Modern in 2007.
"I've lived in Turkey for more than 10 years and I've been working here for 20 years," Polat told me in an interview last week. Despite being born in the Netherlands, Polat no longer considers himself a visitor in Istanbul. "I don't know if I am an outsider anymore," he said. "I have the luxury of having two perspectives within myself. In order to see distance and perspective we have two eyes. With me, I also have these two cultural references that give perspective and a different meaning to everything I see."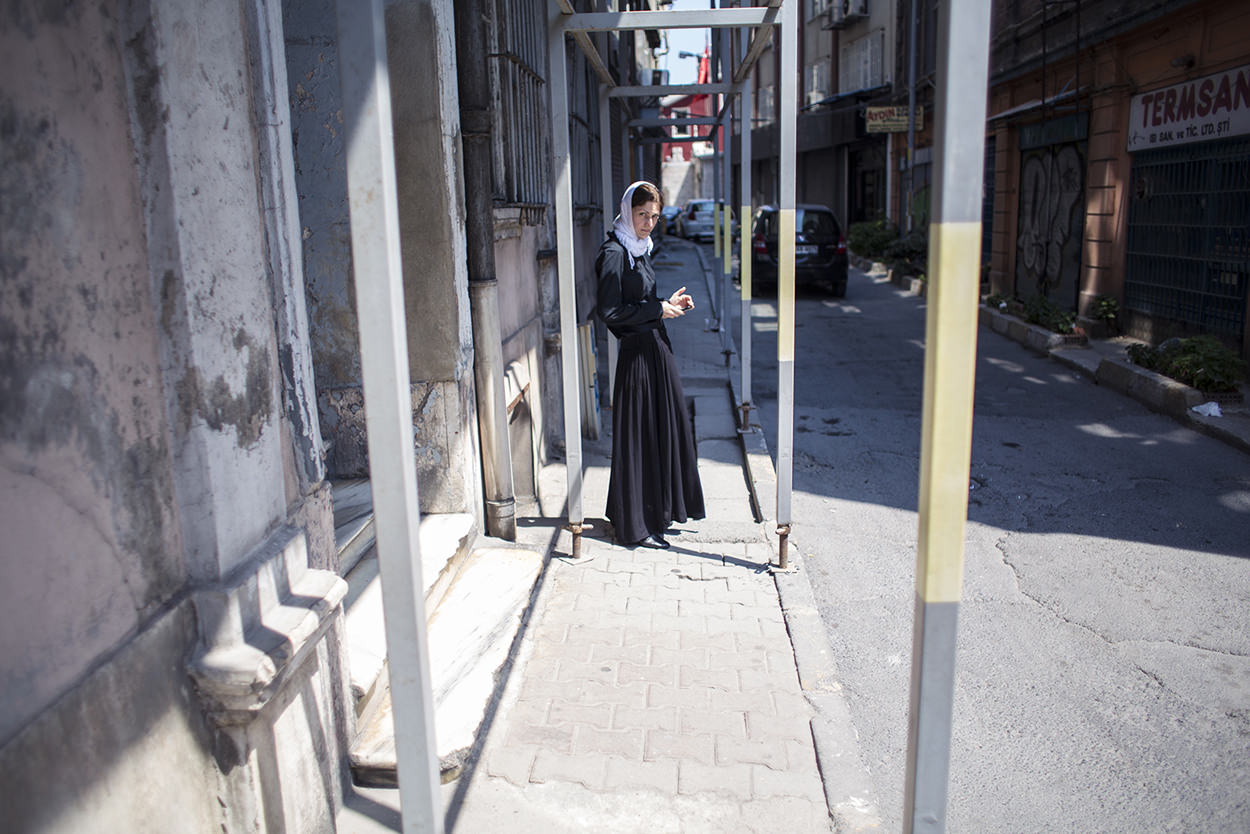 In 2006, Polat was granted the Best Young Photographer prize by the International Center of Photography and published a photography book "...Neither Here Nor There..." two years later. He published another book titled, "Gurbetçi," which features Polat's photographs of Turkish immigrants living in Germany, Holland and France. His solo exhibition, "Kemal's Dream" was organized at Amsterdam's FOAM museum in 2010.
"The title [of this exhibition] comes from a book written in 1974 by Cornelius Ryan," Polat said. "Later on, a movie was made with Gene Hackman and Anthony Hopkins. The story is about the Brits who are fighting in Holland to take over a bridge in Arnhem that was still under the control of the Germans. You should watch this film, it is very good. ... What is interesting for me is how film reviewers have criticized the movie for not being factual. This is, in and of itself, very amusing because history is always part fantasy; it is a perspective, never written by those who have lost. This was a good premise for my work on Turkey."
"I'm not a photographer that covers the news. I see my work as possible predictions of the near future or as reflective tools to apply to the recent past. And, with this work, I'm trying to reflect and predict at the same time."
Polat has lectured at Istanbul Bilgi University and the Royal Academy of Arts in The Hague since 2005. He works with Amsterdam's Foundation BKVB and had collaborated with companies like Mavi Jeans. His work has been displayed in places such as FFFI in Frankfurt, the Fotomuseum in The Hague and RAM in Rotterdam. Publications including French Vogue, Marie Claire, Vice magazine and Paris Match had published his photographs.
"I produced these works between 2012 and 2015," Polat said. "I always thought that Istanbul had a heart and soul. But I never felt as much pain in this city as I have in recent years. Most of us are still trying to deal with this. 'A Bridge Too Far' helped me discover the new Istanbul. You could say I'm looking for what the city is going to become. Part of it is the new construction era that has been ongoing for the past fifteen years... We will see the effect this has on the social structure of the city in the future. And I will be there to capture this process in images."
The year 2016 is set to be a busy one for Polat, as after his X-ist exhibition in Istanbul, he will be exhibiting in London in May. "I am still working on 'A Bridge Too Far'," he told me. "This will continue for a while. At the same time, I have several exhibitions lined up in London, Amsterdam, Hilversum and Miami. In the Netherlands, I'm still working on the Dutch streets... This will continue until 2017. I'm also working on an exhibition of refugees who traveled to Europe. Also, I'm starting a new project in Miami this year which will take place over the next three years on the Hidden History in Miami."
I asked Polat about the current state of photography in Turkey. The artist replied, "I see lots of possibilities for improvement in the field of photography in Turkey," he said. "But, I also know that I have to be patient. I used to move too fast and nobody understood what I was trying to say. The older generation didn't get it and the younger generation wasn't ready yet. But now, I believe that photography is becoming a bigger part of our society."
"Through social media platforms like Facebook and Instagram, young people can see what it going on outside of Turkey," Polat continued. "Viewers can understand that some of the tricks employed by artists are nothing more than tricks... So this is a good thing. However, at the same time, too many people remain uneducated in visual culture. So, we need to work harder to ensure that people understand how this functions as a language. Then, we need to use that language wisely."