Earlier this year at a museum in Rome I came across a video installation by one of Turkey's leading contemporary artists, Cengiz Tekin. Projected on one of the massive walls of the Rome MAXXI Museum was Tekin's video "Just Before Paradise" depicting refugees in dark waters of an unnamed sea.
The building where Tekin's video was shown was one of the landmark works of the Iraqi-born British architect Zaha Hadid who designed MAXXI in early the 2000s and passed on March 31 this year. The concrete curved walls of the museum building resembled waves, which play a crucial role in Tekin's video.
"The exhibition takes its title from Tekin's latest video work that was shot in 2015," the exhibition catalogue informs us. "The video, which was premiered in the Rome Maxxi Museum's ongoing exhibition 'Istanbul. Passion, Joy, Fury,' will be screened in Istanbul for the first time. We see a group of refugees waist deep in dark waters in the video. That group of young men seems like they are singing a quiet anthem as the waves lap up against the shore. They all have a proud expression on their faces as they realize the last duty for their gone friends, with whom they shared a common fate. 'Just Before Paradise' draws attention to forced migration and the refugee crisis and also depicts the tides between death and life as a boundless crisis instead of a regional one. Both videos in the exhibition share a cautious silence that is present in most of Tekin's works. That silence is more of a survival strategy against the traumatic experiences in life rather than a resignation."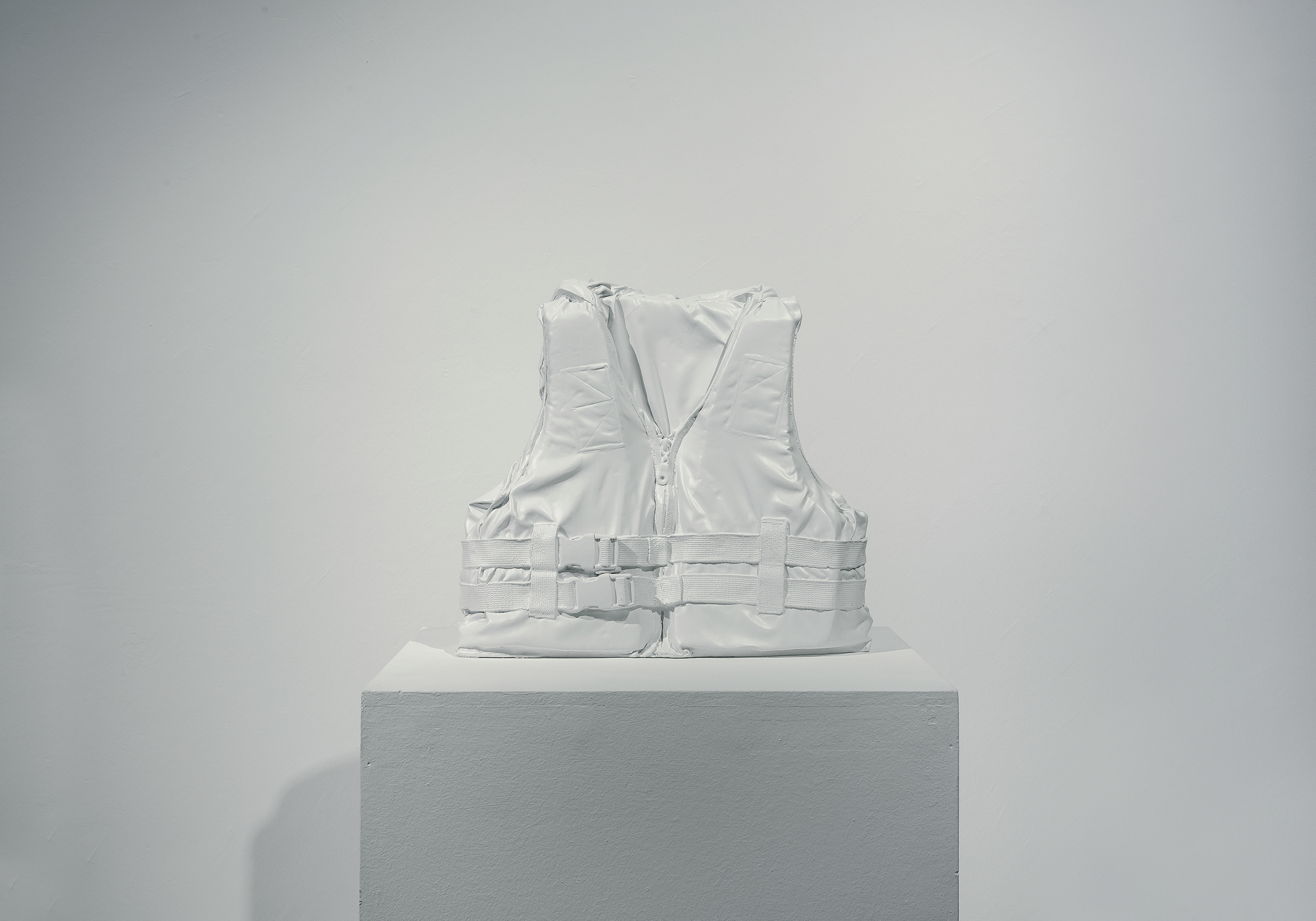 Sculpture "The Life Jacket"
"The loss of Zaha Hadid is very saddening," Tekin told me in an interview last week. "Many artworks risk getting lost when displayed in buildings with a strong character. But 'Just Before Paradise' was not produced as a site-specific installation."
"The promises made to refugees by target countries and all the hopes they have during their journeys can turn their experience into a hell instead of a paradise," Tekin said, referring to the title of his show. "The crisis we are in, the attitudes of countries responsible for this crisis, the forced migration of those people who experience hell and who move away from their homelands, make me think that both paradise and hell are experienced here, in this world. So few people are lucky enough to live in their paradises. Many of us think that their paradise is somewhere out there and they should locate it, it is as if that place is their soulmate. Even though we don't know where it is, when it is and how to find it, we carry the image of that place in our minds. People want to migrate to a place they hope will be a paradise because of all the wars and oppressive regimes they are leaving behind. We all stand on the threshold of our paradises from where we try to see happiness. I think it is this feeling that the migrants are experiencing right now."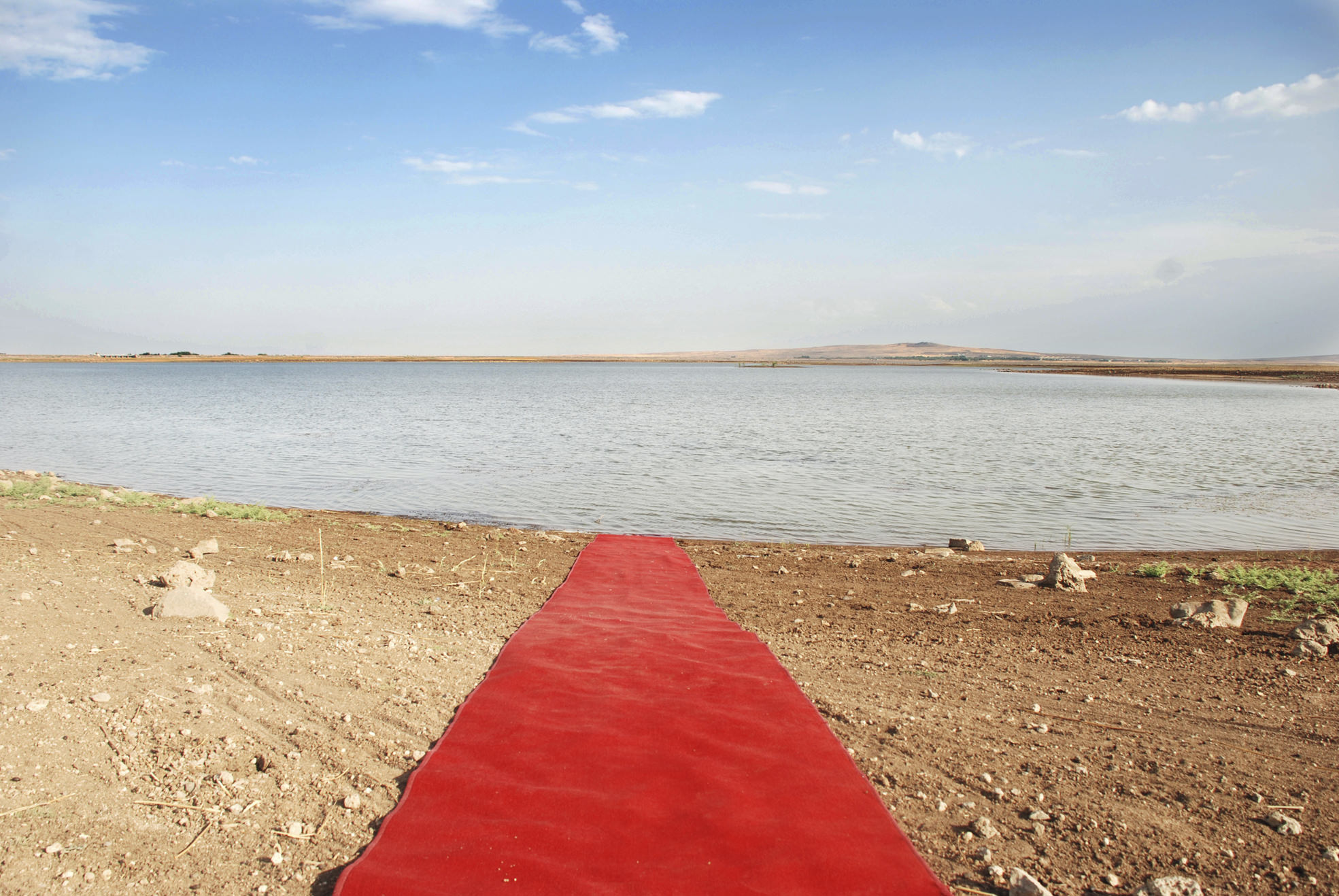 "The Red Carpet"
Born in 1977, Tekin is a graduate of the Department of Painting at the Faculty of Fine Arts at Çukurova University. His first solo exhibition, "The Original Message" was organized at the Outlet Gallery in 2009. Tekin then showed his works in galleries like Gdansk's Wyspa Institute of Art, Vienna's Galerie Krinzinger, Berlin's TANAS and Istanbul's ARTER and Pilot. His works had been featured in the seventh Santiago Video and New Media Biennial in Santiago, Chile in 2005, in the ninth Istanbul Biennial in 2005, and in the fifth Cetinje Biennial, in National Museum of Cetinje, Montenegro in 2004.
"Individuals who took part in 'Just Before Paradise' are migrants or immigrants whose futures are unknown. I wanted to explore this uncertainty, its weight and its contradictions," Tekin said. "The video shoot went smoothly, the only problem was the cold weather. We have had an intense preparation process. We reached migrants through friends who work at different institutions before choosing people to work with."
Tekin said he had been feeling a certain sense of responsibility while watching the migration movements in Europe. "There had been big waves of migration in the Middle East before, following wars and massacres. With the civil war in Syria, the pace of dramatic and traumatic problems that had been continuing for a long time changed. For a long time, migrants from Africa or the Middle East, died from dehydration or drowned in the sea after crossing the desert. I had been watching this and so was not alien to what took place. But there is a big difference between now and then: today everything happens much more publicly. We witness what is going on in real time. This experience of real-time witnessing rises in us the anxiety that we may, in the future, end up in their position."
Another work on display here is the sculpture of a life jacket placed on the opposite corner of Tekin's video. "Instead of a normal life jacket, a sculpture of it made out of marble speaks for itself on this weighty issue," the exhibition catalogue informs us, asking: "Is the survival effort of actors in 'Just Before Heaven' resisting to their fate and their dangerous journey in vain? As Ibn Khaldun said, is geography fate?"
"Some countries hand brochures to migrants to sexually educate them or give them color wristbands, which identify them as migrants," Tekin said. "These are worrying developments. The human traffickers, meanwhile, are never caught. We are faced with a profound humanitarian crisis here."
When asked about the most recent representations of the migrant crisis in the field of contemporary art, Tekin talked about the issue of honesty. "It can take a long time for a work's value or an artist's honesty to be properly understood," he said. "To understand whether an artist is exploiting the subject we have to look at the artist's stance and the way he produces his work."