Art Jameel and the Crossway Foundation recently announced the Jameel Journey to Turkey as part of an initiative to give young artists from the Gulf region the opportunity to work and travel across international borders. Six young photographers from Saudi Arabia, the United Arab Emirates (UAE), Kuwait and Bahrain will travel across Turkey from May 12 to May 23, working with local photographers and arts initiatives in the provinces of Istanbul, Cappadocia and Ankara.
The six participants were selected from a 15-person shortlist of promising young photographers selected among hundreds who applied for the Art Jameel Photography Award, which aims to discover emerging talent, develop art skills and exhibit exceptional photographs while promoting the art of photography and the achievements of the finest photographers to a diverse audience.
After interviews with Art Jameel and the Crossway Foundation, Akram Al Almoudi, 31, based in Saudi Arabia, along with Marwan Haredy, 20, based in the UAE, Mohammed Shibli, 25, based in Saudi Arabia, Rawan Alhusaini, 26, based in Bahrain, Farah Salem, 24, based in Kuwait, and Tyma Hezam, 20, based in Saudi Arabia, were selected to take part in the journey.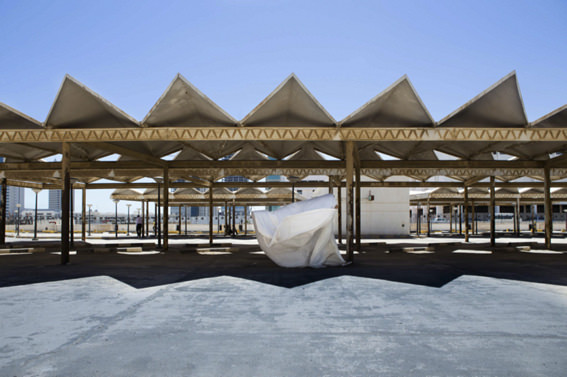 Farah Salam "The Dove"
The president of Community Jameel International, Fady Jameel, spoke about the backgrounds of the six participants. "The majority of the participants are self-taught artists who will benefit enormously from working with innovative photography collectives and professional photographers in Turkey," he said. "Artists who were part of our previous journeys to Brazil, Japan, Spain, Saudi Arabia and the United Kingdom have gone on to not only exhibit their work and contribute to important publications but also to launch their own businesses and initiatives. So, I'm excited to see how this trip will unlock the potential of this year's participants."
Migration as the main theme
The young photographers will display their work from Turkey in a public exhibit in the UAE this Fall. They will also create a publication that documents their journey and explores this year's theme.
Imogen Ware, managing director of the Crossway Foundation, said: "Exploring a new place with peers can be a very formative experience, both personally and professionally. We hope that bringing together like-minded practitioners in this unique context will have a genuine impact on the participants' photographic practice while the six photographers work closely with local artists, artistic institutions and photographic collectives in Turkey to discuss the theme of migration. Although migration is a topic of urgent and unprecedented importance for the world, and for Turkey in particular, it can also be applied on a personal level for each of our participants who come from a broad range of nationalities and backgrounds - a mix that will undoubtedly contribute to the group's interpretation of this theme."
Turkish visual artist Merve Ünsal was appointed as project mentor and will be guiding the participants during their time in Turkey. Discussing the journey's theme, she said: "We are interpreting migration both as a mode of being for a contemporary citizen in the world and as a politically and socially charged condition that defines the MENA [Middle East and North Africa] region. Through this theme, we are going to look at the post-Ottoman heritage of Turkey as new identities were forged over the course of the 20th century and consider how these identities continue to evolve today. While the artist lectures will focus on the theme by looking at specific bodies of work that deal with migration, walks through the cities will be guided with this theme in mind, looking at new and old neighborhoods through shifting urban dynamics."
Art Jameel, one of Community Jameel's initiatives, fosters and promotes contemporary art and creative entrepreneurship across the Middle East. In partnership with arts organizations worldwide, Art Jameel is developing two arts centers and cultural exchange programs to encourage networking and knowledge sharing. Art Jameel is also the founding partner of Edge of Arabia, the Crossway Foundation, Jeddah Art Week and The Archive. It also awards the biannual Jameel Prize for contemporary art and design inspired by Islamic traditions in partnership with the Victoria and Albert Museum in London. The Crossway Foundation is a U.K.-based charity delivering arts and education initiatives for young people in the Middle East and the U.K. The foundation focuses on taking young people on international creative journeys as well as running a public program that is free and open to the public. The Crossway Foundation has been embarking on life-changing journeys since 2007, working with young artists in Egypt, Jordan, Kuwait, Lebanon, Oman, Saudi Arabia, Qatar, the UAE, Pakistan and Malaysia.