Zorlu Performing Arts Center (PSM) will bring prominent digital artists from around the world together at "Digilogue Panel" as part of the "Digital Revolution" exhibition which will continue until June 12. The panel session will take place on May 6 and speakers will discuss how digital technology brings revolutionary aspects to various branches of art including architecture, art and fashion.
"Digital Revolution," which can be seen in Zorlu PSM's new exhibition venue Sky Lounge, features works blending technology and art by filmmakers, architects, designers, musicians and computer game developers. Curated by the Barbican Center, the exhibition also features works by Academy Award winner Paul Franklin, who is the visual effects designer for the music video director of musician and entrepreneur will.i.am and Björk, as well as working on Christopher Nolan's "Inception," and Chris Milk, who is the music video director for the Chemical Brothers, U2 and Kanye West. In addition to these outstanding names, new artworks by Umbrellium (Usman Haque and Nitipak Samsen), Universal Everything, Yuri Suzuki, Pasha Shapiro and Ernst Weber are also on display at the exhibition. Since the exhibition has brought the importance of digital artworks in the art scene on the agenda, Zorlu PSM has decided to hold an exclusive panel session to draw attention to the artists and their works that opened a new era in artistic creation.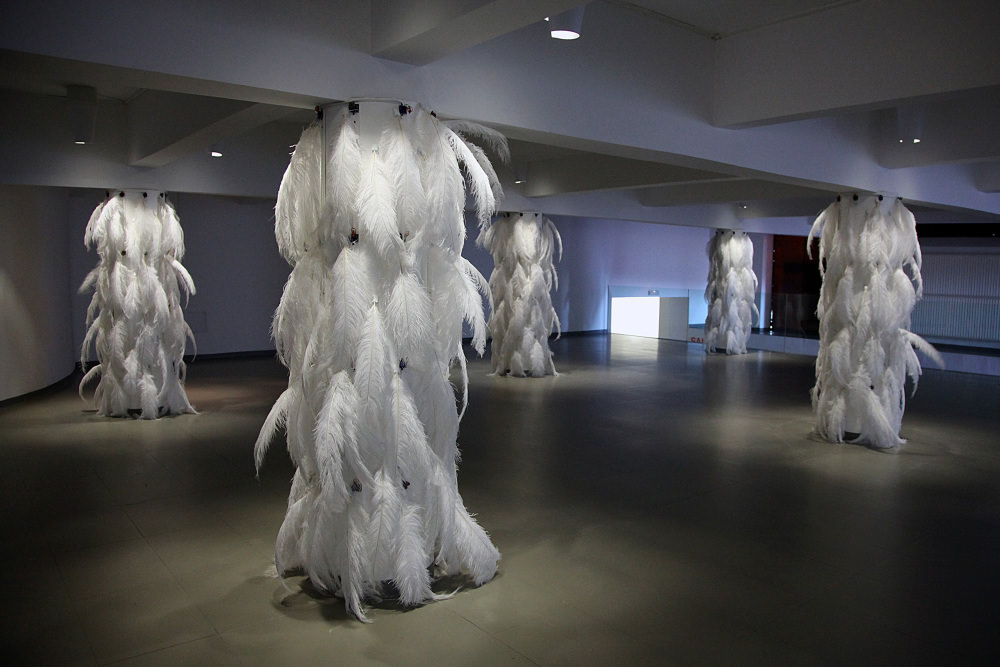 "Feather Tales" by Ebru Kabak
Digilogue Panel consists of two sections: Researcher and curator Birce Özkan who brings technology to podiums and designed wearable technology, new media artist and research Refik Anadol who was granted many awards including "Microsoft Research" and "Research at Google," acclaimed architect, artist and researcher Güvenç Özel who was among the finalist of NASA's architectural competition with his work "Martian Colony," architect, artist, researcher and educator Ebru Kabak who designs wearable technology, and artist Michael Tyka who turns protein molecules into sculptures in metal and glass, will inspire attendees with their career stories and artworks in the first part of the panel session. Meanwhile, the second part of the panel will host prominent figures from Turkey's digital scene such as Turkish daily Hürriyet's CEO Çağlar Göğüş, Digitürk IT Vice General Manager Hatice Memigüven and Sony Pictures' successful animation director Coşku Turhan.
Digilogue Panel will welcome Refik Anadol, one of the most successful digital artists from Turkey. Anadol defines himself as a "new media artist" focusing on live audio and video performances, huge installations and architectural photography. His works mostly aim to explore the space between the digital and physical by creating a relationship between architecture and media arts. Anadol has been rewarded many awards for his works, including the Microsoft Research's Best Vision Award, the UCLA Art and Architecture Moss Award, the University of California Institute for Research in the Arts Award and the CODA Video Award. His site-specific installations can be seen at the Walt Disney Concert Hall, Hammer Museum in the U.S., the International Digital Arts Biennial Montreal in Canada, Santralistanbul Contemporary Art Center and Istanbul Design Biennial in Turkey as well as SANAA's School of Design Building in Germany. Turkish art lovers also know him for his work "Liminal Room," which was exhibited at Zorlu PSM as a part of the Istanbul Light Festival. The artist is also the co-founder and creative director at Antilop.co and currently a lecturer in UCLA's department of design media arts in Los Angeles.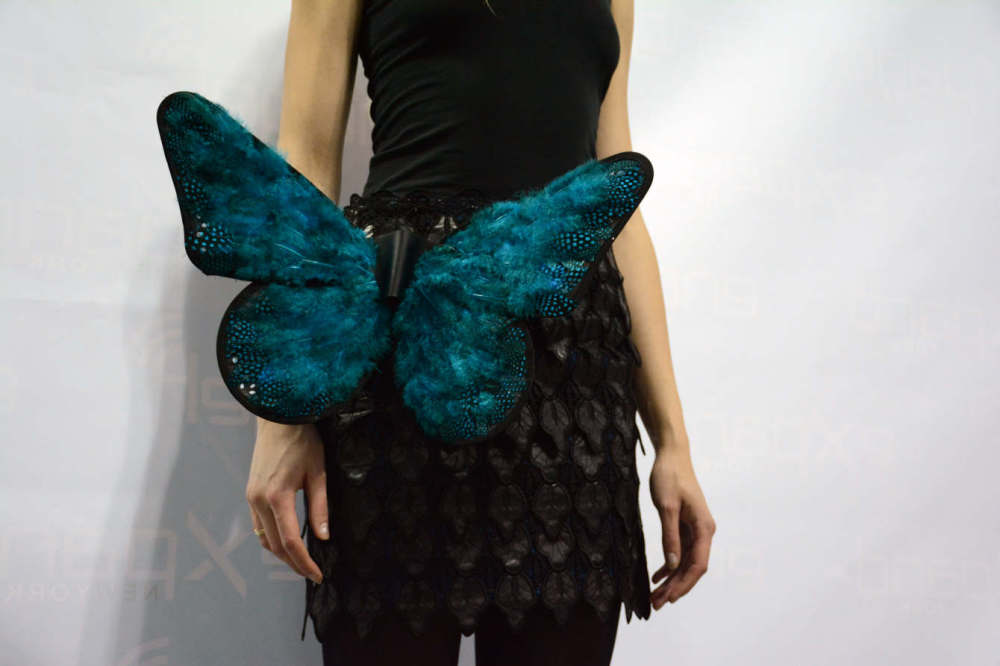 "Enlightenment" by Birce Özkan
Acclaimed artist and architect Güvenç Özel will also attend to the panel as a speaker. The artist who was a finalist at NASA's architectural competition with his design "Martian Colony" previously exhibited his works at various art festivals including the Istanbul Design Biennial. Özel uses art and a platform to make technological innovations. Apart from being an architect, artist and researcher, Özel is also the managing director of UCLA's IDEAS Master program and the owner of Los Angeles-based interdisciplinary design company Ozel Office. The artist who is a specialist in adapting digital technologies to new buildings has a lot of innovative ideas about interactive architecture and creating interactive venues. In the long term, Özel wants to create a building that can interact with people and adapt to the needs of its residents.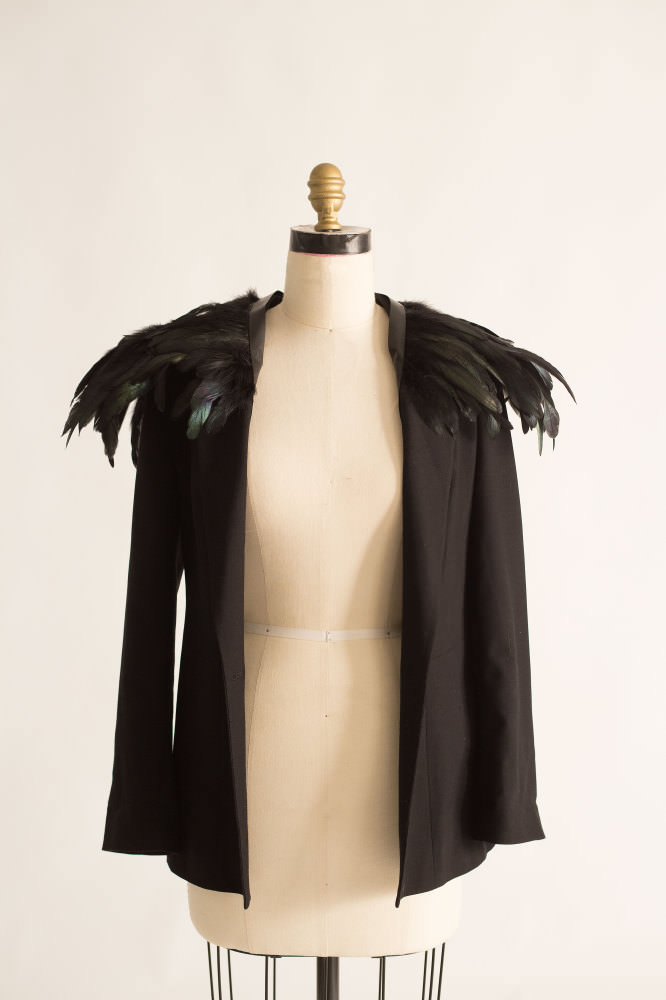 "Augmented Jacket" by Birce Özkan
Moreover, architect, artist, researcher and educator Ebru Kabak will also share her experiences with the participants of the Digilogue Panel. The artist uses traditional textile methods such as knitting and embroidery to create wearable technology artworks. Kabak received her bachelor's degree at Istanbul Technical University's Department of Architecture and currently lives in Vienna, working on an international project titled "Stitching Worlds," which is founded by the Austria Science Fund and is carried out with the University of Applied Arts Vienna. "Stitching Worlds" is composed of an 8-bit computer produced using textile materials. Kabak designed a radio transmitter named "The Knitted Radio" a couple of years ago and proved that she can produce a functioning knit radio.
The first part of the panel session will also host designer, researcher and curator Birce Özkan as a speaker. Among Özkan's fantastic designs, "Compass Jacket" which can direct its wearer with a compass and application, the "leaf shedding dress" which has the ability to perceive nature as a living organism, the "butterfly skirt" and the "dress that can change according to place and motion" stand out. Having graduated from Koç University's Department of International Relations, Özkan completed her master's studies at Parsons Design School. Although Birce Özkan is only 27 years old, she gives lectures on interactive clothing at Parsons as an academic. The designer who exhibited her works in London, Paris, New York, California and Texas was given an award in a Japanese competition for the "Best Wearable Technology."
Michael Tyka, on the other hand, is an academic who has been working on the structures and dynamics of protein molecules. He took an interest in the art of sculpture in 2009 and began to create sculptures based on protein folding, aiming to inspire those who want to learn more about magnificent molecules. Tyka is also among the founders of Seattle-based art studio ALTSpace, which is a creative space where artists have a chance to share their ideas and find place for their huge art installations. Tyka also prepares software for a computer simulation for Google's Cennectomics project.