When I visited Tomtom Kaptan Street in Istanbul last week, there was little sign of the anxious atmosphere of the past springtime. Instead, the neighborhood's new gallery Krank, located adjacent to the chic TomTom Suites, heralded more peaceful and art-filled times.

Members of the Special Operations Squad of the Turkish police had been patrolling the entrance to the street in Çukurcuma for the past three months. The street hosts the Italian High School and the Venetian Palace, and after the terror attacks in Istanbul, security around most foreign buildings had been increased by city officials. Ayşe Üner Kutlu, one of the co-founders of the gallery, was sitting outside the gallery and enjoying the sun as I approached the entrance.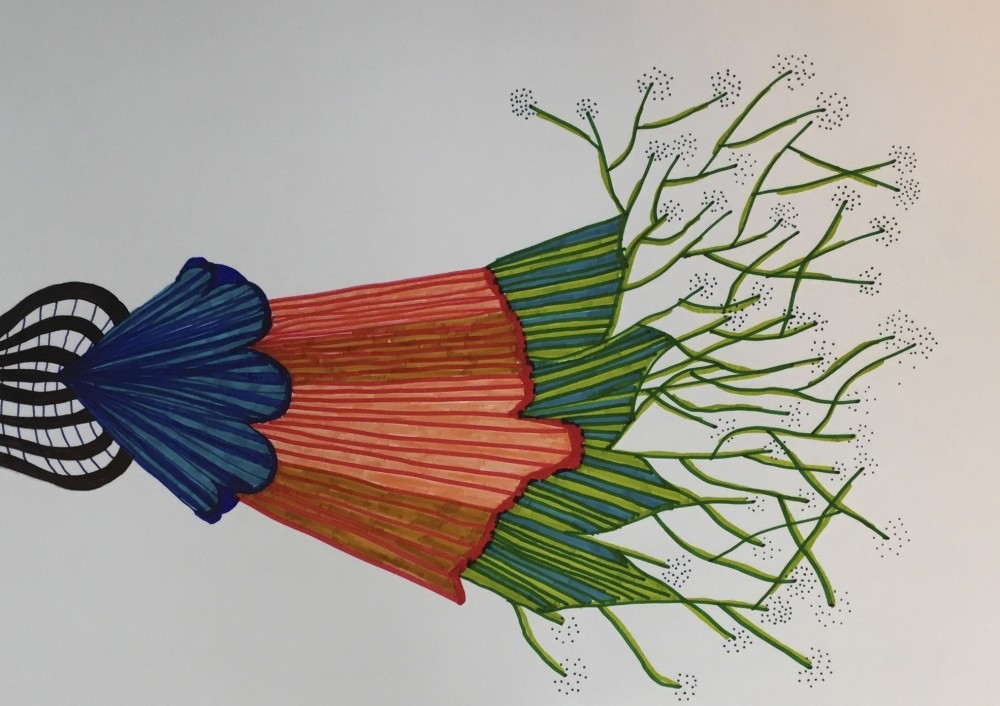 Kutlu and the other co-founder, Sibel Erdamar, handed the job of curating Krank's program to Ali Akay, a leading figure in Istanbul's contemporary art scene. A curator, academic and author, Akay will be curating Krank's first five shows. Kutlu says their aim in founding the gallery was to breathe "new life" into the city's contemporary art scene. After debuting with a show by the Russian-born artist Vadim Fishkin, Krank is now hosting Camila Rocha's beautifully titled "The Enigma of Plants" until July 16.
Visitors to her previous exhibitions will know Rocha's all-encompassing focus on plants. Her drawings and sculptures explore plants' lives and the role they play in our lives. In The Enigma of Plants an acrylic plant on canvas titled "Nine New Species Suspended, Mobile III" greets the visitor at the gallery's window. Two other acrylic plants on canvas, titled "Cosmicela" and "Spirelistra," are accompanied by Rocha's "The Seeds" series, a group of drawings.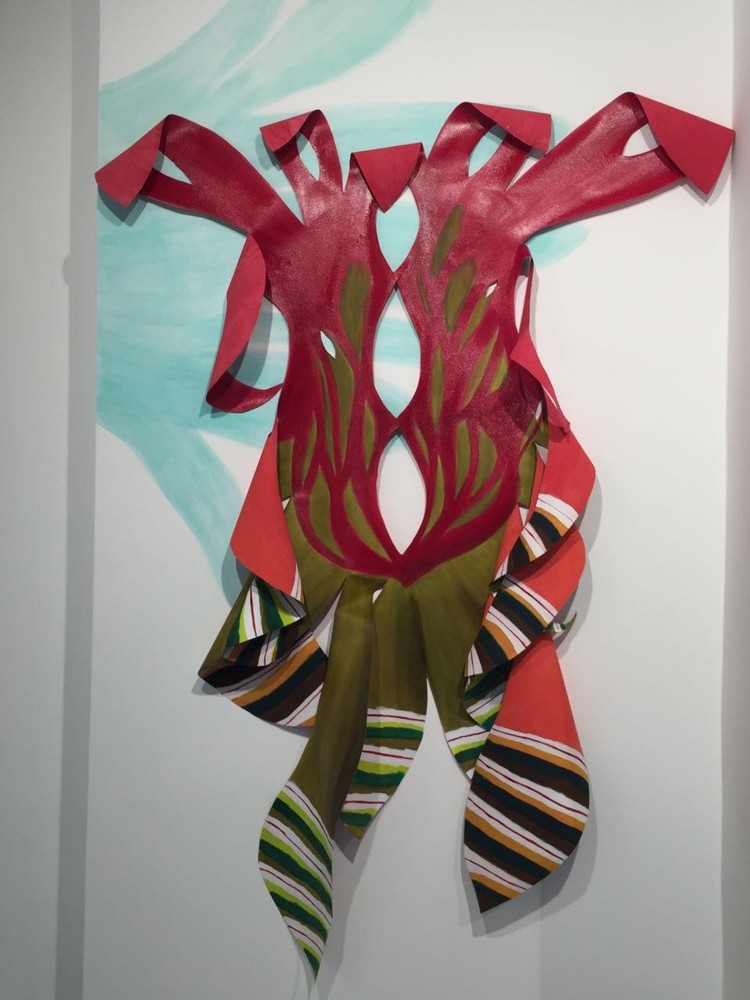 "Among other living things, plants make up a kingdom of autotrophic organisms that use photosynthesis, and constitute the subject matter of botany," Akay, the curator, wrote in the exhibition program. "Plants, with many different types that thrive in different types of climates, are also the objects of Camila Rocha's art practice. Plants, being the object of the artist's interest, are actually not considered directly in relation to nature. In a sense, artificiality manifests itself as an artistic element, and even as an integral part of Rocha's way of making art. Her art as 'way of knowing' could be better understood in terms of a desire. Representations of plants as living things and plants as objects of sensation drive Rocha to produce her art in a symbolic fashion."
Born in Sao Paulo, Camila Rocha has been living in Istanbul for the past 13 years. Her most recent site-specific installation, "Sefatoryum," was exhibited at Istanbul Modern at last year's "Till It's Gone" show, which was curated by Çelenk Bafra and Paolo Colombo. Rocha has also exhibited works at numerous exhibitions, including "The Naturalists" at Tina Kim Gallery in New York, "Rhizome" at Gallery NON in Istanbul, "An Atlas of Events" at Calouste Gulbenkian Foundation in Lisbon and "Abre Alas" at A Gentil Carioca Gallery in Rio de Janeiro. She participated in the 10th Istanbul Biennial and in the 3rd Tirana Biennial.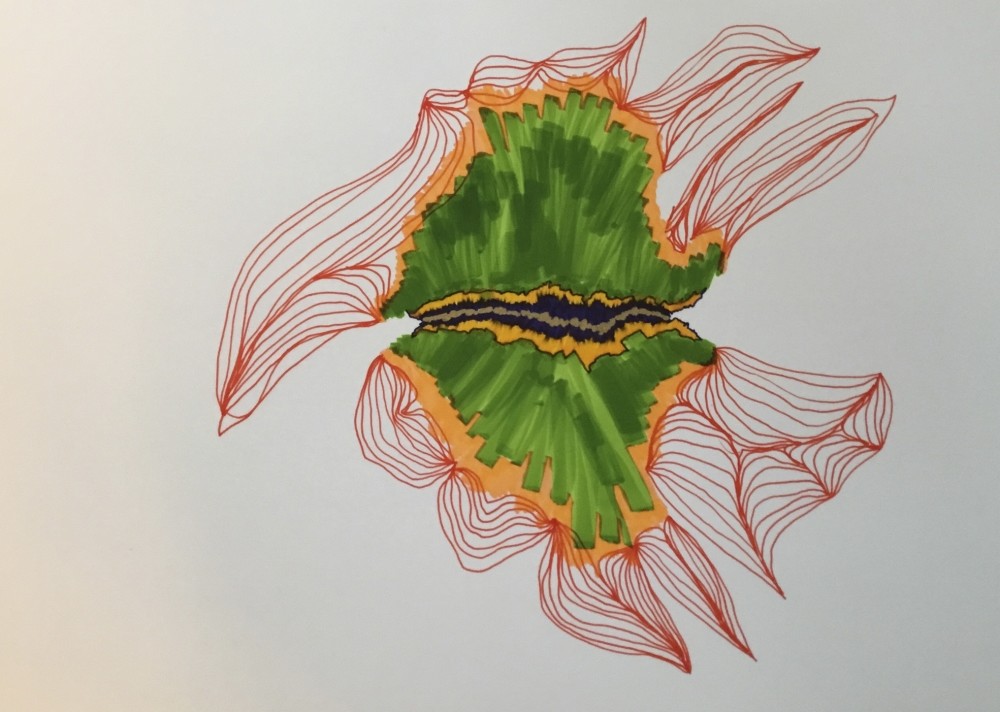 "Ali Akay guided the whole process of selection of the works, their placement and their installation, as he had familiarity with the space from the previous exhibition," Rocha told me in an interview last week. "Since we had a small space to work with, we decided on showing only the New Species of Plants. First, I understood the volumes of walls to draw the washed out plants, then decided to superimpose them with tridimensional ones. Like a base where those plants and seeds could rest." When asked to reflect on the enigmatic puzzle quality of the show, Rocha said: "I think the puzzle idea you mention comes from the seeds, trying to connect with each other and make a kind of sense of order. It is important to mention that their placements on the wall change throughout the duration of the exhibition."
In the exhibition program Akay says: "Camila Rocha presents the viewers with a strange magical world through the creative ambience set up" and speaks of how her "mobile sculptures rely on the confounding relationship between the foreground and the background, and in this way they turn the venue as a sphere of experience into a sphere of sensation."
I asked Rocha to describe the power her imagined plants had over her and her relationship with them. "I am often asked if my imagined plants are real or not," she said. "To answer that I say my plants are very real, as far as they coexists with you in the present time; I can see them reproducing, growing, moving. Especially when they are on display for the viewer. ... I've deeply connected with plants since childhood as you might know. It's a kind of obsession."
"What we show in the show are the four processes that I encounter while creating them," she said. "First the washed out plant shapes drawn on the walls, then I have that big landscape/plant hybrid called Cosmicela. ... After that comes the totally deconstructed wet red Spirelistra. And finally, the numbered seeds on reproductive paper and a mobile of nine different suspended plants connected by the same structure of balance... All this production came after Sefatoryum, so for me it is pertinent to observe their progression."
I asked Rocha how these works connect with her homeland and her past. "From the roots I take the idea of superimposing, where you can have many layers of plants and its representations into a new organized ecosystem," she said. "As I said before, I grew up at my grandmother's garden, playing with roses and other plants instead of toys. So what I do now, in a way I have always done in the past. Like when I was that little child playing under the giant Monstera Deliciosa, inventing stories over their bodies."
Initially, Rocha thought her approach would be difficult to be appreciated because of all the different shapes and colors she used; she thought Turkish society would not be familiar with them. "However, to my pleasant surprise, people found the most extravagantly colored plants and seeds the most attractive," Rocha said. "Overall everyone has been assimilating what I'm trying to do in a very positive way. They have been opening themselves to this new and unusual version of an environment."