Cermodern's Masterpieces from the Central Bank of the Republic of Turkey Art Collection offer the best pieces from the Turkish art scene with a variety of vivid works echoing European artistry. Pieces by artists such as Ergin İnan represent issues that affect all of humanity while pieces by Şeref Akdik highlight aspects from Turkish culture. Project coordinator at Cermodern Gülden Bostancı said: "We wanted not only the general public, but also the many foreigners who reside in Ankara to understand and experience firsthand this wonderful collection, aiming to make fine art accessible to the public in its many forms."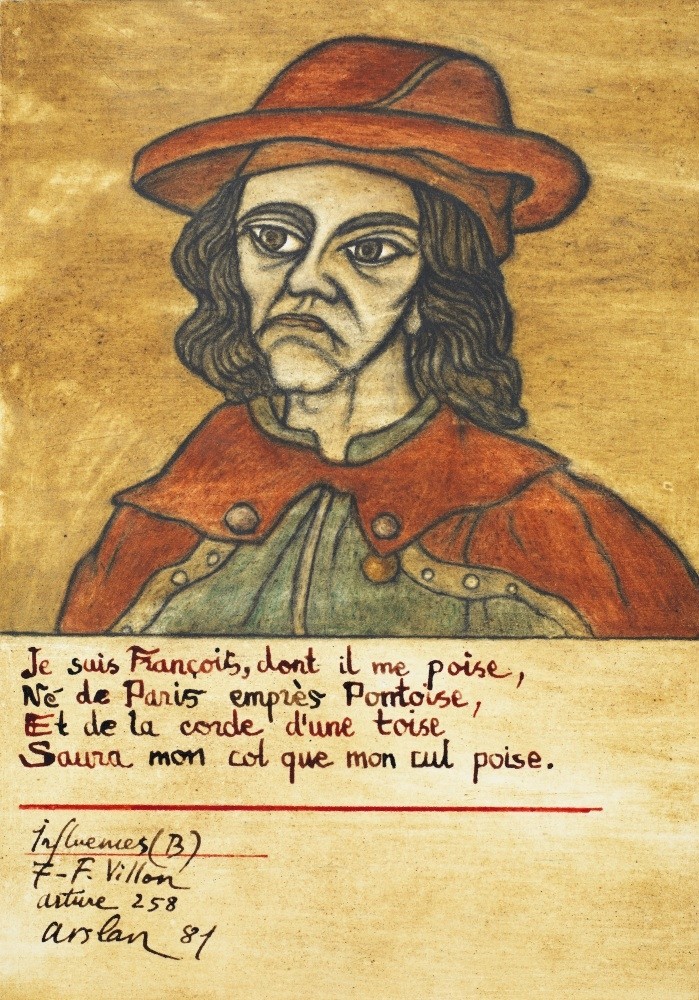 YÜKSEL ARSLAN (1933-) "Influences Arture," 1981
As with any art exhibition, a healthy number of the pieces featured in the exhibition are abstract. Artist Özdemir Altan's work, featuring pieces from his Family Tree series, are on display depicting well-known symbols from pop culture including the Red Hot Chili Peppers and Bayern Munich, distinguished with a sturdy "X" atop a voluptuous bauble. The abstract element is also apparent in pieces by Ergin İnan, in which he utilizes Western aesthetics and geometry as well as a mixture of human figures and insects which attest to the artist's fascination with gossamer-winged creatures.
One of the most notable pieces at the exhibition is "Istanbul Watching" by Devrim Erbil, a modern interpretation of Istanbul done in mixed media. As Gülden notes, not one human being is shown in the painting but the artwork still manages to depict the chaos that is the very essence of Istanbul. Erbil's work also adopts traditional Turkish methods, such as the design technique used for Seljuk tiles.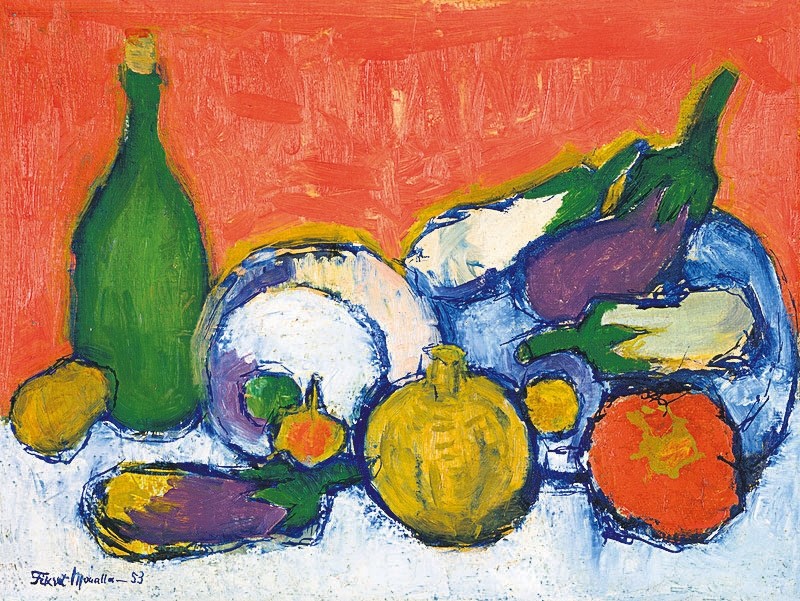 FİKRET MUALLA (1903-1967) "Still Life," 1953
The Turkish art scene proves itself to be no stranger to the contemporary nature of Cubism with pieces by Zeki Faik İzer and Sabri Berkel. Neo Cubism shows its vivid colors in this exhibition with standout pieces depicting calligraphic knits like in Sabri Berkel's Composition.
The exhibition also jumps from the abstract to the impressionist, featuring pieces which are characterized by thin brush strokes. Masterpieces from the Central Bank of the Republic of Turkey Art Collection's array of impressionist paintings include a display of serene landscape paintings depicting Istanbul - see works by Hikmet Onat, İbrahim Safi and Şeref Akdik. These works pay meticulous attention to detail.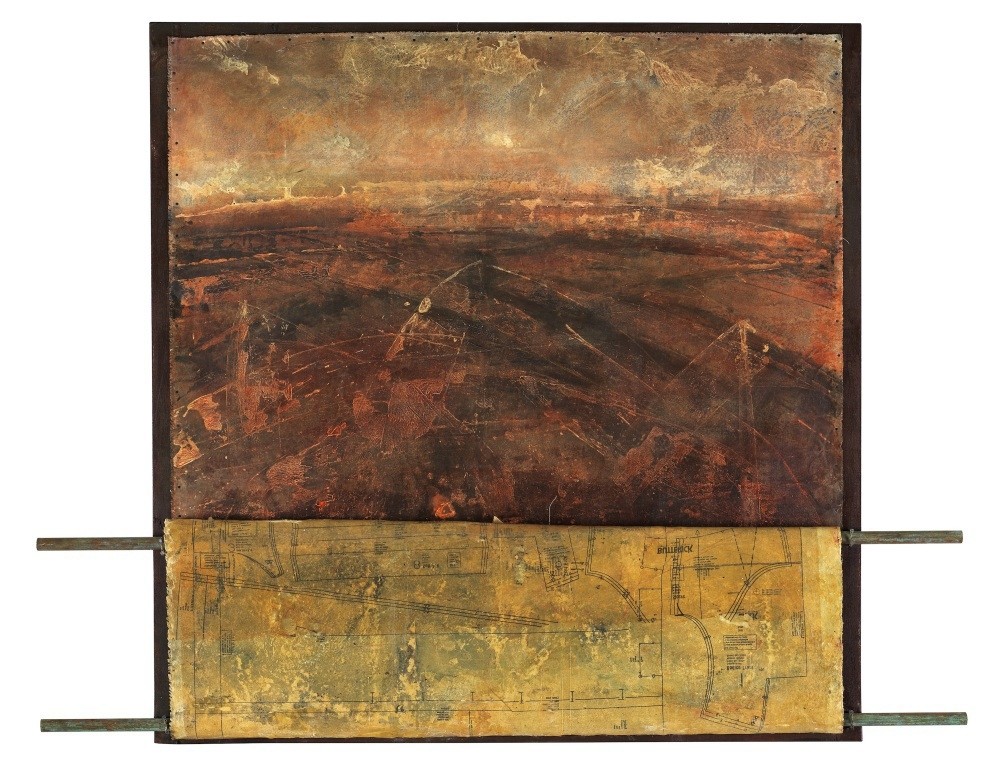 CANAN TOLON (1955-) "Unnamed," 1991
European influences in art are a fairly global concept, and so most of the pieces on display in this exhibition are inspired by Western techniques. A number of the artists who have their work featured in the Cermodern in this exhibition have taken up opportunities to study in Europe, mainly in Paris. As Gülden explained, "Many Turkish artists travelled to Paris and Europe to study art as early as 1910 when İbrahim Çallı and his contemporaries studied Impressionism in Paris. Ali Avni Çelebi worked and studied in Hans Hofmann's studio in Munich in the first half of the 19th century, and raised debates on modernism, cubism, abstract expressionism and the avant-garde. After completing their studies in Paris between 1929 and 1942, a group of Turkish artists from the Independent Painters' and Sculptors' Association promoted their work throughout Turkey. Years later, they held many exhibitions across Turkey, inspired by influential Turkish artists who had studied in Europe. The School of Paris became popular among Turkish artists in 1945, after World War I, and had great influence until roughly the 1960s."
A few pieces in the Masterpieces exhibition do not restrict themselves strictly to paint, utilizing unconventional materials as well, as seen in Yüksel Arslan's "Influences Arture" which includes semen, fecal matter, natural oils and urine. Gülden also points out that other pieces also utilize unusual materials at the exhibition, noting that "Canan Tolon's art expresses the universal problems that mankind has caused to the natural environment via new technologies by creating works with live weeds rotting and other materials from soil."
The Central Bank of the Republic of Turkey Art Collection is an interesting and versatile one with its reflection of Turkish and Western art. "As the exhibition name "Masterpieces" suggests, the pieces chosen for the exhibition are significant art works that prevail Turkish artists' achievements," Gülden says. Erol Akyavaş's "Locus of Extremity" is not hard to find in the museum, standing out with its brilliant blue and green hues. Gülden cites Erol Akyavaş's Requiem for the Last Sounds as another key piece, "The painting is a good example of the progress of Turkish painting with its aesthetic ideals, composition and unique technique. Akyavaş depicts the human suffering of the 1992 to 1995 Bosnian War while using symbolic gestures which bring out Oriental mysticism."
Other pieces in the collection go on to challenge existing notions in art. Serhat Kiraz's interpretation of Leonardo Da Vinci's "Vitruvian Man," for example, rethinks variable and invariable concepts. Komet's pieces in the collection showcase a play with silhouettes while referencing the way that he views mortality in his work.
With a variety of art on display which Gülden said covers the "19th century Romantic period through to Realism, Impressionism, Cubism, Modernism and what Turkish art history calls the Paris School, Abstract Impressionism and Contemporary Art," the exhibition is a must see for any art buff. The exhibition will run until July 31.