Art On Istanbul is hosting the group exhibition "Crossroads 4," featuring work by Ahmet Çerkez, Olcay Kuş, Erman Özbaşaran and Olgu Ülkenciler until July 30. Contributing to the development of young talent by providing them with a platform, the "Crossroads" series is now serving as a meeting point for the propositions, dynamism and queries in the products of the artists represented by the gallery.
The exhibition brings together works by artists, enabling them to be seen within a chosen context. The sculpture installment "Metabolite" created by Ahmet Çerez (1976, Bulgaria) and Erman Özbaşaran (1982, Çorlu) sharing the same atelier was designed by turning waste materials into a solid object after braiding them. Wood and metal scrapes that the artists collected from the construction debris turn into a 3 meter-long column after filling in the sporadic empty spaces with concrete. The sculpture named "Bane" also seems like a monument. Leaning against the wall at a crooked angle, it questions the will of the systems controlling society and points at their uncanniness. Apart from this sculpture, the exhibition also displays Özbaşaran and Çerkez's paintings and patterns that establish a direct dialogue with the visitors.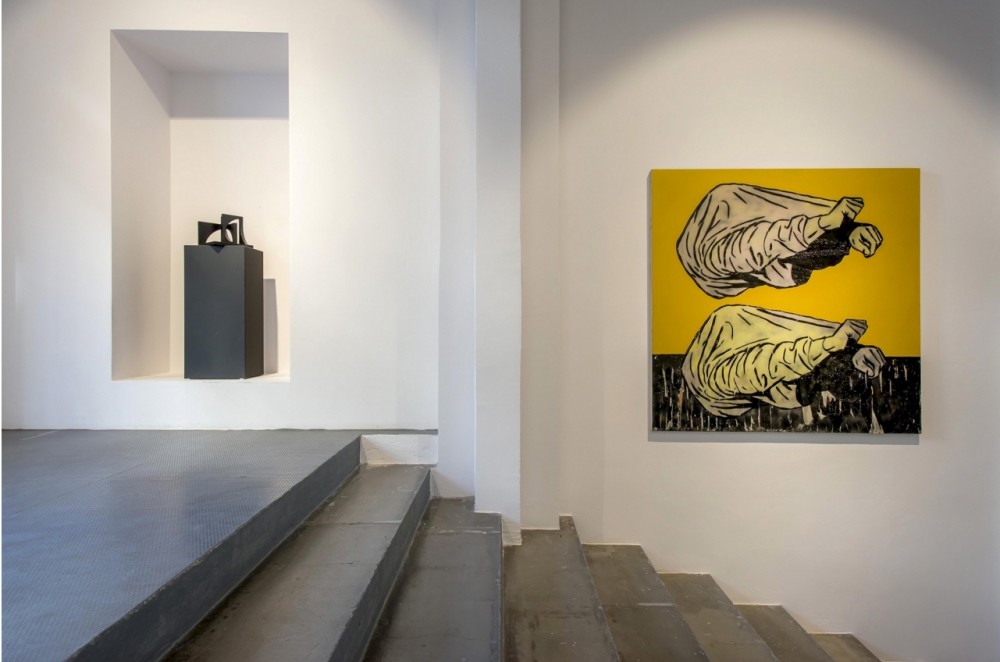 Having previously featured paintings and drawings in her solo exhibitions, Olgu Ülkenciler (1981, Istanbul) has also displayed documentation-intensive installation pieces in the group exhibitions. After the sculpture "Çöküş" (Downfall) displayed at the "Heavy Burden" exhibition at Art On Istanbul in December, the artist presents her three dimensional abstract sculptures and reliefs for the first time. Along with her metal spherical sculptures in which she abstracted the subconscious perspective of nature provided by the city, she emphasizes the durability of the form by using repeatable modular pieces. In her relief works created by epoxy and polyester materials, repeating elements of form at different heights creates a wavy rhythm on a solid surface. The artist's sculptures are accompanied by patterns that form an intersection point with her painting memory.
Olcay Kuş (1985, İzmir), whose works were previously on display at Art On Istanbul, tries new surfaces for his new works prepared for Crossroads 4, such as glass along with layers created with newspapers and paint. The artist examines the dominant language established by the government and media by using the physical body. Through the allegory of football, he shows us that the despotic and violent masculine language imposed through TV and newspapers is nearly adapted while fanaticism is praised under the name of commitment and oppression is accepted. Despite the dense fabric and paint layers of the paintings, the figures are thinned down as templates and they reveal the dominance of the language of the line.
Crossroads 4 exhibition also foreshadows the solo exhibitions of these four artists represented by Art On Istanbul in the coming seasons. The exhibition can be visited on Tuesday and Saturday between 10 a.m. and 7 p.m.