Organized for the 17th time this year, the Büyükçekmece Culture and Arts Festival is hosting the 7th International Photography Competition exhibition along with the exhibitions of gramophones and philography. The inauguration of the exhibitions took place at Atatürk Cultural Center in Istanbul's Büyükçekmece district and the ceremony was overseen by Büyükçekmece Municipality Mayor Hasan Akgün. It is open until Aug. 6.
Gramophone expert Mehmet Öztekin told Anadolu Agency (AA) about the gramophone exhibition and said he has been holding solo exhibitions in various municipalities since 1996. The exhibition is composed of his personal collection. Öztekin said: "I have brought all these gramophones, some of which I collected over the years and some of which I designed not to keep them private but to share them with all people. I am holding this exhibition to showcase what people experienced back in the day and what they listened."
Öztekin also claimed that people consider gramophones as an alternative to the digital life of the present day. He said: "Gramophones are parts of my struggle for life. Our childhood was different from what modern day children are experiencing. Back in the day, children were not allowed to play on the streets when schools were out during the summer. They began working as an apprentice to a master. I began to work as an apprentice at my father's shop at the age of six. Making gramophones is a profession that I inherited from my father. I am the second generation to make gramophones but unfortunately there will be no third generation."
Artist and craftsman Mustafa Baştan is participating in the culture festival in Büyükçekmece. He is from from Bartın province with a total of his 30 philography works. "I have been a philography artist for the last six years. I participated in the festival with the reference of one of my friends. I made various artworks that address to different segments of the society for this exhibition," he said, adding this is the first time he has attended a festival in six years. Baştan also said that he will soon begin to offer philography classes in Büyükçekmece.
The 7th International Photography Competition features 102 photographs selected from among 9,200 photographs taken by 1,067 photographers from 46 countries. It is open as a part of the 17th Büyükçekmece Culture and Arts Center. The opening ceremony of the photography exhibition was overseen by German deputy Oliver Wittke, Turkish Cypriot Tatlısı Municipality Mayor Ahmet Hayri Orçan and president of the Turkish Folk Dances Tradition and Turkish Folklore Institution, Gürhan Ozanoğlu.
Workshop brings artists together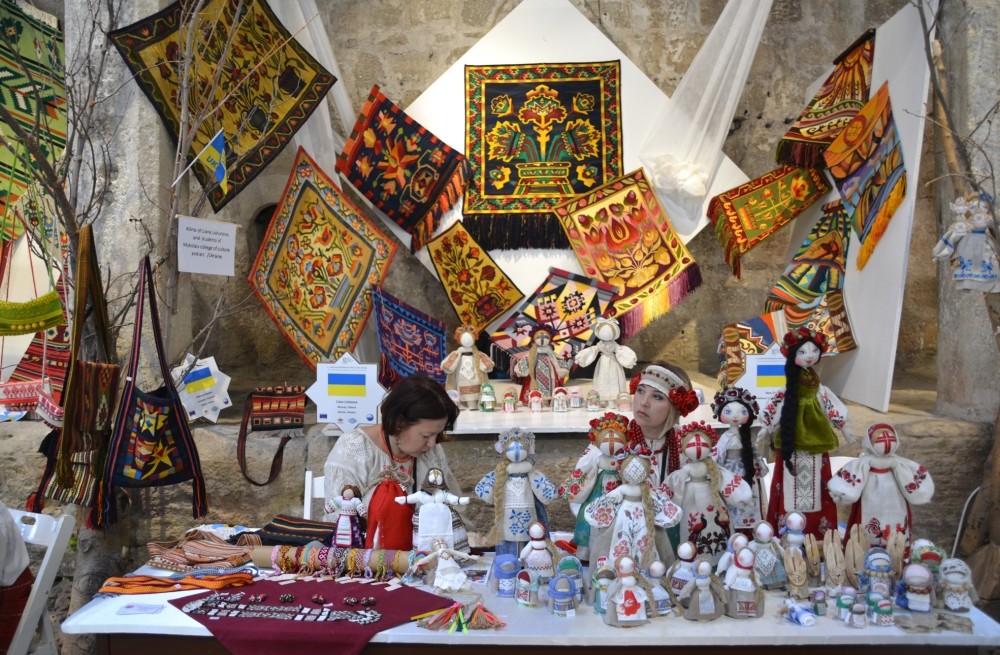 The sixth International Handcrafts Workshop Festival exhibition featuring works by 41 artists from 14 countries and 81 artists from Turkey has opened its doors as part of the 17th International Büyükçekmece Culture and Art Festival. Speaking to the press, Anatolian Handcrafts Support and Improvement Association President Uğur Türker said that each artist participating in the exhibition is a cultural ambassador for their country.
"The artists who are attending the exhibition are artists that have been certified by the Culture and Tourism Ministry. They are all handcraft masters and producers. The exhibition features woodcarving masters from Şanlıurfa, knitting masters from Denizli, evil eye talisman makers from Nazar and scarf producers from Gaziantep. Various branches of art that are identified with different provinces of Turkey are represented in the exhibition," Türker said.
Emine Kanberoğlu, who is featured at the exhibition with her weaved şile cloth from Rize, said they have been able to introduce their art to the world thanks to the festival. "'Feretiko' weaving on şile cloth dates back hundreds of years. This weaving style was previously practiced by our grandmothers. As it was falling into oblivion, the authorities initiated projects to keep this tradition alive in 2013. Women in Rize still continue to practice 'feretiko' weaving on şile cloth. While they were used as underwear back in the day, these pieces of cloth are now used as accessories on dresses."
A woodcarving master from Şanlıurfa, Osman Nergis said that he has been involved in the art for the last 47 years. Nergis participated in various national and international exhibitions and offers classes and workshops on woodcarving to enthusiasts. Nergis underscored that he is a certified artist from the Culture and Tourism Ministry. "I am one of the artists who is trying to revive traditional arts. I have been participating in handcraft exhibitions and festivals since our ministry discovered us in 2004. I have been offering workshops in Skopje for the last three years."
The exhibition brings pottery making from Hungary, wood painting from Uzbekistan and silverworks from Georgia and Kosovo along with authentic handcrafts from Tatarstan, Turkmenistan and many other countries. The exhibition will stay open until Aug. 6.