The World Ethnic Sports Confederation will hold the Ethnic Sports Cultural Festival in Istanbul's Küçükçekmece district from Aug. 26 to Aug. 28. They will host 20 teams from around the world that will complete in 11 different branches of sport, including mounted archery, oil wrestling, javelin, "gökbörü" (catching a goat on horseback) and "mangala," a traditional Turkish mancala game. A total of 35 traditional Turkish nomad tents and a market place have been set up in a huge complex within the scope of the festival. Food stalls will offer traditional Central Asian and Anatolian foods and refreshments, and other venues will include workshops in traditional weaving, pottery and ornament-making for both children and adults who can learn about ancient traditions and pass on these timeless skills to future generations. Artwork created during these workshops will be put on display in exhibitions as well. A press conference was held yesterday at the Bezirganbahçe Square in Istanbul's Küçükçekmece district to discuss the upcoming festival. The conference was overseen by the President of World Ethno-sports Federation Bilal Erdoğan, Youth and Sports Minister Akif Çağatay Kılıç, Justice and Development Party (AK Party) Istanbul deputy and Chairman of the Archers' Foundation Haydar Ali Yıldız, Küçükçekmece Municipality mayor Temel Karadeniz, Başakşehir Municipality mayor Mevlüt Uysal, Association of Turkish Travel Agencies (TÜRSAB) Chairman Başaran Ulusoy, vice-president of the World Etno-sports Federation Hakan Kazancı, festival Art Director Yasin Tütüncü and members of the press.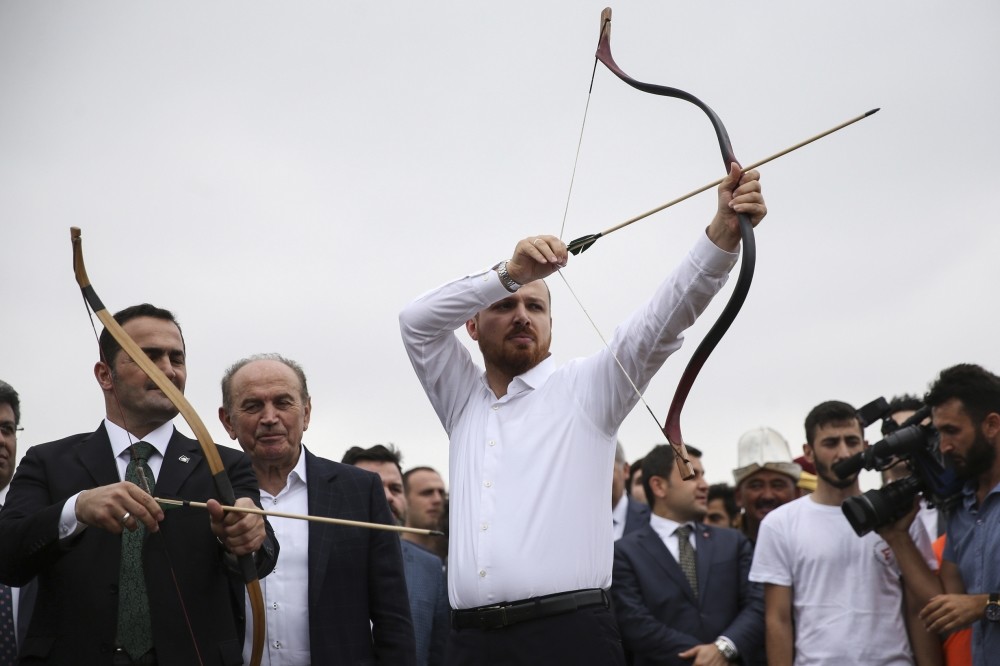 President of World Ethno-sports Federation Bilal Erdoğan shot arrows during his visit to the festival area after the press conference.
Bilal Erdoğan gave a briefing about the purpose of the festival and various events to be held, saying, "In efforts to popularize our traditional sports once again and bring these sports to our people, we shoulder the responsibility as the World Ethnic Sports Federation. While we attempt to revive these traditional sports, we also believe in the importance of this responsibility because we have distanced ourselves from our traditional values over the last 150 to 200 years. We thought that we need to revive our culture and build upon it; not only in the field of sports but also culture, art, music and cultural garb since we have a very ancient cultural background. We need to raise future generations that know about the arts that were once improved upon by our forefathers. We have 1,000 years of history in these lands [Anatolia] and thousands of years of history in Central Asia. We will be able to build a happy and peaceful future once we can lay our claim on the values that we inherited from our past in these lands," Erdoğan said.
Erdoğan stressed the importance of the resistance against the failed coup attempt on July 15, saying: "We lost our self-esteem as, in the past, values were imposed on us that do not belong to our culture. However, the Turkish nation showed their will to build their own future by standing against the failed coup attempt."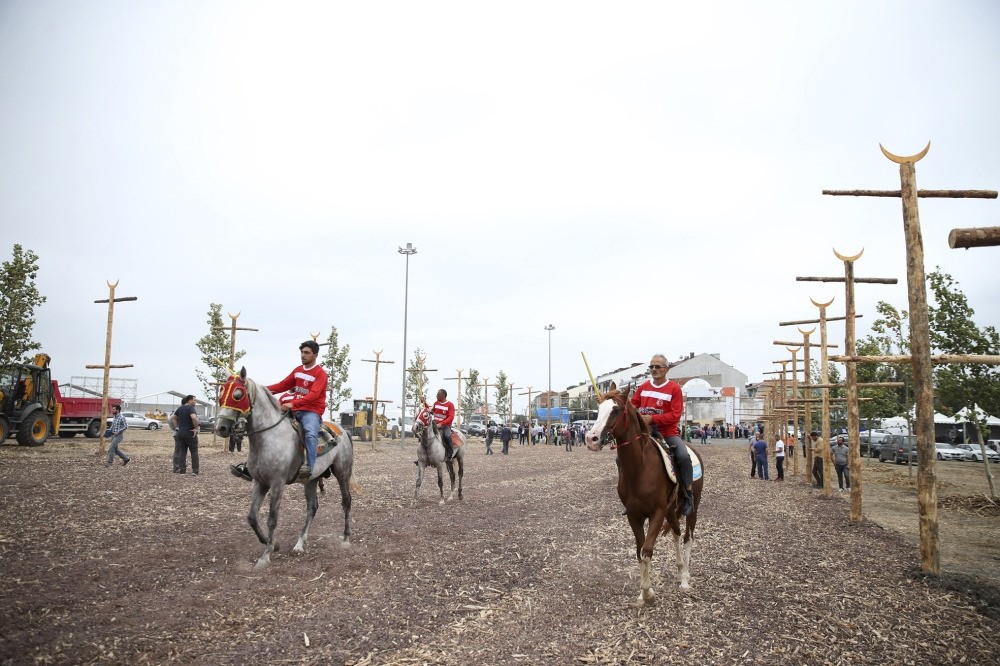 Erdoğan went on to talk about the effects the festival is expected to have on cultural development. "We believe that that this event will pave the way for the revival of our own culture, which had been neglected under the shadow of the Western vulture and pushed to the background, by promoting our sports, the culture of the arts and culinary culture. We have organized a huge festival covering a 850-square-meter area that features authentic tents, food stalls, activity areas for children and live performance stages. This will be a festival where families can spend time together. It is important to bring up a generation that learns the arts produced by their forefathers. The pioneering steps to revive our values will be taken for the children who learn to play the instruments unique to our culture and take up traditional sports such as archery. It is evident that cultural elements that are symbolic have played an important role in huge political moves, plots and financial gains. Hence, it is clear that these cultural elements are more than just symbols of sports and culture. The interest that the Turkish people show in TV programs which focus on our own traditional sports and arts is evidence that people want to see Turkish culture be revived. Thus, it can be said that the Turkish nation expects to reunite the cultural values which have been imprinted in their genes with modern life. During the festival, people will have a chance to examine dervish tents, archery activities, aşık and mangala games as well as kökbörü and mas wrestling. We invite everyone to Küçükçekmece tomorrow starting at 11 a.m. We also will ease the transportation problem with shuttles that run every hour, on the hour. The Yavuz Sultan Selim Bridge will also be inaugurated on the same day. We welcome everyone both to the inauguration of the third Bosporus Bridge and to the Etnosports Festival," he concluded.
AK Party Istanbul deputy and the chairman of the Archers' Foundation, Haydar Ali Yıldız, spoke to members of the press and said: "Our understanding of politics, as well as sports, is aligned with civilization. We have a responsibility to pass down the values of our civilization to future generations, regarding our history, geo-political history and geography. This is what we are doing as a part of the Ethno-sports Festival. At the Archers' Foundation, we offer activities to promote, develop and introduce archery to large groups of people. We embarked upon a task to improve this sport of our ancestors, which is also a national sport. Under the leadership and auspices of President Recep Tayyip Erdoğan, we witness the apprehension, construction and recovery process of a civilization."
Minister of Youth and Sports Çağatay Kılıç, on the other hand, noted, "We need to protect our cultural heritage and tradition. The sports we refer to as 'traditional' ones have fallen into oblivion but will now have a chance to present themselves thanks to this organization." Stressing that all types of sports should be featured in the media, Kılıç said that they have begun working on the infrastructure of the revival of the traditional sports and there will be many organizations within this framework.