For five decades, Tuncay Saydam has been professionally involved in science education and research. Additionally, to satisfy his ever-growing passion for art, he also visits important art museums around the world, observing, studying, reading, writing and debating works of art, particularly painting. For the last two decades, however, he has also been continuously painting and opening his own painting exhibitions.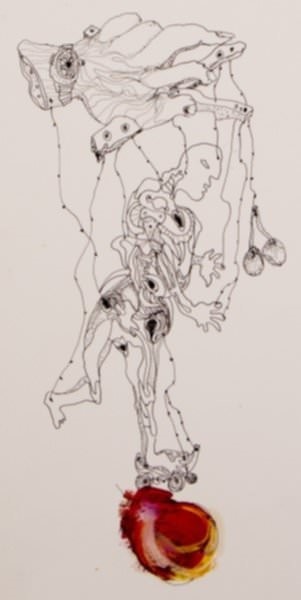 In art, the primitive and the complex are mostly interconnected, interwoven and mutually supporting each other. The complex involves the primitive while, if observed carefully in-depth, simple art often has hidden complexities. These complex meanings are deciphered through understanding the primitive while the latter is harder to achieve as it is the decomposition of the complex.
Similar to his lifelong motto in science which tells people to "To think differently than others," Saydam's paintings also differ from others' in terms of "seeking and following unexplored, different paths." In his paintings, one can encounter extreme simplicity within complexities, as well as complexities in simple works of art, evident especially in his ink drawings. Sometimes some of the drawings contain small touches of oil painting that create and enhance a different vocabulary for expression. His mixed media works contain the intersection of the simple and complex, the known and the unknown and heavy oil with simple lines. Above all, Saydam is a colorist, sometimes boldly using the most irreconcilable colors together to create different and unusual tastes and harmonies. This boldness may bring out the hidden layers and depths of his soul in expressionist narratives. All of his previous four exhibitions are given names which include the keyword "soul." It is therefore no coincidence that this exhibition is named "Pebbles of My Soul."
Every aspect of art happens at the common intersection of the following three actors: The artist, the artwork and the viewer. These paintings and drawings must also be viewed, evaluated, appreciated and enjoyed as such. It is for this reason that the artist hopes for these artworks to be viewed not only to see a glimpse into the complexities of his soul but also for viewers to search for the pebbles in the soul of the self.