Not long ago, I entered a room on the third floor of Istanbul's Pera Museum alongside American artist Katherine Behar. I heard the tune of Frank Sinatra's 1959 song "High Hopes" from the speakers inside; the classic song famously tells the hardships of balloons and ants. Once inside, Behar and I watched two motorized plants wander along on a massive green carpet. Behar seemed happy being in the same room with "Roomba Rumba," the title of a work that is the highlight of her exhibition "Data's Entry" that continues at the museum until Oct. 16.
"I think we are exploiting machines," Behar told me as one of the plants circled around an unsuspecting visitor who seemed to have no idea about how to behave towards the hardworking robot. "And I think that is disturbing. On the one hand, it is accepted as common wisdom that if you exploit a machine there is no problem with it." For Behar, a feminist and a postmodern theorist and artist, our interactions with machines - from our smart phones to that ancient PC gathering dust in our houses - is crucial.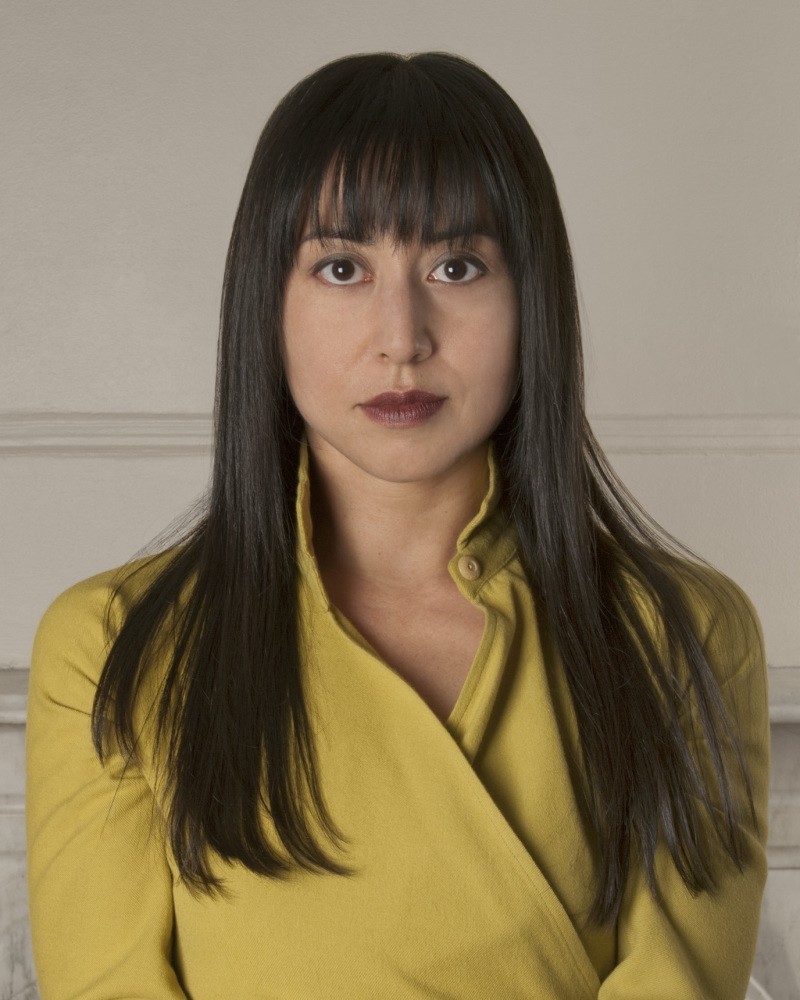 "First of all, there is certainly an environmental problem with using machines and just throwing them away," Behar said. "Second of all, there are classes of people who are increasingly treated like machines. And I think this narrowing of the gap between humans and machines that data heralds is very dangerous. When we talk of automated work, that often means either that a human loses his job because a machine took it over or that there are whole classes of people who are having to work much like machines."
For Behar, whose ancestors once lived in Ankara, a sense of impending doom and post-apocalyptic destruction is often coupled with feelings of melancholia and a yearning for the past. "I think what I just want from people is to have emotions for plants and those Roomblas," she told me. "They are types of biological and technological assemblage. I think we should give some attention to the work they are doing but also think how this kind of relationship that does not require humans is crucial."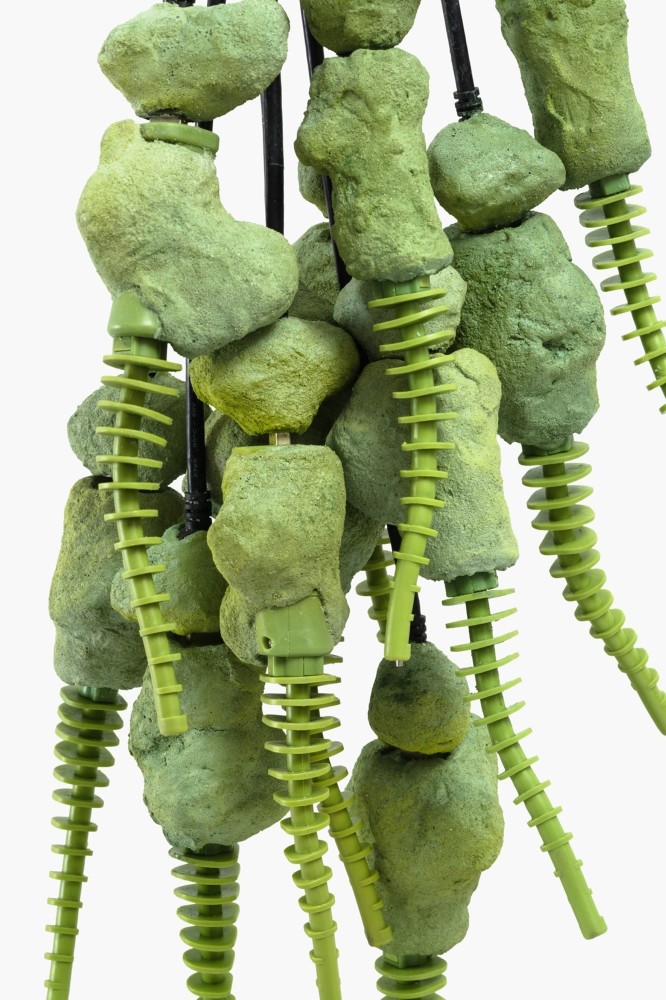 An interdisciplinary new media and performance artist, Behar works as an assistant professor of New Media Arts at Baruch College, CUNY. Based in Brooklyn, the artist produces performances, videos and interactive installations that are both humorous and sensuous. The topics of Behar's scholarly articles on new media include "embodiment and technology, object-oriented feminism, cyborgian ethics, emerging and obsolete technologies, and feminist media critique" according to her website.
In Behar's "3D-&&," exhibited in another room in the Pera Museum, a fossilized 3D printer produces covers for USB mouses, while the printer's motors use Morse code to send the message: M-O-M-M-Y... D-A-D-D-Y... "While the printer seeks its ancestors, the scarabs appear to be artifacts without origin," the exhibition catalog informs us. "They are perfect futuristic digital copies of an imperfect handmade model from a forgotten age. Time stands still, while the printer works at a painstaking rate, defeating the promises of supposed 'rapid prototyping'." Another work, "Data Cloud (A Heap, A Mass, A Rock, A Hill)" consists of keyboard keys -- hundreds of them, saved from annihilation by the artist.
"Data's Entry" is the brainchild of two young Turkish curators, Ulya Soley and Fatma Çolakoğlu, who had been following Behar's work closely for a long time and spent the previous year planning and curating an Istanbul show. "We need to delve into a common but difficult question," Soley and Çolakoğlu write in the introduction of the exhibition catalog: "How do we navigate through the overwhelming vastness of big data? Behar's works in general are not optimistic about big data getting bigger; rather, the works reflect a concern regarding the difficulty of finding meaning in this cluster of data."
For Behar, artistic theory and practice are tightly intertwined. "As an undergraduate, during the first year at art school, I started discovering theoretical texts," she told me. "It was a very long time ago and postmodernism was very much in vogue. I found theoretical writings very interesting, but I have always been a maker first. Because I read a lot of theory, that really finds its way into the work. I also write. I feel that my practice is both about creating the work and about creating the discourse around the work. So this is something the artists has done for quite some time. The minimalist artists were both creating the work and theorizing them at the same time."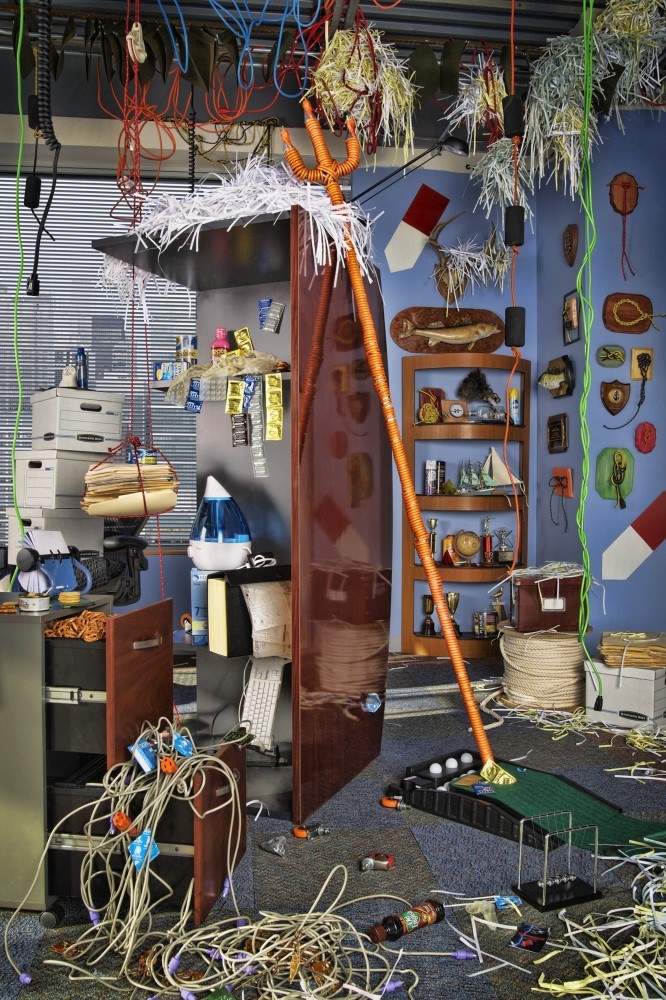 As an artist and theorist, Behar enjoys working with big teams and often collaborates with numerous artists. "I have a lot of collaborators, and I think this is very important to acknowledge," she said. "I want to acknowledge the work these robots are doing in the same way I want to acknowledge the work of my collaborators. The dancers I work with, Aslı Bostancı, Melih Kıraç and Pınar Akyüz, were an incredible part of this project. There are many other people who contribute to the exhibition in different ways. I don't always have the skills to make what I want to make, so I am often reaching out to people; for example, for the project in the Anatolian Weights and Measures Collection on the first floor, I worked with the performer Ekaterina Sknarina, with Fred Kahl, who specializes in 3-D scanning, and with the animator Silvia Ruzanka. So a whole bunch of people collaborated with me in the process of creating that project."
When asked about whether she ever broke a keyboard or phone during a moment of anger, Behar laughed out loud before admitting she had. "Of course, but then I always felt horrible afterwards," she said. "The keyboard project here has been interesting because I am concerned of course about the amount of technological waste in my own work as well. Of course, I am also implicated in my own critique. So with the keyboards, I was looking for a source for these keyboards, and I was very happy that in the end I was able to collaborate with the University of Washington. So all of the keys come from used keyboards that were destined for e-waste anyway." So Behar harvested the keys off the keyboards and sent the remains to e-waste.
"I am waste conscious and guilty," Behar said before I left the museum. "I am conscious of my guilt. My work is a critique of what I see in the world."