A breathtaking show incorporating technology and art, "Fuerza Bruta" presents an eye-catching illusion with 360-degree mind-blowing visual effects. The only show in the world with no backstage, Fuerza Bruta allows viewers to see the whole exciting production process. With its first visit to Istanbul after performing in New York, Buenos Aires, London, Mexico, Peking, Tel Aviv and Miami, the show will sweep Istanbulites off their feet.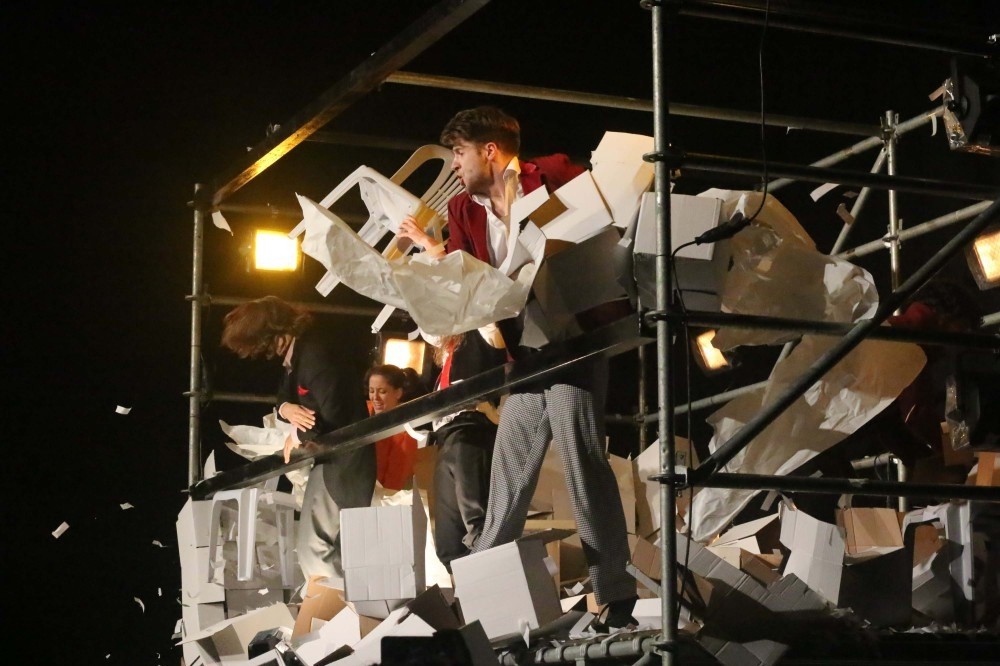 Establishing an inspired unity and creativity with viewers, this 70-minute mega-show consists of 10 different acts. "Fuerza Bruta" captivates viewers with an adrenaline-packed magical world, performed with passion and 100 percent attention to detail. Staged with the idea that the human body can convey emotion as well as intent, the show centers completely on the senses and puts language aside. By going beyond the language barrier, "Fuerza Bruta" transforms itself into a unique experience. Following the first act, where the performers defy gravity to walk above the audience, you will witness the actual and spiritual stage rhythm. The show is like a giant feast with the artists sliding down a semi-translucent pool that magically appears in the air, high-technology lighting tricks, images that inspire your imagination, music, powerful moves and a high intensity that creates a celebration actively participated in by the audience.
The show makes you feel like everything is possible, while promising an adrenaline-packed performance. The use of technology to create magical effects is breathtaking as seen in the use of giant fans to change bubble dimensions and large cranes used to propel performers through the air. This exciting show, full of special effects and gravity-defying performers, creates an unprecedented atmosphere, while providing an experience for all five senses.
Fuerza Bruta (Brute Force), which means "gaping with astonishment, exciting and surprising" in Spanish, has been watched by 5 million people in over 5,000 performances in 29 countries and 54 cities over the past 10 years. Nominated for a Latin Grammy Award for its stage direction created by Argentinian genius Diqui James, one of the world-famous creators of De La Guarda, this breath-taking dynamic show promises spectators in Istanbul a mind-blowing experience full of music, water, dance and stunts with its giant crew.
The world's most extraordinary show invites young people and those who feel young-at-heart. "Fuerza Bruta" continues through Nov. 27 at the Volkswagen Arena in Istanbul. Limited tickets for the show can be obtained from Biletix.