Los Vivancos will be coming to Turkey's TİM Show Center on Dec. 10-11 with their newest show "Born to Dance." Los Vivancos is composed of seven brothers, who have been playing instruments long before they learned to read or write. The brothers first gained fame as the "Princes of Flamenco" and claim that they were always destined to dance. The seven brothers used to put on small shows for family members and decided take their art to a professional level by enrolling in the Barcelona Conservatory. After initially pursuing solo careers, the brothers came back together by founding Los Vivancos in 2004. They traveled the world with their debut show "7 Hermanos," where they tell their stories as brothers. Los Vivancos has performed for millions of people in more than 30 countries around the world. They offered a magnificent-flamenco feast and a magical atmosphere that was accompanied by symphonic music with their second show titled "Aeternum."
Los Vivancos perform their dance moves to orchestral versions of songs by Metallica, Deep Purple and Leonard Cohen in their latest show "Born to Dance," which made its world premiere in Madrid in April 2016. The Vivancos Brothers, who successfully blend tap-dance, comedy, martial arts and flamenco in "Born to Dance," prepared the accompanying songs with Joan Martorel, and recorded them with the Budapest Symphonic Orchestra. "The Princes of Flamenco," who took their audiences on a fairy-talesque journey, along with their "7 Hermanos" and "Aeternum," are coming to Turkey to conquer the hearts of Istanbul residents with their new production, "Born to Dance."
During their childhood, the Vivancos Brothers gave concerts and performed acrobatic feats for their family. As they matured, they began to take the stage together around the world including the Netherlands, Belgium, London, Quebec, British Colombia, France and Spain. Once they completed their education, the brothers pursued solo careers with great success. From Madrid to London, Vancouver to Amsterdam, the brothers continued to receive dance training and founded Los Vivancos in 2004.
They danced as a band in front of a large audience for the first time on the famous-French show "Le Plus Grand Cabaret Du Monde," aired on the international Paris-based channel Magic TV, in 2005. Later that year, they performed at Konthertus Haus, accompanied on the stage by the Dortmund Symphony Orchestra. In August 2005, they were invited to the Spanish dance festival "Festival de Musica y Danza de Benicasim," which attracts more than 50,000 visitors every year.
Returning to Paris after their success in Spain and Germany, the Vivancos Brothers starred in Paris' largest-indoor production, "Avant L'ombre," with the famous French diva Mylene Farmer, between December 2005 and February 2006. The brothers performed a sold-out show for three months at the famous Bercy stage, which has an audience capacity of 18,000 people. After their great success on stage, Los Vivancos appeared on Parisian television once again when they were featured as the guest artists for the gala performance of "Certámen Coreográfico de Castellon De La Plana" in May 2006.
In August and September of the same year, the dance ensemble visited Canada and had a chance to perform for hundreds while representing Spain at "EXPO Latino 2006." They premiered their new production "7 Hermanos" in Israel in June 2007. They performed 10 sold-out shows in Tel Aviv and Jerusalem. In August and September 2006, the Vivancos Brothers brought their critically acclaimed show to Madrid, where they performed it in the Haagen Dazs Theater.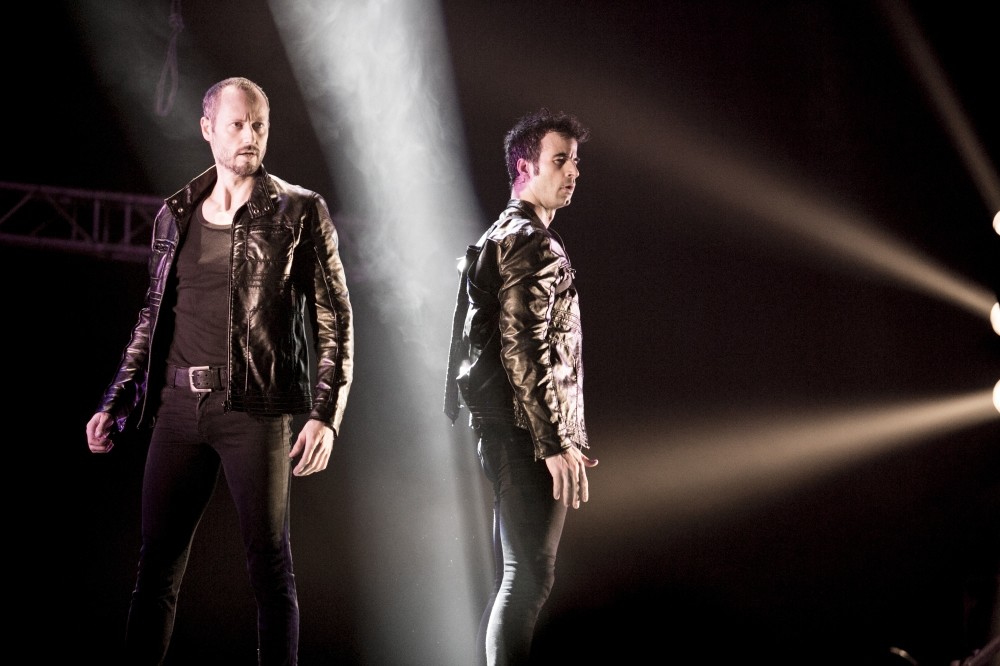 In the winter of 2008, the brothers completed their "7 Hermanos" show in Barcelona and began to be known as "The Magnificent Seven." They also competed in many song contests, including "Lola Ponce," "Gio Di Tonno" and "San Remo," winning the grand prizes. Apart from their public shows, Los Vivancos also performed exclusive shows for prominent figures, such as actor Antonio Banderas and Princess Stephanie of Monaco.
Over the last five years, Los Vivancos won numerous awards, including the Gran Teatro La Fenice di Venezia Award, the Festival International du Cirque de Monte-Carlo Award for "Best Show" and "Special Jerome Medrano" Award, "Madrid Choreography Award" for "Best Dancers," "Best Choreography Award" at the City of Castellon Choreography Contest and "Best Performance Award" at the Kiwanis International Music Festival. The Vivancos Brothers, who recently completed their North American tour, have reached out to millions of people in more than 30 countries.
Los Vivancos's latest show "Aeternum" is characterized as an epic performance that questions the limits and the power of the supernatural. The productions of the show's music, composed by the Vivancos Brothers, have been undertaken by Fernando Velazquez, known for his work on the soundtracks of the films "The Orphanage" (2007) and "Julia's Eyes." The music of the show was recorded with more than 100 musicians of the Budapest Symphony Orchestra. Cirque du Soleil's world-renowned art directors Daniele Finzi Pasca and Julie Hamelin offered their assistance for the show as the art consultants. The audience will appreciate the artistic magnificence thanks to the imagination of Pasca, who has been praised for his show "Corteo."