Cartoons, illustration albums and drawings by the 19th century Ottoman bureaucrat, diplomat, governor and cartoonist Youssef Franco Kusa, which are at present a part of the Ömer Koç Collection, will be put on display for the first time on Jan. 26.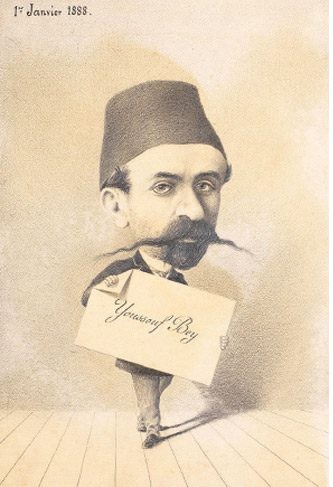 Koç University, one of the organizers of the exhibition, said in a statement, "'The People of Youssef Franco: The Cartoons of an Ottoman Bureaucrat,' exhibition - composed of Kusa's work focusing on people and places - will open its doors to visitors at the Koç University Research Center for Anatolian Civilizations (ANAMED). The exhibition will showcase Kusa's cartoons which he had compiled in an album between 1884 and 1896."
The replica of Youssef Franco Kusa's album, "Types et Charges," and the two-volume book, "Youssef Bey: The Charged Portraits of Fin-de-Siecle Pera," featuring articles on Kusa's work, will also be published in addition to the exhibition.
As a part of the exhibition, cartoon history experts Guillaume Doizy from France, Mehmet Kentel and Sinan Kuneralp from Turkey will hold a session discussing Kusa's works at ANAMED Auditorium on Jan. 27.
"The People of Youssef Franco: The Cartoons of An Ottoman Bureaucrat" will remain open until June 1.