Alan Istanbul is one of Istanbul's most carefully hidden galleries. This is strange, given that it is located quite close to one of Beyoğlu's most popular restaurants, Şimdi, at the heart of Asmalımescit. Yet, as a regular customer of that place, I hadn't recognized the door of the gallery before last week when I went there to visit "New Photography II," Alan Istanbul's latest exhibition.
On the second floor of that old Beyoğlu building a door opens to an art space that made me realize the increasing number of "apartment galleries" in the city: Beyoğlu's Versus Art Project, which last year hosted an exhibition on the young generation of Turkish photographers, as well as the Ariel Art Gallery in Nişantaşı where I visited "Almanac," a comprehensive show by young Turkish contemporary artists. Indeed, this seems to be the best thing those increasingly more numerous apartment galleries have been achieving in Istanbul: hosting works by collectives with a thread that connects artists around a shared theme.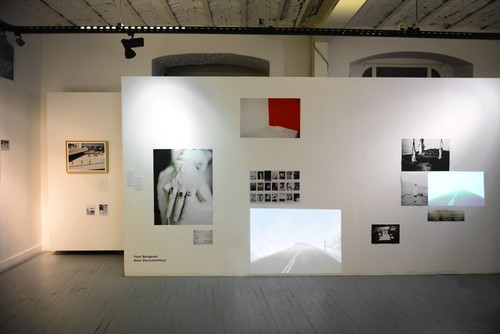 New Photography is the theme of Alan Istanbul's new exhibition, curator Seda Yıldız describes the exhibition's goal as that of pursuing "basic questions such as 'What is photography?' 'What are its limits, if any?' 'How artists deal/communicate with today's world via photography?' 'What are the possible new ways of story telling and how can photographers play with the medium while drawing on other mediums as well?"
If testing the limits of the medium is the principal aim here, Freya Copeland's "No Backbitter Bent," was the boldest work to achieve it. Copeland's work, a response to a sexual assault, explore the memories of that attack and features numerous detailed accounts of it by lawyers, police officers and detectives. Using photography techniques from the 1920s, the artist deals with her fears and traumas in a fantastically original way.
"As one of many affected by sexual assault,
I have developed the totally irrational fear of the 'bad man' who at any moment might pose a threat," Copeland explains. "The photographic images are taken at the location of the attack in question and are symbolic reminders or triggers of what is for many women, a common experience, yet these symbols remain easily recognizable and open to interpretation only supplying small glimpse-like clues that the viewer must explore in order to reveal the narrative." In her work Copeland uses hand retouched 35mm negatives, using evidence photography to explore both private and public histories, investigating the intersection points of memories and reality.
New York-based visual artist Rehan Miskci, meanwhile, focuses on the notion of displacement and focuses, again, on the experiences of a real person. She uses the archive of Maryam Şahinyan, an Armenian studio photographer who worked in Istanbul for around half a century. "In my work I select images from the archive and remove the figures in them," Miskci explains. "All that remains is the setting that the people were photographed in. Şahinyan's studio, as a physical entity, functioning as an ambiguous area between public and private, becoming a hidden stage where anyone might perform their identity for the camera."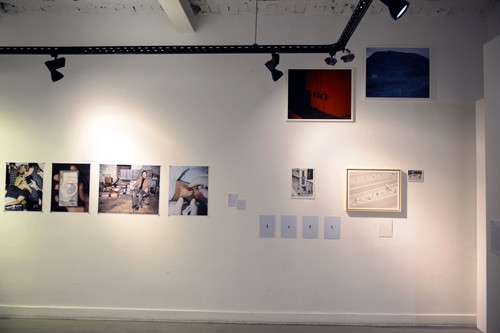 "Traces," by the Polish photographer Weronika Gesicka, is another highlight. While Miskci deals with displacement, Gesicka focuses on the theme of "traces" whose examples are "photographs which document the existence of people, situations, moments." In one image, three men, whose heads are mysteriously deleted from the work, carry three women on their shoulders. Another image shows a gentlemanly figure chatting with a lady who may as well be the sculpture of a lady.
Rafal Milach's "In the Car with R" is experimental in a different way. A highway encircles Island and to travel through it is known as "doing the Ring" among locals. "On the way you might learn something about yourself or your family, regardless of whether they live close to the highway or share the car with you," the artist explains. "A lot of journeys on the Ring Road have ended in divorce but as a result of others, babies have been born." Milach's work brings together images from these journeys in the manner of a documentary.
"While some of the photographers only work analogue and rely on the uniqueness of each film roll, for some, every photograph is only a raw material to play with endless possibilities in the digital age," Yıldız, the curator, explains. "For some others, found material is the way to go for new creations in different contexts, and photography can co-operate with other disciplines, while boundaries can become barely perceptible, leading to further discussions on the future of the medium. Despite their difference in style and method, all these artists are aware of the time we live in, and their work is quite time-specific, responding to today's subject matter."