With Turkish TV series continuing to hold their popularity worldwide, Culture and Tourism Minister Nabi Avcı has told media members during an exclusive meeting that Turkey and Russia are preparing to produce a joint TV series in the genre of history. As the chairman of the professional body of film producers FIYAB Metin Tunçtürk had previously said, annual exports of Turkish series have already surpassed the $200 million mark. Minister Avcı said that the increasing interest in Turkish series significantly contributed to Turkey's tourism industry as well.
The popularity of Turkish soap operas has skyrocketed since 2004, particularly in the Middle East, South America and southern European countries. Popular Turkish series have been exported to over 200 countries, contributing to a boom in the country's domestic television industry. On that note, Avcı said that the government will begin work to further enhance the export of Turkish series as he said "during the recent meeting we held in Antalya with the Russian media, there was a request to make a joint TV series. We have told them that our ministry will mediate between the Turkish and Russian sides and we are bringing them together from time to time in efforts to establish this joint TV series."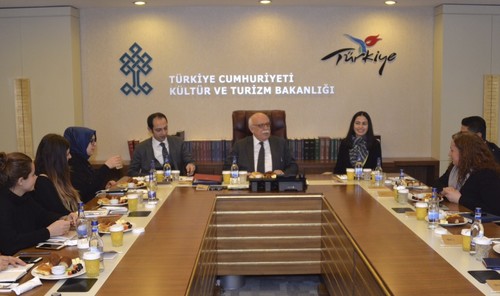 The Culture and Tourism minister further said that the type of joint TV series being planned are likely to be based on historical events. Relative to the wide popularity of Turkish TV series, Avcı said that the TV series have significantly contributed to tourism industry in Turkey. "There is a significant increase in terms of numerical ratios. When we analyzed the reason for such a peak in tourism, we have found that two Turkish TV series were put on air in Argentina, thus causing almost double the numbers of tourists," Avcı added.
While the TV series help the advertising of Turkey, Minister Avcı also said that the series cause a perception in viewers' minds that all Turkish citizens live in luxurious houses and ride expensive vehicles. Analogous to Minister Avcı, FIYAP Chairman Tunçtürk said the Turkish television series help the country by attracting tourists, promoting Turkish culture and its brands overseas. Additionally to the TV series, Minister Avcı also said that Turkey's film industry is in fact doing "very well" as he added "in 2002, there were nine movies whereas last year 2016 this number was 139 ... We as the ministry have provided TL 25 million ($6.5 million) to Turkish film projects and the amount for this year is to be TL 40 million." Among European countries, Turkish viewers are ranked at the top of the list for watching domestically produced movies, Avcı said.
Meanwhile, following the normalization of bilateral relations with Israel, Turkey is to participate in the 22nd International Mediterranean Tourism Market for the first time since 2010. Affirming that Minister Avcı will also be travelling to Israel for the expo, he also said "though I will definitely meet with my counterpart, my visit will not be limited to tourism only as we aim to further enhance relations in both culture and tourism. I will meet ministers responsible of culture, tourism and science."
Though Turkey is known for its seas, shores and sunshine, Minister Avcı spoke about the country's wide range of tourism industries as he said that "recent research revealed Turkey has more ski potential than every European country combined." Stating that gastronomy tourism in Turkey is becoming more wide-ranging, Avcı said Turkey's thermal tourism is also receiving great interest from foreign tourists. In efforts to further advertise Turkey and its wide-range of tourism industries, the Tourism Ministry is to open up new Consulate Offices abroad while participating in over 150 expos to promote Turkey in general and promote specific cities in Turkey including Van, Antalya and Eskişehir.