Galata Greek Primary School in Istanbul will host Ekin Saçlıoğlu's eighth solo exhibition titled, "These Are Not Fables Kids," between March 4 and April 1.
Saçlıoğlu, who has an important place among artists of her own generation, always designs her exhibitions around interesting themes. In her latest exhibition, "These Are Not Fables Kids," the artist features animals and plants that have been extinct or on the edge of extinction to draw attention to the consequences of mankind's conflict with nature.
The exhibition, which puts motifs, paintings, installations, plants and sculptures on display, reminds the audience of the dangerous relationship between mankind, civilization and nature by featuring the Anatolian tiger, white rhinoceros and other animals listed as extinct or endangered animals.
The exhibition shouts out to the audience from the empty classrooms of Galata Greek Primary School and aims to raise awareness to the things we lost or are about to lose.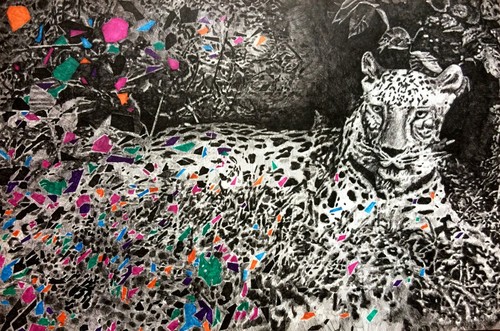 Ekin Saçlıoğlu, "Leopar and Geometry"
Having graduated from the Department of Painting at the Mimar Sinan Fine Arts University, Saçlıoğlu held her first solo exhibition in 2004 at the Bir Culture and Art Center. Her exhibitions titled, "Biraz Daha Yakından, 2005" (A Little Bit Closer), "Hikayeci Bellek, 2007" (Storyteller Memory), "Tavşan Uykusu, 2009" (The Rabbit Sleep), "Şoktayım Ama Şaşırmadım, 2011" (I Am In Shock But I Am Not Surprised), "Çukur, 2012" (Pit) and "Seç Sakla, 2015" (Choose, Hide) were exhibited at the Gallery x-ist.
The artist, who has been featured in various group exhibitions in Austria, Germany, the Netherlands, Sweden, Australia and Greece, also put her works on display at prominent art spaces in Turkey, including the Istanbul Modern Art Museum, Pera Museum, Proje 4L Elgiz Contemporary Art Museum, Akbank Sanat, Depo, K2, Hafriyat Karaköy and Kasa Gallery.
Saçlıoğlu has participated in Contemporary Istanbul every year from 2006 to 2015, as well as Art Asia Miami in 2008, the 14th Europe Contemporary Art Fair, art fairs in Strasbourg, France, Vienna in 2011, SCOPE Basel in 2011, Art Dubai in 2012, VIP Art Fair in 2012, Art HK'12 (Hong Kong International Art Fair, 2012) and the ArtInternational in 2014.
The artist was also featured at the Turkish Contemporary Art Auction of Sotheby's in 2010 and her works have been included to the permanent collections of several private and institutional collections.
The exhibition can be visited from Tuesday to Saturday between 12:00 p.m. and 6:30 p.m. local time.