De Pont Museum in the Netherlands is featuring the solo exhibition of artist Eylem Aladoğan now through March 26.
Born in 1975 as the daughter of Turkish-Kurdish parents in the Netherlands, Aladoğan's works include sculptures and installations which fill the entire exhibition space, showcasing her pieces which center on the psychological contrasts between fear and power. Having studied at the Rijksakademie in Amsterdam from 2004 to 2005, Aladoğan won the "ABN AMRO Kunstprijs" award in 2005 and the "Volkskrant Beeldende Kunstprijs" award in 2009.
The first room of the exhibition features Aladoğan's work with archival footage, displayed on three walls. While the first two photographs are small and not visible from afar, as you get closer to each photograph, you will see her artistic intervention. One collage image shows a curved dagger that follows the rounded lines of the golden-yellow vaulting of an Iranian mosque, combining the two elements of war and religion to present them as two different powers of society. Aladoğan's masterful integration of the archival images is quite impressive and includes digital collages as well as collages made from embroidery. Most notably, Aladoğan takes an image of two women standing and transforms it into a sewing machine, creating a visual effect that is quite meaningful. It seems as though the artist is challenging the relationship women have with power in our modern era.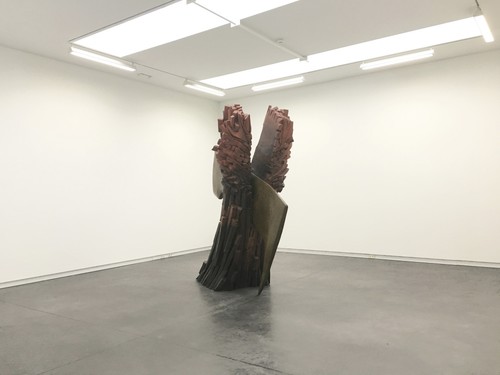 Archives are chaotic; they are what coincidentally or consciously remains from the past. A lot is forgotten, hidden and disconnected. Some think it is useless garbage and for others it becomes a worthy source of inspiration. Many archival works consist of disconnected objects, a batch of papers, say, which can become a collection of interesting and artistic documents.
In the second room, the viewer is immersed in an entirely different experience. They see a giant 3-meter bronze monumental sculpture that looks like a huge rock has been bisected with an axe that doesn't have a handle. The artist has frozen time and we are watching this moment by standing in front of it. It reminds me of my first encounter with her work, the rifle sculpture ("Listen to your soul, my blood is singing iron triggers that could be released") that she made for the Istanbul Biennale in 2011. In the exhibition catalog she explains her work: "... Change always causes fear. For me, the rifles reflect both fear and strength; at the same time you can say that without death there is no urge to survive. We need fear to trigger inner growth."
The "frozen time" reminds one of taking a photograph of a certain moment. In a great, decisive moment, a giant axe is slicing through a bunch of rocks. It has an impressive, transcendental effect on visitors. It crushes you with its scale and captures all your attention. I felt as if I were looking at one of the baroque paintings by famous
Italian painter Caravaggio; namely, "Sacrifice of Isaac." The powerful effect that comes from the monumental sculpture makes us feel like we are seeing an act by a celestial being. It feels as though there is something beyond us in this room and the artist is showing the sculpture of this being's intercession on this rock. Aladoğan affirms my theory in the catalog; her visit to Yosemite National Park in California became a significant source of inspiration for the work. A rock face that had a deep breach in it especially impressed Aladoğan. It was, she writes, as if "the hand of God had chopped into it with a giant axe."
After the room with archival footage, the monumental bronze sculpture makes a huge jump; it has a completely different and intense experience. It would be hard for me to say that these two works came from the same artist. Although it seems like there are common points in the two rooms, I think they are not that close to each other. The connections are quite loose.
De Pont Museum opened its doors for the first time in 1992. It became one of the many Dutch museums to have originated on the basis of a private initiative, something which rarely occurred in the Netherlands after World War II. De Pont did not start, for instance, with a collection left by its founder. And no request was made for support from private funding or local governments. Their collection contains artwork from various well-known artists such as Richard Long, Anish Kapoor, Marlene Dumas, Ai Weiwei, Jeff Wall and James Turrell.