Pera Museum is opening its doors free of charge for all visitors on International Women's Day. To celebrate women all around the world, Pera Museum is offering free entrance to Mersad Berber's "An Allegory of Bosnia" for all visitors. Additionally, visitors will have a chance to take a tour through the exhibitions of the Suna İnan Kıraç Foundation Collection, "Intersecting Worlds: Ambassadors and Painters," "Anatolian Weights and Measures" and "Coffee Break: The Adventure of Coffee in Kütahya Tiles and Ceramics."
Moreover, the museum's recent screening program, "Turbulent Times & Familiar Places" will be free for all women today. The Tricky Women Festival, which is an international festival based in Vienna and the world's first and only festival dedicated exclusively to animated films made by women, will also be free of charge for visitors today. The festival selection is composed of 12 animated films and the screenings are scheduled to take place today at 7:00 p.m. and at 5:00 p.m. on March 12. Here is some brief information about the short animated films included in the screening program:
'The Lovestruck Cook'
The lovestruck cook stirs his thoughts into the soup he is cooking and serves it to his guest. Since the guest cannot stand thoughts on love, the thoughts escape through the window to haunt someone else. The thoughts are intertwined throughout the film in the form of green threads. Encountering various people, they travel further as they are transmitted and tossed in a corner, until the lovestruck cook finally comes to his senses again.
'Follow You'
The animation is a music video created for a song by the U.K. band Selma & The Sound. The band members are depicted as funny animals that take us on a world tour. "I will follow you to Mexico, Miami Beach, and Sarajevo / I'd walk a thousand miles / through the lowest lows and the highest heights," are just a few of the lyrics from the song.
'Garten & Schnaps'
A grandmother shows the same stubbornness while planting flowers and laying stone paths at an outdoor temperature of 30 degrees Celsius as she does in her self-determined fight against cancer. Garten & Schnaps tries to capture the nuances between autonomy and repression and tells about the (im)possibility of escaping oneself.
'Ginny'
This short animation shows isolated single shots of city blocks in a housing complex drawn with a pencil. After a group of teenagers repeatedly throw a cat out of the window from the top floor of a building, Ginny is compelled to speak to a psychologist about the possible reasons for the behavior. Whenever there is a pause in dialog or is replaced by a gasp or a sigh, the view of the deserted street canyons quickly changes the perspective of the viewer. Ultimately, this sidestepping offers no way out, because the reality is the result of socially generated boredom that remains unproductive.
'Home Statements'
This animated documentary is about the feeling of being at home, which is unique for each person. For some it is the identity of the language, while for others it is a love affair or even something more vague. Some people search for a place they can belong to for a lifetime, while others find this place within themselves. These feelings are transferred to the visual in the form of imaginative claymations.
'Machine'
"Machine" is a film that uses the technique of nonstop stop-motion and explores the question of how an object can work exclusively through deconstruction/demolition. Ceramic plates painted with gear wheel patterns are used as hyper frames and continuously smashed with a hammer. At a certain speed, the smashing makes the gears appear as though they are rotating. In this sense, the machine is set in motion by its fragmentation.
'Princess disaster'
Once upon a time, there was a princess that stepped on a jellyfish and found an emerald in the sea before she was eaten by a shark. This caused a nuclear war, extinction of species, genetic mutation and other catastrophes.
'Shut up, Moon'
It is difficult to fit in especially when you are new in town. "Shut up, Moon" is a hand-drawn animated short film that includes everything that keeps you up at night while your mind plays a best of awkwardness compilation-- fun, an imaginary friend and all the other things.
'Taipei recyclers'
Ghosts, gods and goddesses, a typhoon and Nakasi musicians. In the urban hideouts of Taipei, small creatures are brought to life by digital animation. They consist of collected garbage and local products from the streets. The clatter of their limbs interact with the soundscapes of Taipei.
'Three suns'
In "Three Suns," three dark objects send orange rays into a shared space. They are constantly in motion, constantly changing form, circling around each other, and generate a continuous sound that depends upon their relative positions to each other.
'Two melons, birth of an artist'
On her birthday, a young woman receives a book from her worried parents in which a certain quote is underlined: "You can't carry two melons in one hand!" This call for moderation and rationality is not something the young woman can accept easily.
'YachaY'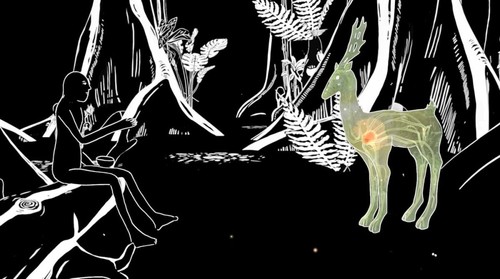 Humans tend to obtain whatever they want, no matter what consequences it may have. This does not often happen out of bad intentions but these instinctive actions can lead to unexpected outcomes. The short film "YachaY" - a Quechua word translated as "knowledge from the woods" - deals with these unplanned actions and outcomes.