Istanbul-based Gallery Diani is hosting ceramic artist and sculptor Tuba Önder Demircioğlu's latest exhibition, "Holding On," featuring sculptures and wall installations, until March 25. In her new exhibition, Demircioğlu presents sculptures and ceramic works made of chinaware and stoneware as well as paintings.
The artist believes that trees have been the center of our lives since the beginning of existence, and they have been considered as the unifier of earth and sky. In fact, the Dede Korkut stories, the Otukan Forest, Ottoman legends and Orhan Veli's poetry always praised trees and made a relation with trees and human existence.
Within this context, Tuba, a spiritual tree symbolizing mankind's connection with heaven, becomes the focus of Demircioğlu's works. The artist reconstructs and re-interprets the symbolic meaning of the Tuba tree and refers to the tree's connection with man and his spiritual world. Daily Sabah conducted an interview with the artist on her inspirations and the philosophy of her exhibition.
DAILY SABAH: Could you tell us about the tuba tree, whose roots are believed to extend to heaven and branches that extend to earth. What does the tree, which you get your name from, mean to you? How did the philosophy behind it lead to your exhibition?
TUBA ÖNDER DEMİRCİOĞLU:
The tuba tree is depicted as a tree much different from other trees in the world. The tree, whose roots are in the sky and branches in the ground, is a tree that harbors all the fruit in the universe. My passion for trees started when I was able to comprehend what my parents told me about my name. Trees settled in the center of my life once I realized how much they look like humans with their bare bodies in winter.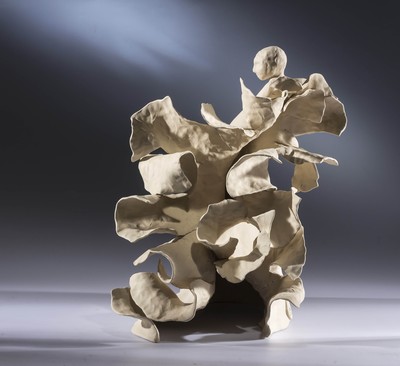 As I mentioned before, the tuba tree is a spiritual and sublime tree that all of my thoughts and works are blended together with. There are always trees in cultures and beliefs, and they've always been sacred. As people worshiped and made wishes under trees, it has ultimately turned into a symbol, and they have existed in many ancient myths. As the tuba tree is also the tree that gives meaning to my name, I wanted to express everything within me with it.
DS: You said that each of the branches of the tuba tree carried human values with it. In this context, what are the values that your ninth personal exhibition carries for you?
DEMİRCİOĞLU:
The name of my eighth personal exhibition was Tuba Ağacı (Tuba Tree), and my ninth personal exhibition has been shaped as Tuba Ağacı-Tutunma (Tuba Tree - Holding On). It will continue as an exhibition chain and add new values as it continues.
The meaning of my exhibition is astronomical for me. In fact, all of our lives continue by holding onto something. Sometimes to a tree, sometimes to a person, spirituality, family and children... Therefore, life consists only of the values that we hold onto in our lives.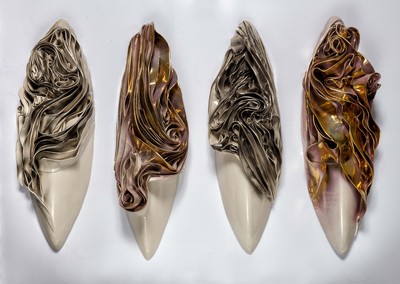 The subject of my exhibition includes the values of the tree that are also the values of mankind like sadness, joy, emotions, senses, the ego and humbleness.
DS: Could we say that the "Dansçılar" (Dancers) and "Savaşçılar" (Warriors) collections are a preliminary work for your "Tuba Tree" collection? Was there always a bigger concept to create in your mind or was it a spontaneous process?
DEMİRCİOĞLU:
My previous collections were not preliminary preparations or preliminary work for my latest exhibition. They were works of my intellectual and emotional life.
The source that I tend to venture towards is so unlimited that it takes on a different identity in every period during the process. It is also not limited to my works. When my art meets the audience during the exhibition, it forms a new relationship with them. Each event is interpreted and concluded according to the values that exist within the human being, and for me, this is a very exciting process.
There are always endlessly expanding projects in my mind. However, the formation of the Tuba Tree exhibition was a process that was controlled by willingness, but at a point physical and intellectual studies were included.
DS: For the first time in your exhibition you have combined ceramic with bronze, which is a very hard material. What was this process like? Will you continue to experiment with new materials?
The combination of porcelain and bronze is actually a combination similar to life, extremely soft and fragile. I think they find expression in harmony with each other.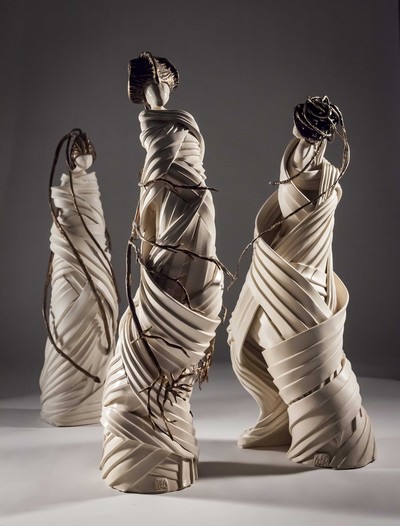 My main material was always porcelain and ceramic. I like to use these materials in presentations, exhibitions and in my works directly. Especially in indoor applications, there are some material requirements caused by the characteristics of the room and its physical condition. In this case, I like to marry them with different materials beside the main material. In this exhibition you will encounter bronze as well as a surprise material.
DS: Nowadays, artists are more influenced by contemporary arts but not too much in the art of ceramics. What do you think is the reason for this? Can you say that you feel a sense of responsibility to disseminate the art of ceramics?
There are ceramic artists who are under the influence of contemporary arts as well. Contemporary is what is relevant to the generation and to today. The artist captures and holds the experience, expressing it in memory, values and emotions. In this context, transforming works can have different materials and mediums like painting, digital arts, ceramic, stone, metal and so on.
The production processes may vary due to the materials employed in some disciplines. If we consider that the process of forming a porcelain statue will take about two months, we may simply have expressed how difficult, complex and accumulating ceramic art is. This is also an important reason why we don't encounter it as much.
I feel very much the sense of responsibility you have mentioned above. I'm sure every artist would agree with this. As a result, ceramic art is something that belongs to us, to our traditions. Therefore, we strive to make it more recognized and well known. I can say that I have devoted myself to it, and I have different projects for this purpose.