I imagined myself as a woodcutter while visiting Bahar Yürükoğlu's mesmerizing new exhibition at Karaköy's ArtSümer gallery. In a photograph of the woods, psychedelic colors were pointing to an alternative reality; in another forest view I found myself inspecting colorful ropes between barren trees. The feeling of wandering inside the woods alongside the artist was one I cherished, especially during that lonesome day. Not every artist can take you out of your surroundings and make you feel less alone.
Born in Washington, D.C., Yürükoğlu is clearly a lover of open spaces where she finds opportunities to reflect on the natural and its rapid and unstoppable immersion by digital culture. From the title of the exhibition, "Maybe I'd like to be like you," one senses a certain tension between these two: The attraction of opposites, if you will.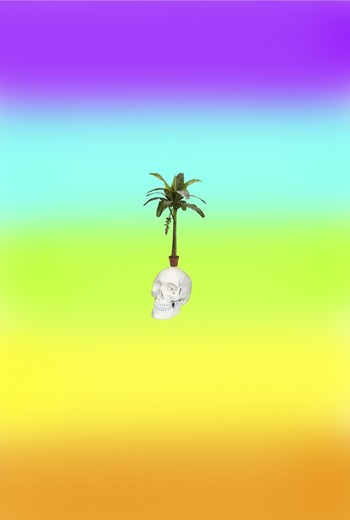 "New Composition," 2017
The show is the first collaboration between two exciting figures of Istanbul's art scene. In March 2016, Yürükoğlu premiered her new show, "Flow Through" at ARTER. Not long before the opening night, she had met Gökcan Demirkazık, a Harvard graduate who had recently moved back to Istanbul where he started working as a curator, writer, and researcher.
Demirkazık and Yürükoğlu quickly developed a friendship, perhaps, not the least because they had moved into this city around the same time. After the ARTER show, they had long conversations about the new bodies of work Yürükoğlu was developing. "Therefore, I do not remember exactly when we started working on 'Maybe I'd like to be like you,'" Demirkazık told me in an interview last week. "She did ask me if I could be the curator of her show at ArtSümer in the fall of 2016."
There are similarities between "Maybe I'd like to be like you" and "Flow Through." They both deal with culture's deleterious but also exciting effects on nature. "This show considers the terms natural and 'man-made' not as polar opposites but as a spectrum," Demirkazık said.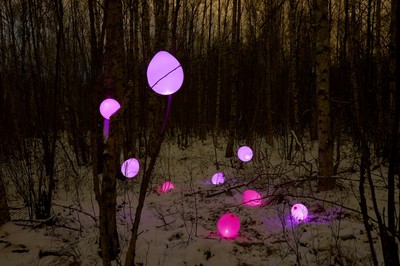 "The Forest Party," 2016, is a photograph of the woods, with psychedelic colors pointing to an alternative reality. The feeling of wandering inside the woods alongside is a special perspective as not every artist can take you out of your surroundings and make you feel less alone.
The story of the tension between ourselves and objects of our desire is a complicated one: We would like to be like our beloveds, which may, in time, turn us unrecognizable to their eyes. If digital culture imitates nature too much with its offerings of reproductions of reality that are more real than the objects that they represent, we can perhaps observe a similar outcome: The digital so nature-like that it is indistinguishable from it.
"Bahar's work plays with our understanding of what reality is and could be in a world where virtually every image we see in media - digital or printed - is manipulated," Demirkazık mused. "In 'Maybe I'd like to be like you,' there are no digitally manipulated images except for 'New Composition,' which is entirely digitally created. My interpretation of this ambiguity is that the artist would like to instil in the viewer a long-lost sense of wonder towards the physical world, remind us that we are on this world with other wonderful beings and things, and not masters of the universe in the age of Anthropocene."
"New Composition," a digital image where a palm tree is placed on a skull (literally telling the viewer: "Plants are on my mind") has a different tone from other works: It seems like a statement on the future of the relationship that is at the heart of the show: Nature, finally reduced to a cute little shape inside a digital image. "It both summarizes the show and tempers the high-flown transcendental visual language and drama that some of the images such as 'Subversion' and 'Transfixion' may invoke," Demirkazık said. "For me, it is also an acknowledgment of her playful side - the trickster she becomes by creating these image-worlds, the 'reality' of which viewers may have trouble believing in. The work also reflects her engagement with art history: This image of vanitas reminds us that nature will outlive us, no matter how much we think we are in charge."
For Yürükoğlu engaging with histories of image-making in order to re-evaluate and undermine processes of aestheticization, is crucial. Demirkazık pointed to her work "Transfixion" as an example that contains references to Christian religious iconography.
"As a city-dweller's senses are shaped by a lifetime of experiences (mostly) far away from nature, her perception and understanding of nature, no matter how untouched it is, are laden with traces of the 'artificial,'" he said. "The narrative arc of this show examines personal relationships - whether with people or nature - from this viewpoint. In this respect, the phrase 'Maybe I'd like to be like you' gestures at the possibility of understanding one's self better by precisely getting to know the 'other.'"