Spring has arrived in Istanbul with a dizzying abundance of color: images of locals eating ice cream, displaying their new wardrobe, hanging out at sun-baked parks have occupied social media. For the solitary walker who finds this outburst of liveliness and color a bit intimidating, one of the city's leading galleries, Galerist, offers an alternative. In "Dark Deep Darkness and Splendor," a new exhibition curated by Karoly Aliotti and Nilüfer Şaşmazer, black, the darkest color, defines a group of immersive works by artists from different generations and geographies.

The exhibition takes its title from "Dark Deep Darkness," a lithograph by American director and painter David Lynch, represented here with two works. "The darkness, which represents the intangible hidden power in the works that share a common deeper feeling, is the fertile darkness of the eternal cosmos that has existed before anything else," curators write. This "fertile darkness" and one work in particular, Sibel Horada's "Forest" reminded me of the work of Anselm Kiefer, the German painter, famous for his exploration of "The Fertile Crescent" and his use of clay, ash and straw as materials in his often dark portrayals of history and ideas.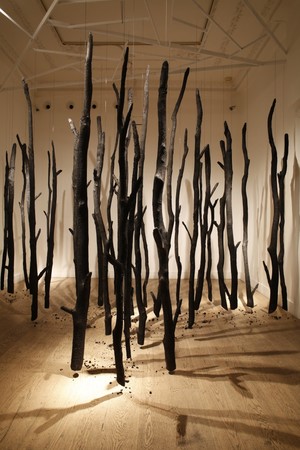 Sibel Horada's work, a combination of tree trunks and earth, envelopes one of the galleries with its uncanny materiality.

Horada's work, a combination of tree trunks and earth, envelopes one of the galleries with its uncanny materiality. While walking amid these trees, you may be excused for feeling lost like Dante, the poet, who "midway upon the journey of our life" finds himself "within a forest dark." On the opposite wall, David Lynch's lithograph, "Mountain with Eye," further unsettles the visitor, with its terrifying vision of an all-seeing, dark mountain.

"Including a David Lynch print was the idea of our dear friend Ali Kazma," Şaşmazer said in an interview last week. "Quite frankly, we had not thought about his prints at all, and hesitated until Ali insistently gave us his book. The first work we came across was 'Dark Deep Darkness' and it was a strange moment because that little print summed almost the whole argument of our show: the stars (cosmos), the earth (the tree), the eyes (introspection), and a man reaching out to darkness, seeing himself... Having all these themes in a short poem was surprising, we had to include it; and finally it also gave its name to the show."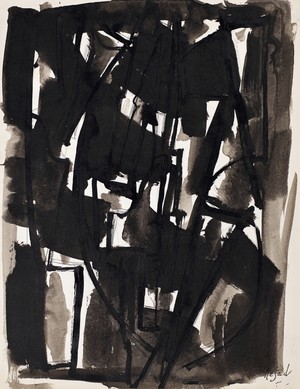 Nejad Devrim, "Untitled," 1923-1995,
Gouache on paper,
31 X 24 cm

The first ideas about the exhibition were born last spring when Şaşmazer and Aliotti were working on another show and doing lots of reading. One of the books they read, "Play and Theory of Duende" by Garcia Lorca, gave them the idea of duende, which the poet describes as a "mysterious force that everyone feels and no philosopher has explained."

This left a strong impression on the curators. "That inner power or what he refers to as 'the spirit of the earth' has unfolded in three distinct planes in this context," Şaşmazer explained. "The chaos and the awesome darkness of cosmos that gives birth to countless stars; the soil/the earth which is the most basic and fertile thing that gives life and the black bile of the man, taking its source from the melancholy and giving way to artistic creation. So all the artworks in the show are revolving around these three points."

Even before coming up with the idea of curating the show, Şaşmazer and Aliotti discussed at length some of the artworks they liked: Mübin Orhon's gouache, Ahmet Doğu İpek's watercolors and Nermin Er's ink on paper. There were also some names they had been following for some time: Ali Emir Tapan, Alp Sime, Murat Akagündüz, Kerem Ozan Bayraktar and Aslı Çavuşoğlu.

"They were added to the show step by step. And while preparing the show, we followed a certain feeling of darkness; not the darkness of death, mourning or sadness but the darkness of a womb, of soil, of space," Şaşmazer said. "So the feeling of the works were more important than the names included. And consequently, I believe there is no difference between artists from the age/gender perspective because this feeling we are talking about is quite universal and beyond time." Gradually, the list of artists expanded: Nermin Er, Arif Aşçı, Vahap Avşar, Nejad Devrim, Alev Ebüzziya, Bilge Friedlaender, Jason Martin, Füsun Onur, Fahrelnissa Zeid and Masao Yamamoto.

The work that I found most immersive in the show, Ali Emir Tapan's "Rehearsal", features numberless seagulls who await anxiously on a dark sea, waiting for what the artist calls an imaginary crescendo. This dark rehearsal, so precise on the unknowability of the future, continued for an hour as I refused to leave the dark room where it was screened.

"This show might actually be the first of its kind because it takes place in Galerist and there is not a single artist from the gallery," Şaşmazer said. "We are lucky to work with them; it did not cause a problem. On the other side, in the show there are young artists in their 30s as well as deceased masters; among Turkish artists, there are a couple of foreign born ones. Some works are for sale, some are borrowed from private collections or museums. So, in other words, it ended up being a good mix."

But what about David Lynch, that master of capturing darkness on film - will he come to Istanbul to see the show? "Yes, we would love to have him here," Şaşmazer said, "we are working on it."