Bringing together "Two Generations Under the Rainbow" consisting of the 2006 works of renowned artist Fahrelnissa Zeid (1901-1991) and her son, Nejad Melih Devrim, Istanbul Modern is once again displaying the Zeids' works for the first time in 11 years with a new selection.
The Short-Term Exhibitions' Hall will welcome visitors with the geometrical compositions which Zeid specializes in as well as 23 expressionist works that have references to a trio of Byzantium, Islamic and Western arts combined with her unique use of color. The collection contains works from 1940s' Amman to 1970s' Jordan.
Zeid, who has met visitors in Munich, Torino and Berlin and will soon greet visitors in London by the end of 2017, creates art forms that are like a breath of fresh air to the global art scene. The works included in the museum's collection include some of the best from Zeid's career and will be on display at Tate Modern beginning July 13. Istanbul Modern is supporting interest in Zeid's art with a special collection.
Noting that Fahrelnissa Zeid has a special and crucial place in the venue's history, Istanbul Modern CEO Oya Eczacıbaşı said that back when Istanbul Modern was merely a thought, Zeid's family had donated her masterpiece titled "Hell" to the museum they dreamt of opening one day. "It was among the first pieces that entered the museum when Istanbul Modern was founded. As Zeid is very esteemed in the global art world, we wanted to bring together her art and introduce it to new generations after 11 years," added Eczacıbaşı.
Istanbul Modern's Director Leven Çalıkoğlu noted that 2017 is Zeid's year in the global art world, adding that her life, her unique story, her character and her artistic approach is, without any doubt, one of the most creative of her generation: "When we look at the exhibition schedule this year, we understand that the art culture and curatorial traditions of Western museums and art have finally given her the belated attention she deserves. The retrospective Zeid exhibition to be held at Tate Modern will solidify Zeid's place in the global world of modern art. Since we have a comprehensive collection of her works, we are also supporting public interest in her art with this selection," said Çalıkoğlu.
Istanbul Modern's training and social projects department will organize training programs for younger audiences throughout the exhibition.
The documentary titled, "Fahrelnissa and Nejad: Two Generations Under the Rainbow" first shown at Istanbul Modern in 2006 will once again meet audience members in the exhibition area.
Shot in the cities of Paris, Umman, İzmir, Ankara and Istanbul, the documentary includes interviews with Xavier Bureau, Olivier Larsque, Dina Vierny and Maria Devrim in Paris, İsmet Kabaağaçlı Noonan in İzmir, Bülent Ecevit in Ankara, Prince and Princess Raad, Hind Nasser, Suha Shoman and Prince Hassan in Umman, Şirin Devrim, Talat Sait Halman, Sara Koral, Nermidil Binart, Yaşar Kemal, Ara Güler, Tiraje Dikmen, Rabia Çapa, Yahşi Baraz, Haldun Dostoğlu and Sabahattin Batur in Istanbul.
Istanbul Modern's Library includes books and writings on Zeid's life as well as her art, offering an extensive, impressive collection.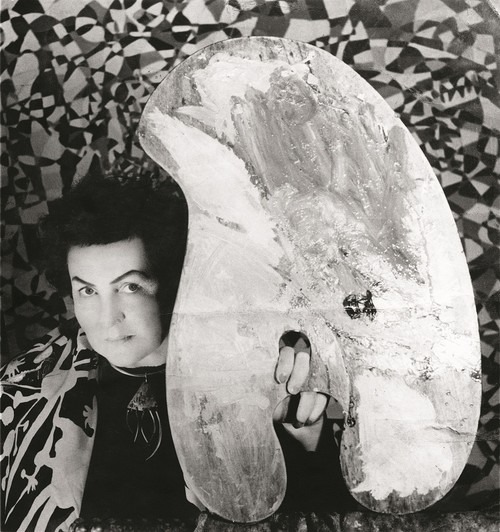 About Fahrelnissa Zeid
Fahrelnissa Zeid was born in Büyükada, the largest of the Princes' Islands, as the niece of the grand vizier of the time, Cevat Pasha, in 1901 during the reign of the Ottoman Empire. Born into a family of artists, Zeid's brother Cevat Şakir Kabaağaçlı was a novelist and her sister Aliye Berger was a painter. Zeid had two children from her marriage with author Melih Devrim, the painter Nejad Devrim and director and actress Şirin Devrim. Zeid's neice, Füreya Koral, is a ceramic artist.
One of the first graduates of the modern Mimar Sinan University of Fine Arts, Sanayi-i Nefise continued her studies in painting at the Academie Ranson's Stalbach workshop in Paris and then at the Namık İsmail workshop in Istanbul. She married Emir Zeid, Ankara's ambassador to Iraq, in 1934 and received the title of "princess."
She opened her first personal exhibition in her home in Maçka, Istanbul in 1944. After World War II, she opened exhibitions in Paris, London, New York, Brussels and many other cities. She migrated to Amman in 1976 and established an art institute under her name and continued producing works, while supporting the institute at the same time, until she died in Amman in 1991.
Known for her enthusiastic and impressive compositions, Zeid's unique language conveyed in her paintings is so vivid and rich that it cannot be reduced to just one genre. Her early works consist of figure compositions that are built with a miniature set up while her more mature years as an artist are filled with geometrical and free abstract works reminding us of stained glass surfaces and mostly composed of portraits. Her later works convey a psychological narrative.