In one of her new works, the Turkish artist Emel Kurhan depicts a sparrow perching upon a teacup. It is difficult to tell whether the sparrow is about to take off or has just landed, but there is little doubt that the porcelain teacup she has picked as her resting place is beautiful in its simplicity. The image radiates a particular kind of charm, one that followers of Kurhan's embroideries will be familiar with from her previous work. The piece with the sparrow (embroidery and acrylic on fabric) has no title, but on a recent weekday visitors who were at "Behind the Sun," Kurhan's new show at Istanbul's Öktem&Aykut Gallery, seemed to be providing their own captions for every image on display.
Last year, upon seeing a work by Kurhan at the gallery's special exhibition at the Gümüşlük Academy in Bodrum, I had the sudden impulse to write a short story. Here, in the present exhibition, an embroidery work depicting two empty green chairs had the same effect on me. This ability to inspire stories in the minds of viewers is perhaps Kurhan's greatest talent. The innocent simplicity of her work, too, must have something to do with the curious effect of her often cartoonish compositions.
Kurhan's picture of green chairs is peppered with dots that perhaps stand for falling leaves or snowflakes; they could also be remnants of the conversation the sitters just had there, image fragments of a story passionately told. The mystery of the public chair is that one never quite knows their previous or future occupants. A terminally ill patient can decide to take his own life on the same public chair occupied minutes ago by a student preparing to celebrate her graduation from college. In Kurhan's work, all is left to the imagination, for her simple objects and places are almost always unoccupied, waiting to be filled with the fantasies of the viewer.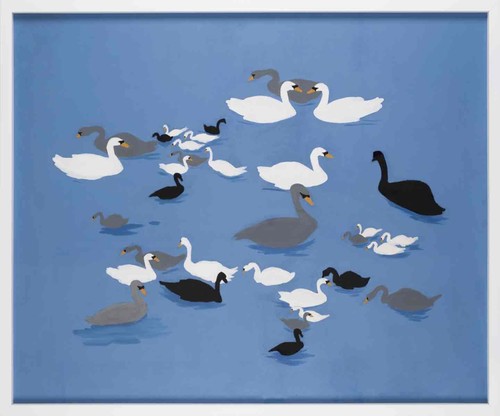 Embroidery and acrylic on fabric, 2016 127x104 cm
Another untitled work by Kurhan features 15 butterflies flying around inside the frame in a state of ecstatic chaos. One among the butterfly crowd rests on a hand gently raised for attention. In the background shadows repeat gestures of the same arm and butterflies, adding a sense of infinity to the image. The moment seems to belong to a tranquil and perfectly carefree spring day, carrying beneath it a darker message about the shortness of the butterfly's life and the fleeting nature of beautiful experiences.
"In 'Behind the Sun' Kurhan devotes the very essence of her imagery to recall times when the feeling of congestion comes to a standstill," the curators say in the exhibition's text. "The works reveal young images that encourage us to fight against the suffocation. A sparrow perched upon a teacup, a mouse entranced by the smell of the fresh flowers, rusty chairs of the public parks or confetti rains... Images like these provide times of suspension where the society ends, a nest where it is mute and flat."
Those mute and flat nests of experience are Kurhan's field of expertise. A graduate of Paris Studio Bercot and Ecole du Louvre's art history program, the artist had long worked on textile paintings, specializing in handcrafted imprints. After establishing the fashion brand Yazbukey, Kurhan turned her attention to painting and opened her first solo exhibition in 2011. After a show at Galerie Nivet-Carzon in Paris, she had numerous shows in Istanbul, "Fantastic" in 2013, and "Maybe Tomorrow" in 2014, followed by "Four Seasons of Solitude" the following year.
Hands, leaves, clouds, animals feature heavily in Kurhan's works. In one work, a small sand scoop seems to come directly from a child's adventure ground on a summer beach but the background color suggests otherwise: the leaves had fallen, signaling the arrival of autumn. Childhood and old age converge here, leaves of trees reminding the viewer of memories of sand castles and childhood kingdoms.
The curators say "Kurhan's production saves the archetypical images of modern life and artistic expression against the congestion of 'the time after'.
"Thanks to Kurhan's sharp pop interventions, clouds, butterflies and falling leaves are pulled out of the winding sense of nostalgia. This intervention suddenly recalls an ancient poem, a childhood memory or an early 20th century classic, but with a twist that renders the images fresh and enlivening."
One such intervention occurs in a 2017 work featuring a mouse enjoying a moment with roses. Kurhan has placed her cartoonish mouse on a cloud. The background suggests a fantastic journey, involving multiple stops to other clouds. There is something strongly childlike in this sustained focus on the mouse and his journeys. And it is precisely her serious and sustained attention to childish aesthetics that makes Kurhan works so interesting. In her embroideries we enter a world of untouched beauty where butterflies and dead leaves turn into symbols of our personal joys and tragedies.