The el-Huseyin family from Syria is a remarkable symbol of how the peace and love of the arts can transcend the perils of war. Six years ago, when clashes in their hometown of Deir ez-Zor intensified, Husam el-Huseyin, a father and former Arabic teacher, fled to the city of Raqqa with his wife, a painting instructor, and their four children.
One-and-a-half years later, amid the strain of Daesh occupation and clashes they, like thousands of other Syrian families, decided to flee to Turkey where they now live in the Eyyübiye district of Şanlıurfa province in a rental home.
Today, the el-Huseyin's nine-year-old daughter Mesa ("Diamond" in Turkish) excels in painting as a student at a Turkish private school where she is exploring her talent as an artist despite having never attended painting courses before.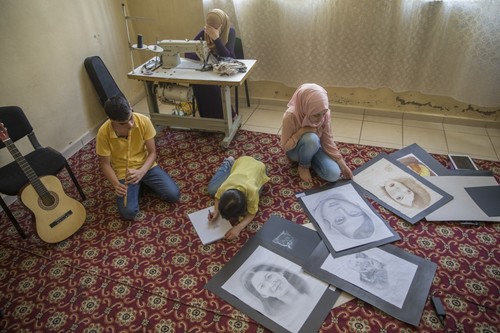 At the age of five, the young girl began painting at home with her mother, unable to attend school due to the ongoing civil war in Syria.
Upon arriving in Turkey, however, Mesa was accepted to school and expressed her gratitude to those who helped her pursue her education.
"My mother worked very hard to enroll me in school here. Somehow, we found this school and I was accepted to the program. I hope to become a great painter with the education I receive here [in Turkey]. I typically do charcoal paintings but I also have a love for oil painting. My main interest is in painting portraits of people's faces; it is a passion of mine," she said.
The deputy director of the school, Baki Vuran also stated that they launched a project for asylum-seeking children with Mesa, adding that she was accepted to the school as a result of her impressive display of talent.
"Mesa, our diamond [referring to the literal translation of her name] is studying at our school and she will continue to do so until she is 18. We are considering opening an exhibition of her works in Istanbul in September. I was very impressed with one of her paintings; a painting of a cat with a child in his eyes; there's so much detail which proves her talent," Vuran said.
The girl's mother, Münteha el-Ani said that after being forced to migrate from Deir ez-Zor to Raqqa where they lived for four years, they finally had to come to Turkey.
As an art teacher from Syria, she had to support her family and struggled to make proper wages, eventually becoming a tailor with the support of her husband.
"Thank God, we are safe. My little daughter Mesa is a good painter. On the other hand, my son Muhammed can play many instruments and my other daughter Hibe can also paint. My eldest son Hasan is a good percussion player. Mesa got into a private school thanks to her talent. She is provided transportation every day to and from the school. All her needs are covered and school officials have said that they will look after her until the age of 18. We are grateful to them. Currently, only my mother and some of my relatives live in Raqqa, a city under siege. They are facing tough conditions but at least we know that they are alive," Münteha el-Ani said.
She went on to say that she and her family met President Recep Tayyip Erdoğan during his visit to Şanlıurfa and are very thankful to him.