The 14th International Gümüşlük Classical Music Festival held in Muğla's Bodrum district will be offering a unique mix of young talent alongside local and foreign artists until Sept. 4.
The festival's ongoing concerts in the ancient quarry near Gümüşlük Bay and those in the Gümüşlük earth houses have attracted the attention of international art lovers.
While the foreign artists perform at the festival, conservatory graduates and students get the chance to learn from and share the stage with the local and foreign musicians. At the same time, talented Turkish students have been able to demonstrate their instrumental talent, gaining recognition through their performances both at the ancient quarry and in Gümüşlük earth houses.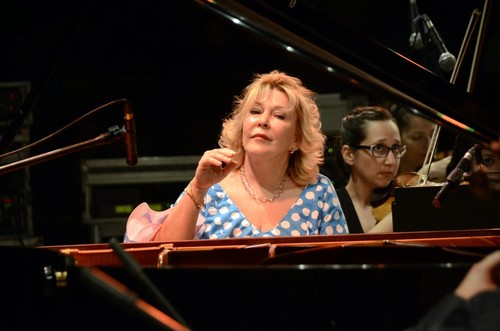 Also taking part in the festival, national pianist Gülsin Onay told Anadolu Agency (AA) about the international success of the Turkish musicians.
Noting that Turkish talents, including pianists, violinists, cellists, contrabasses and composers, have come to the fore recently, Onay said: "We are proud of these young musicians. We have instrumental talent playing at the Berlin Philharmonics, the Vienna Philharmonics and the New York Philharmonics. This incredible success has been on the rise recently."
Power of syncopating rhythms
Explaining that the aim of the festival is to bring foreign figures together with Turkish talent, Onay said: "Some get a chance to go abroad through scholarships. There are people coming from abroad just for this festival. We have a crowded list this year, with audiences including French or English listeners. We as artists represent Turkey in a positive way abroad. We represent different traditions. Artists, such as Adnan Saygun and Ulvi Cemal Erkin, bring different colors and syncopating rhythms to their music. There is a power originating from Anatolia and from these syncopating rhythms. Listeners feel this power, and it becomes an adventure. Through blending the powerful side of us with our traditions and universal music, we are attracting attention."
Chance to work with artists
Selin Doğan, a violinist who graduated from 9 Eylül University State Conservatory in İzmir, expressed that she was joining the festival for the first time, and that it was really important to her. Doğan also said she appreciated the opportunities to meet foreign artists and to get a scholarship for foreign education at the festival.
Kerem Tuncer, 19, joined the festival from Berlin and expressed his happiness about attending. Mentioning that the festival is held in an environment intertwined with art, Tuncer said: "We perform at really nice venues and get the chance to work with foreign artists. There are a lot of students from different age groups here."
Another attendee, Gökçe Çatakoğlu, also mentioned her delight about participating in the concert. While explaining that she has been playing the violin for seven years, Çatakoğlu said: "My aim is to present Turkey abroad. I want to play chamber music in the future and to perform in entertainment shows as more than just a soloist."
"We can blend everything"
Istanbul University State Conservatory student Aslı Ayben Özdemir said: "We do have the chance to participate in the contests abroad, but this is a much easier opportunity for us. They can provide these kinds of opportunities in our own country, so we have the chance to play classical music in the best way. The sun, wind and sea are all here. We can blend everything here. The Gümüşlük Festival provides us with great opportunities, like meeting and working with the artists," Özdemir said.
Özdemir noted that she had participated in four different contests before attending the festival and was presented with special awards.
She also added that she performed in special concerts for three years in countries such as Germany, Italy, Hungary, Portugal and Spain with the Turkey Youth Philharmonic Orchestra conducted by Cem Mansur.