Supported by Zorlu Holding and the Zorlu Performing Arts Center (PSM), art and performance platform Digi.logue is set to host a new exhibition titled "Future Tellers" at the Digi.logue Space from Sept. 13.
The Digi.logue platform was created in support of the "digital transformation" which has become one of the most important concepts of today. Its latest exhibition will feature various media installations including sketches, sculptures, texts, codes, and films. It aims to compel visitors to contemplate the future, focusing on technological factors that can play a role in producing and redefining future realities.
The works showcased as part of the "Future Tellers" were all created as a result of internalized perceptions of technological development and the reactions we give these innovations, urging viewers to ponder the situation of modern-day technology while imagining it in the context of the exhibition, where artists and participants from various disciplines take the role of the story tellers.
Questioning the existence of new technology and inventions based on science fiction works, the exhibition provides visitors with an atmosphere where they will find their own answers to the question, "Where will the human race be in the future and how will it change?" using their own imaginations.
"Future Tellers" will feature works of Candaş Şişman, Pınar Yoldaş, Onur Sönmez, Elif Demirci, Joanie LeMercier and Ali Demirel, Alper Derin Boğaz, Elif Ayıter, Özge Ejder, Selçuk Artut, Alp Güneysel and Eren Başbuğ.
Candaş Şişman, a new generation artist who attracts widespread attention for his animations, will participate with his kinetic installation titled, "Transition," while interdisciplinary artist and researcher Pınar Yoldaş's 3D video installation of a cat named "A.I. KITTY" will greet spectators in Turkey's Digi.logue Space.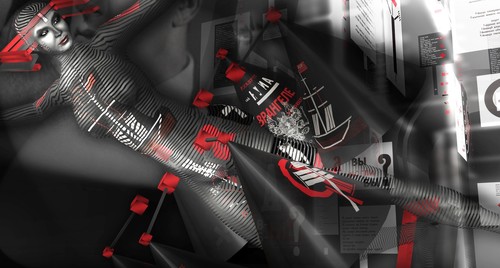 Elif Ayıter, "The Mayakovski Girls"
The piece "Land forms / Rock forms" by Ali M. Demirel and Joanie Lemercier, who both employ extraordinary techniques, and a comic book written by Elif Demirci aka Datafobic, titled, "Adventures of Elon Musk," are among the other notable works that will be on display.
Alp Güneysel is promising a unique experience to visitors with his visual work titled, "Window" and with his other work titled, "Two Ph.Ds Talking to Each Other," which he created by transforming 5,000 research publications into a conversation.
The exhibition aims to present the values and effects of technology on human life with a different perspective. Using philosophy as the methodology it questions the role technology plays in our lives. In line with this, "Future Tellers" will also arrange a free summit under the same title. As part of the program, renowned local and foreign technology and art professionals will take the Zorlu PSM's Drama Stage on Sept. 28.
Digi.logue is waiting to greet anyone who wants to use their imagination to explore technology and its impact on the human race. The exhibition will run at the Digi.logue Space until Oct. 30.